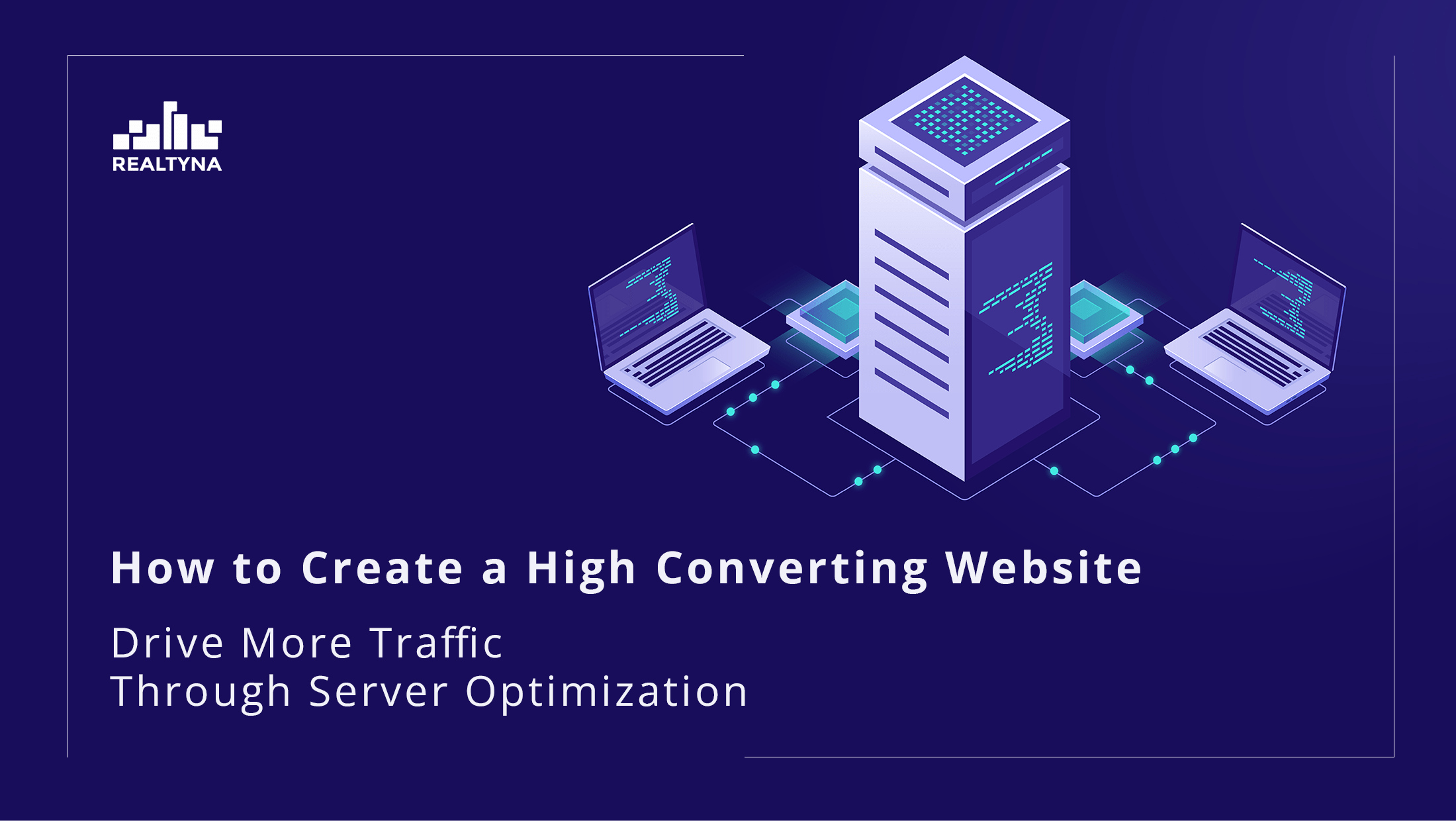 How to Create a High Converting Website & Drive More Traffic Through Server Optimization
27 Dec 2021

Posted at 11:00h
0 Comments
Have you ever clicked on a website and sat there waiting for it to load for what seemed like an eternity, only to receive a "404 error"? This can be so annoying, and the next best action for the user is always to leave the website for a faster option. But, as a real estate professional with an established website, you don't want this to happen. Instead, you want your users to access the information they are looking for, stay longer on your site, and reduce bounce rates. So, how can you avoid such error codes or your servers shutting down and achieving your desired goals? The answer is simple—server optimization for real estate.
Most times, people get carried away by a beautiful design when designing a website or are in a rush to take their business online that they forget about the features that make a website productive. Of course, there is no problem with having a beautiful website design or quickly setting up your website. However, there are several factors that you have to consider to establish a high converting website that brings in more traffic, such as ease of use, mobile friendliness, speed, and more.
Read on for detailed information about optimizing your website for better conversion rates.
What is Real Estate Server Optimization?
Web server optimization is a specialized technological approach that aims to increase the efficiency of data processing and application configuration while also increasing overall performance.
When a business relies on the accessibility and performance of its network for day-to-day operations, that network should be operating at optimum efficiency. Server optimization can enhance the delivery of this level of performance by consolidating resources and reducing unnecessary expenses, both of which are beneficial.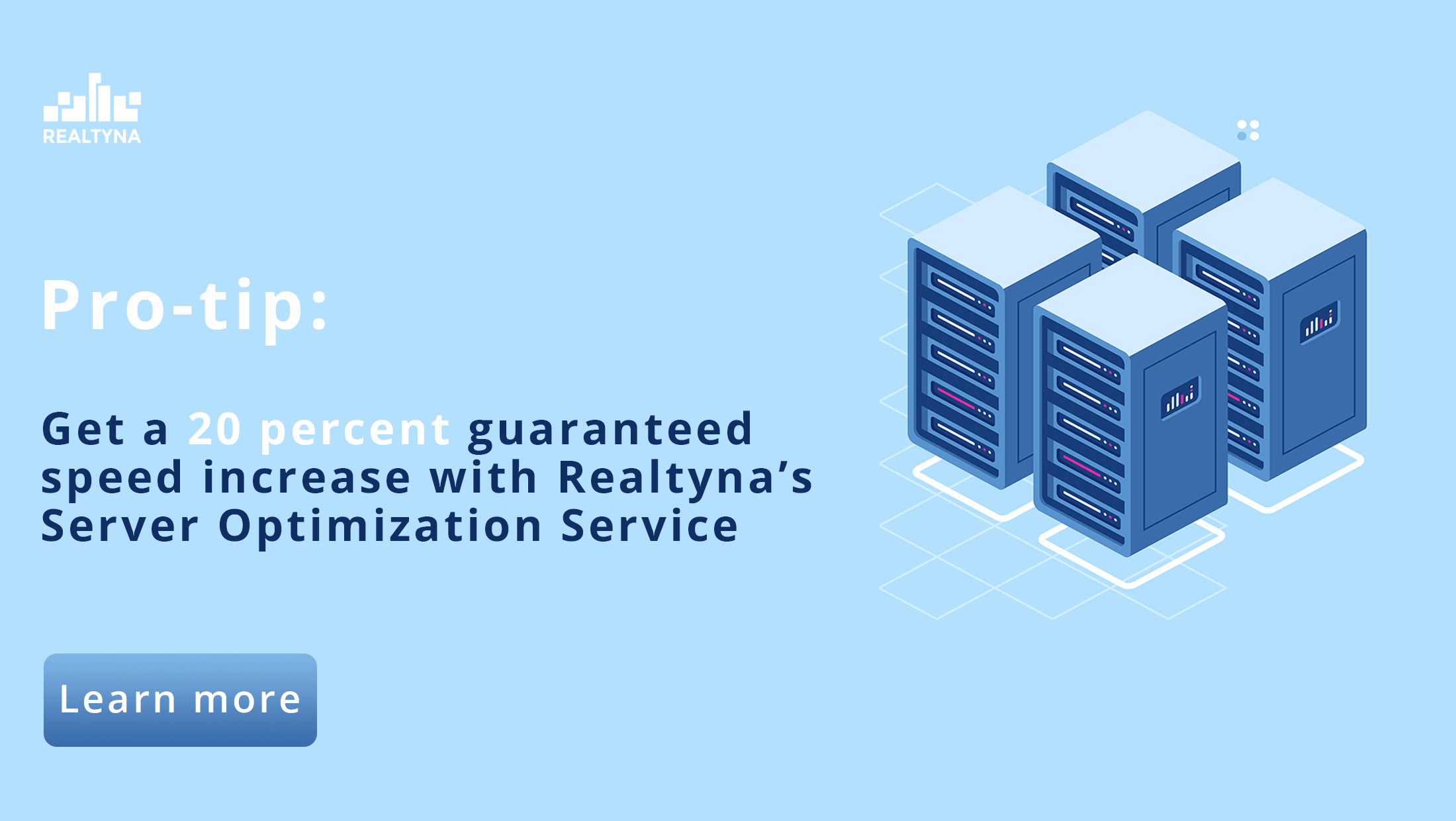 Is Real Estate Server Optimization Important?
Web server optimization provides increased performance and speed, essential for ensuring a better user experience. Here's what will happen if your web server is not optimized:
Compared to competitors, your website will receive fewer page views and decreased consumer satisfaction

Also, your website will have a very low conversions rate

Your website traffic will drop due to slow page load time, to name a few
These facts demonstrate how impactful a few milliseconds can have on your business's income. Thus, you must optimize your web servers to maximize your company's ROI.
Realtyna's Server Optimization Service for Real Estate Websites
Now that you know why web server optimization is essential, let's talk about the new Realtyna server optimization service and how it can improve your website performance through its features.
Realtyna's new server optimization assists real estate professionals in streamlining their real estate websites' effectiveness, increasing site speed, and overall improvement in website performance. Realtors and agents can scale up their companies with ultra-fast load times with Realtyna's Server Optimization Services.
Another upside of this server optimization service is that it is designed for real estate professionals with over 50,000 listings to have very fast page load speed. Realtyna's offers two packages for its server optimization service—the basic and advanced package. The features include:
Arranges cache, server side caching (on dedicated servers)

Upgrades to NGINX or LiteSpeed

Improves database speed by optimizing configurations

Database clean up

​​CDN configuration for your real estate listing photos

97% page speed

Under one second load time

Super fast and an overall boost of performance

Create a unique property portal

Manage real estate web server

Host more than 50,000 MLS listings on your site without affecting load time

A guaranteed minimum of 20 percent speed increase

Scale-up your business in milliseconds

Captures and nurtures leads

24/7 Assured assistance from Realtyna experts and more
Final Words
You can significantly improve the performance of your web server by reducing the time it takes for pages to load. In addition, Realtyna's server optimization service allows real estate professionals to access their site's speed test results, analyze the website's issues, and resolve them.
Thanks for reading!
Read the following articles for more real estate tips:
Everything You Need to Know About Zap Search Add-On – Realtyna
Website Speed Optimization: A Beginner's Guide
Real Estate Digital Marketing Trends That Will Make it to 2022