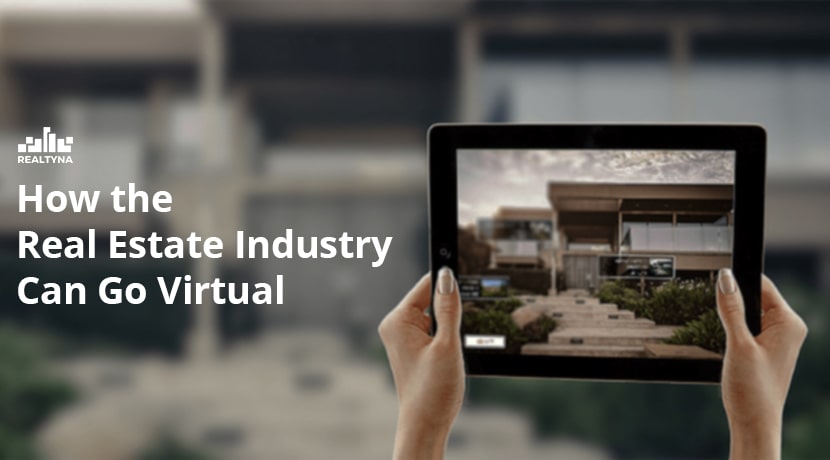 How the Real Estate Industry Can Go Virtual
Overview
I'm sure you are familiar with the routine in the real estate market. But due to the current situation in the world, there is a worldwide need for significant changes more than ever. Besides the coronavirus outbreak and the need for social distancing, there exist other powerful factors that motivate all of us to invest more in turning real estate businesses virtual. Here, I will shed some light on how realtors or agents can respond adequately to the current worldwide business environment and how can real estate go virtual.
Typically, homebuyers contact their agents and inform them about the desire to buy a new property. Then, real estate agents provide the client with different listings. After some discussion, homebuyers see the chosen property and hopefully buy it. These days, this procedure should undergo considerable changes due to changes in the world. People are getting busier and less eager to spend their money on old fashioned ways of buying properties. As surveys by the National Association of Realtors (NAR) show, around 40% of people first go online and find their desired property. Then they go in person or ask a trusted person to check the property. So, (especially in the case of contagious disease outbreaks) realtors need to come up with new ideas to be able to survive in this fast-changing market.
Thanks to technological improvements, especially in recent decades, there is not much to worry about in this transition. We just need to get familiar with all the available resources we have and come up with the best strategy based on those resources. One of the best options is the use of Virtual Reality (VR). Previously, some realtors believed this kind of technology was expensive and required too much investment. However, I believe the situation is completely vice versa. With the help of VR, we can make our lives as agents, as well as those of our clients, much easier. Through online classes and tips, realtors can learn the basics about how to take videos and upload them on their websites or different social media platforms.
Virtual reality is the key here. One of the main benefits of virtual reality is providing clients with virtual tours while they are staying at home. The common belief is that having 3D cameras, taking photos or videos and using the relevant applications is expensive. Considering the amount of time-saving here and reduction in commuting cost, especially for foreign buyers, we can easily figure out that VR is the best option we have. It makes the homebuyers or renters have a very unique experience. They can actually visit or even revisit the property whenever they want. Imagine your clients are eating their dinner in Tokyo, but by wearing 3D glasses, they are visiting their dream home in New York! Here I will name a few more advantages of virtual reality:

Time-saving
Virtual reality is time-saving for both agents and buyers. Agents can get rid of tiresome activities or dedicating their whole day to only one person that might not buy eventually. Buyers will also have more time to do their routine activities instead of spending their whole day visiting myriad properties. This way both parties will be happy at the end of the day since they are saving their precious time.
It also helps the renting process as well. Tenants do not need to call their landlords for every unpredicted situation. They can just review the 3D tour. Imagine there is something wrong with the thermostat and you don't know how to turn it on or off. Instead of trying to reach your landlord and ask him your question, you can just go over the 3D tour again and listen carefully to his instructions.
Creating an Emotional Connection
With the help of virtual staging and virtual visualization, you can make a stronger bond with your buyers. In the traditional way, the potential buyers enter the house and try to imagine it furnished in a way they like. Thanks to VR, now each person can see the house staged completely and connect with it more easily. They can feel the instant sense of ownership as well. They have the ability to change furniture or order it on the spot. Even if the property is still under construction, with the help of VR, they can easily see how it will look after completion. All of this helps the homebuyers to connect emotionally with the property and recognize it as their desired home for living.
More Sales
Agents can close more deals in less time. Since you have a global reach through the use of the Internet, you can expand your business and attract the attention of home buyers from all around the world. This way, you can show them the exterior and interior of the houses by sending emails containing the 3D tours.
Nonetheless, we can not deny the fact that there will be some downsides as well. Not mentioning those, doesn't mean denying their existence. Since my purpose is to explain the need to shift to virtual reality, I mostly focus on its benefits for the good of the industry.
Conclusion
In the face of contemporary crises, like the outbreak of the coronavirus, we should work to make ourselves more prepared. There are several ways to respond fast to emergent needs. As an example, agents and realtors can work remotely thanks to virtual reality without losing any closing chances at all. By investing in providing the needed technology for all the realtors and agents and teaching them the strategies and techniques required to work remotely, we can hope to overcome all these difficulties and others in the future
What do you think? Leave a comment below or check out our other articles on similar subjects:
How the $2 Trillion Stimulus Package Can Help Real Estate Agents and Brokers and
Tips to Open Your Virtual Real Estate Office