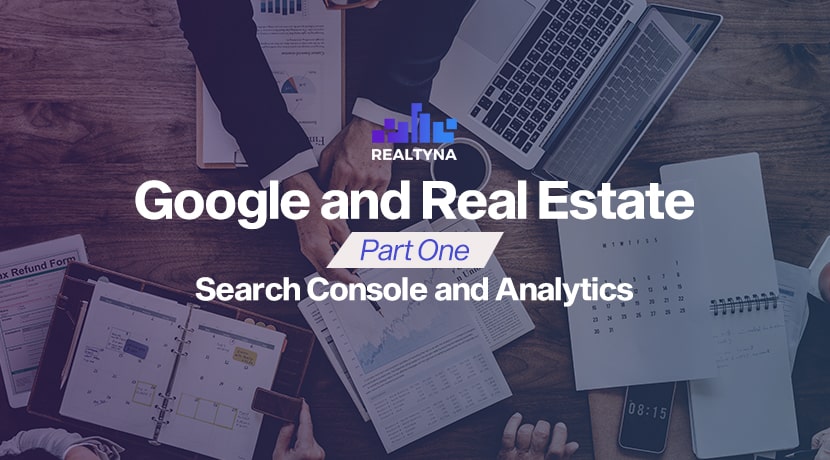 Google and Real Estate Part One: Search Console and Analytics
24 Jul 2020

Posted at 11:00h
0 Comments
Much of our lives and work are on the internet, and Google is probably the entity that we interact with most. The real estate industry is more dependent on Google than ever. People search for properties and other real estate services. Realtors build their websites and marketing campaigns based on data and analytics by Google.
In our new blog series, Google and Real Estate, I am going to shed some light on different aspects of doing business with Google and their implications for real estate professionals.
What is Google?
Google is a technology company that was established in 1998 by two PhD students at Stanford University. It was founded primarily as a search engine, but today, it has gone well beyond search, and it is now known as one of the most influential businesses in the history of mankind.
Google's top services that benefit real estate agents the most are:
Google Ads (Adsense)

Google Search Console

Google Analytics

Google G suite

Youtube
And there are a dozen more features that we exploit in our businesses and personal lives on a daily basis.
In the first part of Google and Real Estate, I will focus on two important features of Google, Search Console and Analytics, which are vital for the success of realtors doing business online.
What is the Search Console?
This is one of the most important tool kits provided by Google, and every real estate website should actively use it. Search Console helps you with the following:
Measure your website's search traffic

Measure your website search performance

Find and fix search related issues

Optimize your search performance based on AMP, mobile friendliness, loading speed, etc.
How to Set Up
To access the Search Console, you can visit Google Search Console. You will see the following screen. If you are working on your site, click on the left and enter the URL. The right part is when you want to access the console for a subdomain.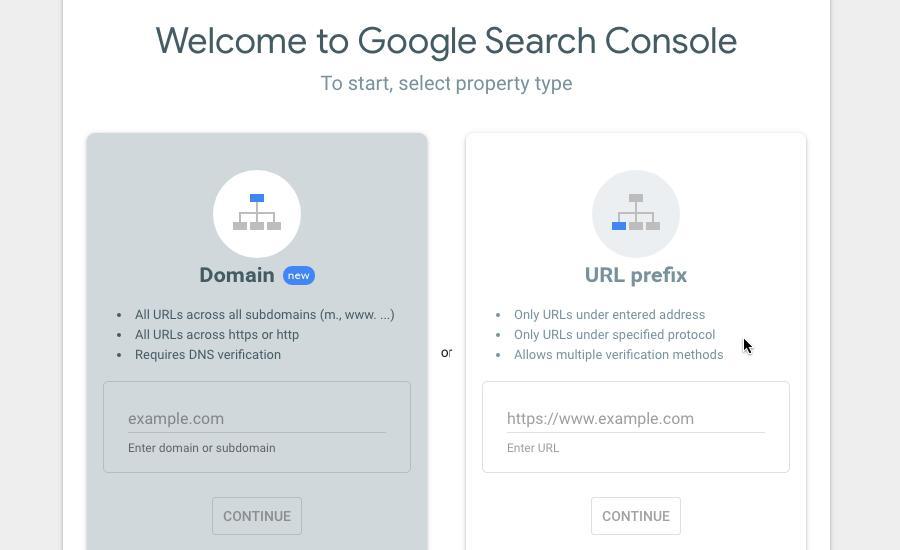 Then, you will need to verify your ownership of the URL. To do this, you must copy and paste the link given to you in the next section into your DNS configuration, as expressed in this following image: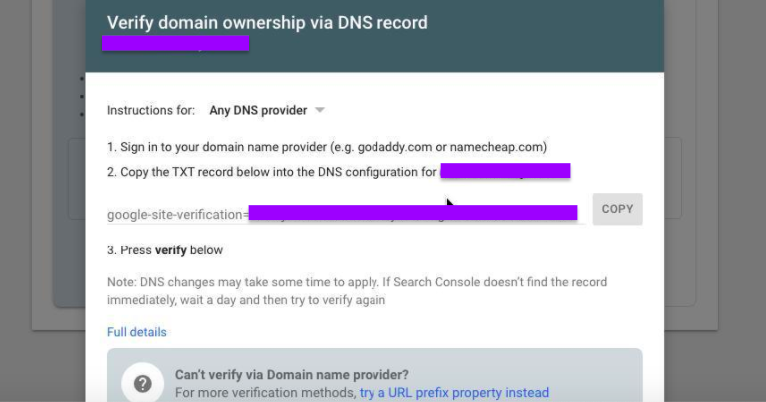 Once you are set up, you can see the following homepage. I will describe the most important section in this image: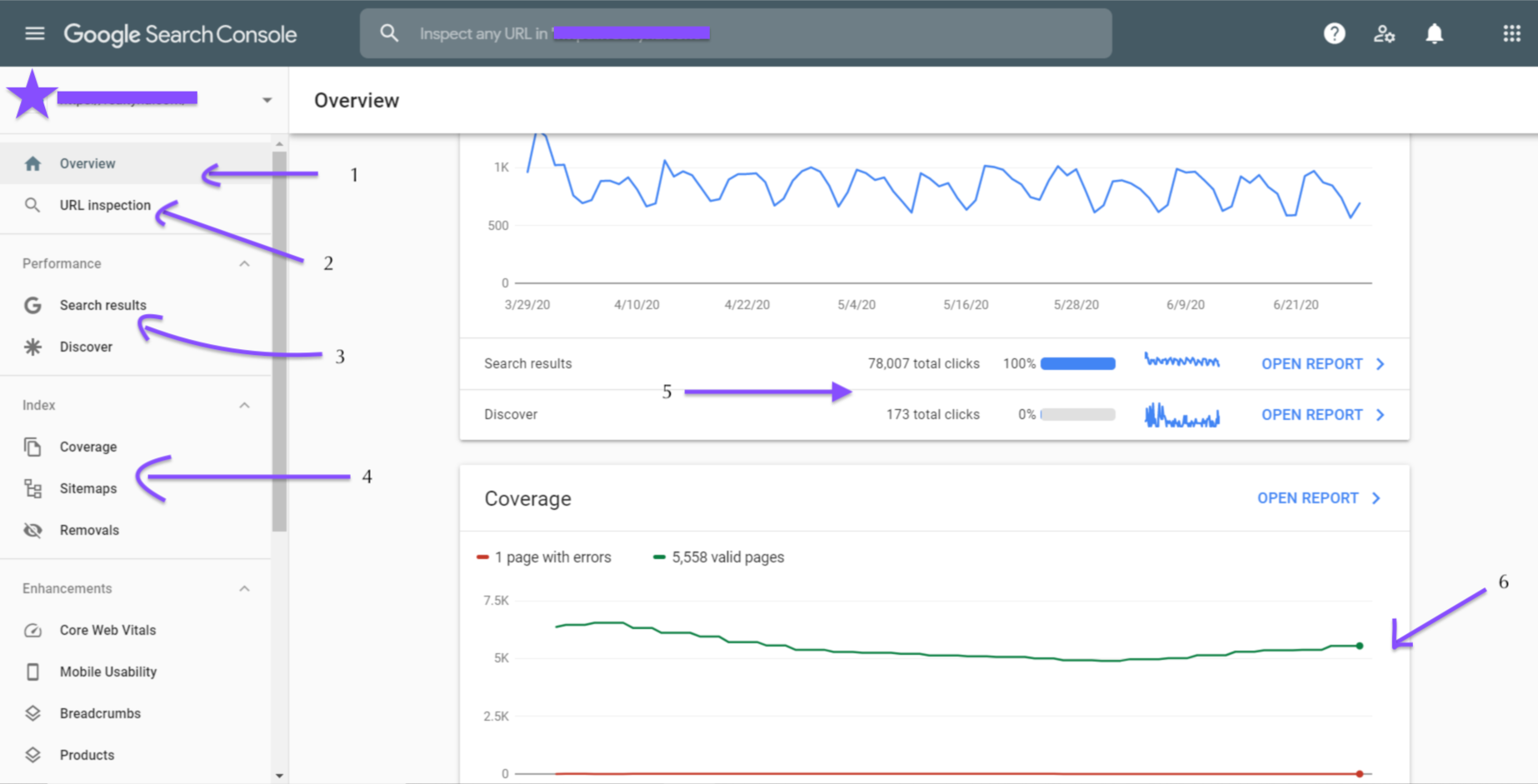 1: This section is used to display an overview of the search performance and clicks.
2: This can be used to analyze search performance of a specific page on your website.
3: This part shows the exact result performance based on pages and keywords.
4: This INDEX section can be used to introduce pages to Google and help Google understand your website better. Defining the sitemap is an important move toward the better indexing of your site by Google. Visit Google Support to learn how to create one.
5: This is a report of clicks in search results.
6: This graph indicates the number of pages that have been indexed. The green line shows valid and healthy pages while the red indicates pages with errors.
What is Google Analytics?
As suggested by the name, this is a tool that provides you with the most accurate analytics about your website performance across the web and search results. It provides the following information:
Active users of your website in real time and specified durations

Performance of every single page, such as your home page and landing pages

A precise report of your ad performance and revenue

Suggestions on how to improve your performance

The level of traffic and its sources
And dozens of other analytical information that help you be more efficient on the web. Click here to access Google Analytics.
How to use Search Console and Analytics for a Real Estate Website?
There are so many sections and features in Google Analytics that are beyond the scope of this article. Nonetheless, I will provide a quick introduction to the main and most important elements that help you kickstart your analytics watch over your website.
Remember that Google often needs time to index information provided on your website and it might take days or months for changes to take effect. As a result, you don't have to monitor your analytics data everyday unless you have many active campaigns in place. For a usual real estate website, once or twice a week will be the recommended routine.
This is the homepage of Google Analytics. In the following section, I will briefly highlight the sections you need to get started: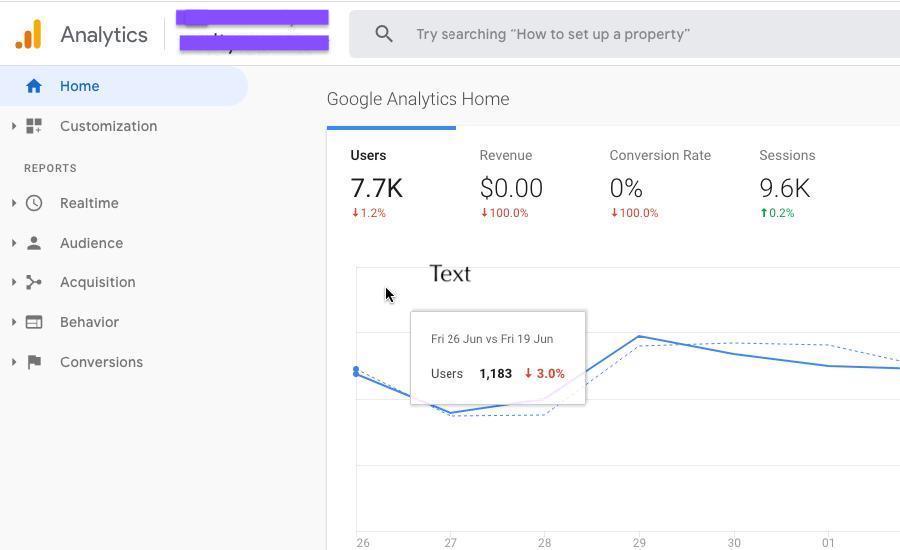 Realtime:

Use this section to receive reports about your website views and performance in real time.

Audience:

Use this section to view reports about your target audience in terms of demographics, platforms they use and other user variables.

Acquisition:

Use this section to monitor the flow of traffic to your website. Find out how much and from where traffic is coming. This section is the most important in search optimization o0f your website.

Behavior:

Use this section to review user behavior and interactions with different parts of your website.

Conversions:

This section is to review and manage reports of ad campaigns, sales and revenues through Google ad services. You can define goals based on your active and potential campaigns.
What is Next?
Now that you have familiarized yourself with these robust Google tools, it is time to take a step further and aim at higher ranking on Google for your IDX website. In the next part of the series, we will focus on SEO or Search Engine Optimization and its implications for real state websites:
Google and Real Estate Part Two: Search Engine Optimization