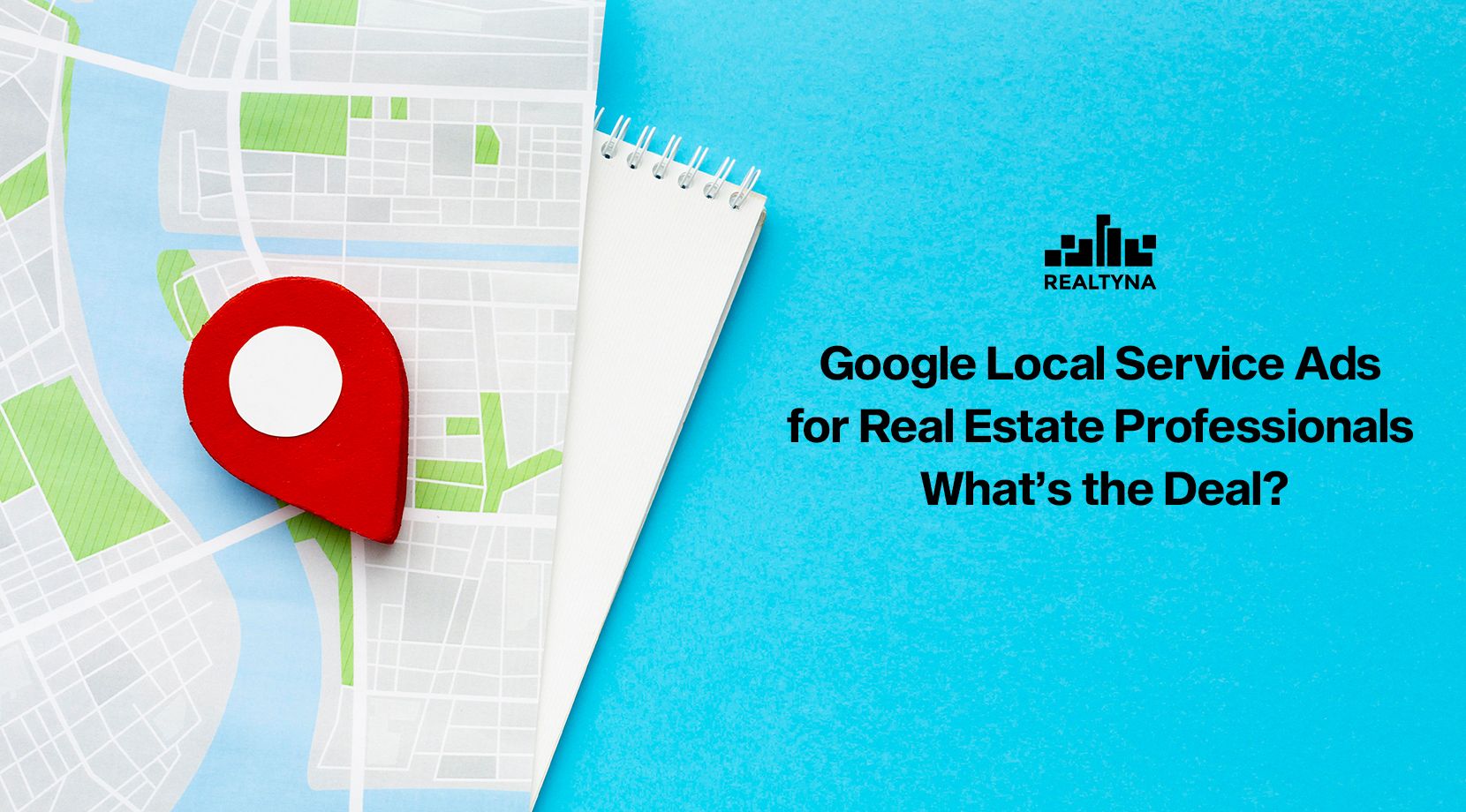 Google Local Service Ads for Real Estate Professionals: What's the Deal?
09 Apr 2021

Posted at 11:00h
0 Comments
The importance of narrowing down your niche and locality is immeasurable in the real estate world, whether for selling, buying or advertising. And the real estate professionals are definitely the people who realise that very well.
In How to Choose a Real Estate Niche? and How to Become a Neighborhood Expert in the Post-Pandemic Era, we already discussed the importance of the real estate niches and being hyper local and even becoming a neighborhood expert in this "brave new world" with unexpected new challenges.
But what about local marketing? What are the tools that will help you achieve this hyper-locality?
Well, in this article, we will discuss one such approach — Google local service ads.
What Are Google Service Ads?
Google ads is a powerful tool to reach people across the world. But often, we need a more local approach to reach people in our own neighborhoods. That's where Google local service ads come into play.
While surfing the internet and scrolling through different pages, you probably noticed once or twice a new type of Google ads. They usually appear at the top of the search, above the usual Google ads. They often have a green sign, notifying viewers that these professionals are backed up and background checked by Google. As always, they highlight that it is sponsored content, so no one gets confused.
Benefits of Google Local Service Ads
So, what makes Google local search so interesting?
Well, for starters, it appears at the top of the search, above traditional Google ads that we're so used to. As research shows, we are becoming more and more immune to the traditional text ads. Our eyes and mind automatically block them. We just scroll through them without paying attention.
Google local service ads have a different structure. Usually, they feature an image as a very brief text, for example:
Your name and your position

A location and open hours

Google star ratings

Your experience in the industry measured by years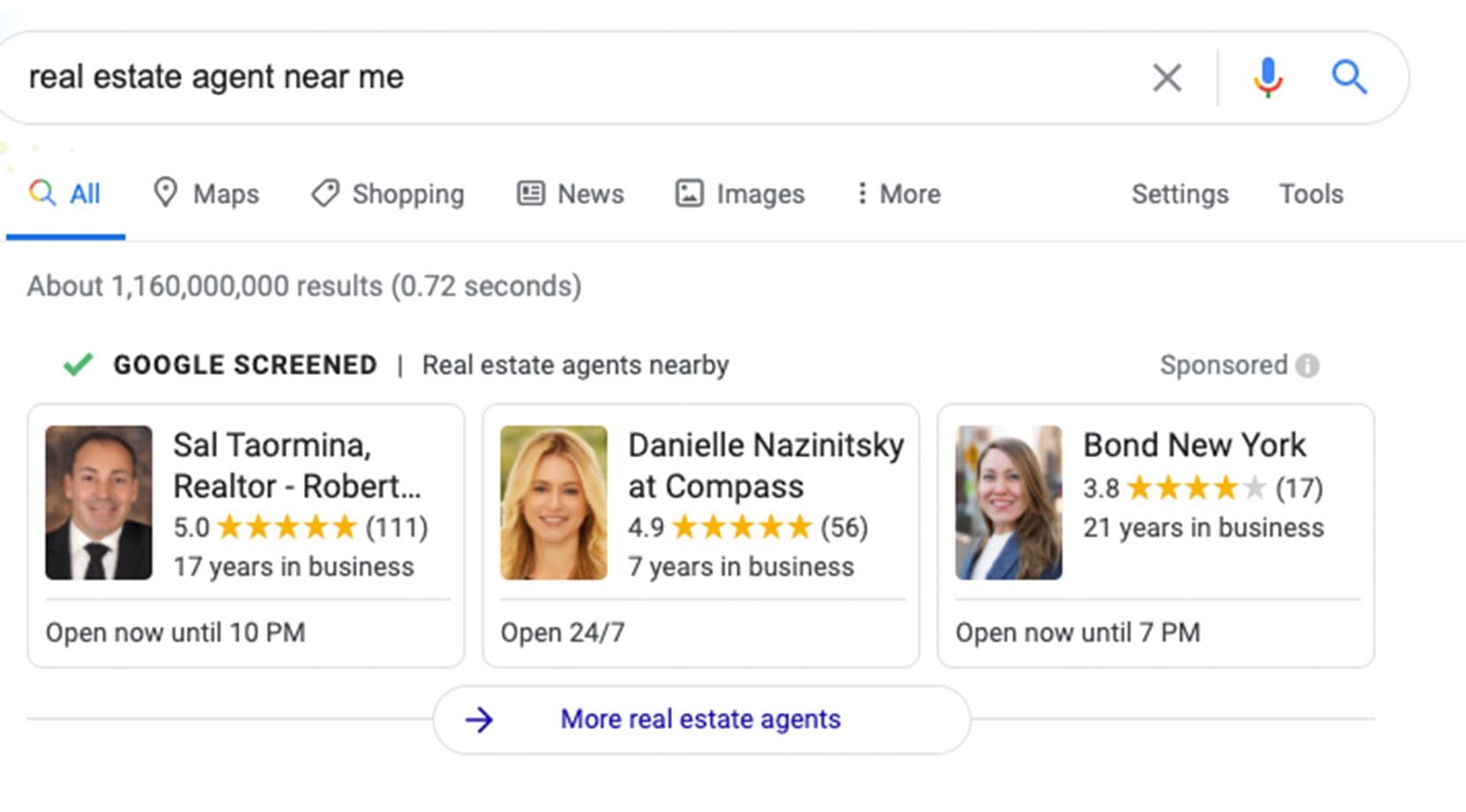 Google local service ads appear not only above the traditional ads, but above an organic search, which makes them the first thing you see on the page.
Google Guaranteed
Another important factor is the Google guaranteed badge.
Google guaranteed is a green check mark that appears above the local service ads. Since Google's algorithm isn't showcasing Google reviews on ads anymore, Local service ads is one of a few ways you can actually utilize Google reviews in ads.
Aside from that, being backed up by Google gains you a lot of trust, which subsequently may result in more leads.
Make sure you have a badge from Google. As the algorithm showcases, Google prioritizes professionals who they are able to take responsibility for.

How Do You Pay?
Traditional Google ads rely on pay per click. In local service ads cases, you pay only for leads. Prices for each lead may range from $5 to $30. And you're charged only for valid leads. In case of a fraud, you as a professional are free to dispute the charge for credit.
Voice Search
Another benefit of the local service ads is being included in a voice search.
What About Keywords?
What are ads if not a battle of keywords? Every advertiser will tell you about the pain of finding relevant, good performing keywords. How do local service ads include keywords? Well, the good news is that you don't need to worry about keywords. Local service ads automatically are triggered even if your potential customers type a very broad search.
Ask for reviews
Google local service ads have an option to ask for reviews from your clients. Once you complete your job, you can go ahead and ask for reviews.
How Do Google Local Service Ads Work?
First things first, create a profile. Remember Google local service ads aren't the same as Google Business. You need to create a separate account for it.
You will be given a form that will include a bunch of information you'll need to fill in.
Such as:
Business name

Service type

Location

Business hours
All this information is necessary for Google to verify your background and business. Aside from that, you also have an option to set yourself apart from other businesses by indicating special offers.
Once you're done with filling out a profile, you're going to need to adjust your budget.
As Google indicates, you can always go back to the budget section and optimize it if you feel like it.
As practice shows, you need to have a budget for at least for 10-15 deals, because you're charged not per click but per lead.
Aside from setting up your profile and budget, you will need to verify your license, especially if you want to earn a Google guarantee badge.
Important Things To Know
Google local service ads aren't available for every state and industry. Luckily for the real estate agents, the ads support the real estate market. Here are some areas where Google local service ads are available:
Pittsburgh, PA

Portland-Vancouver-Hillsboro, OR-WA

Riverside-San Bernardino-Ontario, CA

Sacramento–Roseville–Arden-Arcade, CA

San Antonio-New Braunfels, TX

San Diego-Carlsbad, CA

San Francisco-Oakland-Hayward, CA

Seattle-Tacoma-Bellevue, WA

St. Louis, MO-IL

Tampa-St. Petersburg-Clearwater, FL

Washington-Arlington-Alexandria, DC-VA-MD-WV

Denver-Aurora-Lakewood, CO

Detroit-Warren-Dearborn, MI

Houston-The Woodlands-Sugar Land, TX

Las Vegas-Henderson-Paradise, NV

Los Angeles-Long Beach-Anaheim, CA

Miami-Fort Lauderdale-West Palm Beach, FL

Minneapolis-St. Paul-Bloomington, MN-WI

New York-Newark-Jersey City, NY-NJ-PA

Orlando-Kissimmee-Sanford, FL

Philadelphia-Camden-Wilmington, PA-NJ-DE-MD

Phoenix-Mesa-Scottsdale, AZ

Atlanta-Sandy Springs-Roswell, GA

Baltimore-Columbia-Towson, MD

Boston-Cambridge-Newton, MA-NH

Charlotte-Concord-Gastonia, NC-SC

Chicago-Naperville-Elgin, IL-IN-WI

Cincinnati, OH-KY-IN

Dallas-Fort Worth-Arlington, TX
Always Answer the Call
Google local service ads, like any other Google product, have their own algorithm. Since real estate clients are able to directly call you from the ad unit, Google prioritizes those who answer the phone more oftenly, which in a nutshell means Google assigns you a responsiveness score.
Aside from that, Google takes into consideration the number of reviews you have, your business hours, and proximity to your potential customers' location.
P.S. Want to know more about Google ads for the real estate agents? Check out these articles:
Google and Real Estate Part One: Search Console and Analytics
Google and Real Estate Part Two: Search Engine Optimization
Google and Real Estate Part Three: Google Ads