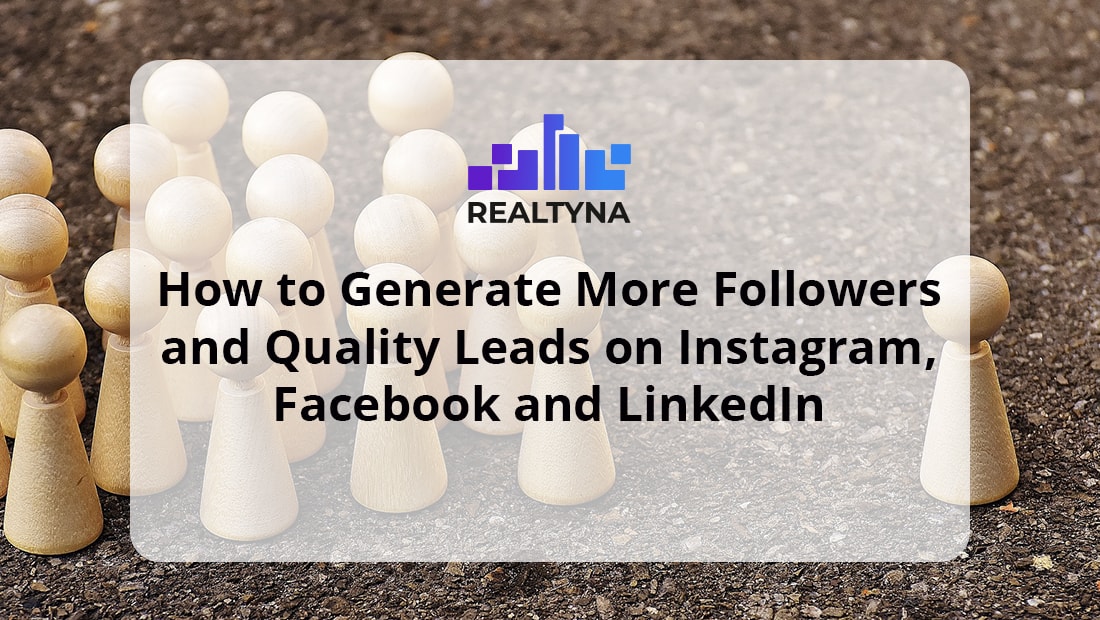 How to Generate More Followers and Quality Real Estate Leads on Social Media
30 Jul 2019

Posted at 11:57h
0 Comments
Since you are here, I will assume you already know how important social media has become during the past few years. I will not bore you with details how and why it happened, let's get down to business and discuss how should you use different social media platforms for midterm lead generation. Social media is a great tool for generating real estate leads gradually. Your followers aren't going to become your leads right away, but with the right approach and permanent efforts they could definitely become your potential clients.
I'm sure most of us have heard the phrase "Content is king" but the thing is half of the people in real estate business don't know how to make their social media content the king. Statistically speaking, one in two real estate agents fail at this and less than 1% of their commission income is received through social media marketing.
So, for you to not be one of them, here are a couple of ways that could help you getting followers and generate quality leads for your real estate business:
Before we begin, here are the 13 social media influencers in real estate who got the concept right.
Instagram
Good news for you: Instagrammers really love business, the platform itself informed us that every day at least 200 million Instagrammers visit at least one business profile.
Even better news: Instagram's number of active monthly users are growing at a faster rate than Facebook, Twitter, and Snapchat, this means even more leads for you to engage.
So, what do you have to do to increase your Instagram following for your real estate business?
Set Goals and Schedules
The more you do, the more you rank. This means number of quality posts a day. Picture of your coffee in the morning or one or two pictures from your listings will not do.
Your posting on social media needs to be planned and strategic. Plan how many posts do you want to publish, what time and who is the target audience for the mentioned post.
Set goals: how many followers do you have now and where do you want to be in a month or in a year. This will help you to stay focused on keeping your social media creative, helpful and trendy.
Helpful tip: research shows people tend to visit Instagram before and after work, for prime time viewing you can coordinate your posts around these times of the day.
Visual Aesthetic
There are not enough words to describe the importance of this for Instagram following and therefore lead generation. Your content NEEDS to be Aesthetically pleasing- because, you know, Millenials and their taste.
How – you may ask, you need to find uniqueness of every property you have to deal with and showcase them properly. First, to get a handle on this, if you are not already familiar with the term, you need to grasp the concept of what is Instagramable.
This means unique view, pastel-colored kitchenette, classic white bedroom with a pop of green in the corner, minimalist bookshelves. Research will show what is likeable on Insta, the list could go on endlessly.
Helpful Tip: Instagrammers love the colors, so you should edit your content accordingly.
Instastories
Nothing engages the audience more than storytelling and on instagram there is no better way than to use Insta Stories.
Instagram stories give you an opportunity to pop up in your followers feed and gain their attention, but to keep them engaged storytelling is a must. It's better if your stories are contextually connected, follows you during the day or tells a story about your clients or even a specific property.
Another great way to engage your followers is to ask them questions, make polls, let them ask you questions. Instagram allows all of this, why not use them as often as we could?
These techniques will create trust and show people there is a real, trustworthy person behind your page. So, be helpful and authentic. Nothing helps with generating more followers and leads than authenticity.
Bio-clickable link
Instagram only gives you one place to provide a link- your Bio, so use this wisely. Bio is one of the most important parts for gaining followers and lead generation.
Be concise, but represent your brand as strongly as possible.
Hashtags and Live
Engaging your audience helps ranking, but what if the process is really slow? In the meantime you could research the most searched hashtags in your own industry, in this case real estate, and use as many of them and as often as your content allows.
Once you find out what your potential customers want to know, you can go live around the issue, try to engage your followers, so others can find you, even if they are not searching.
Facebook
If done right, paid advertising could be a huge part of your page's growth on facebook. But right now we are focusing on organic follower gain by being beneficial and entertaining and therefore interesting to look at for your real estate leads.
Most of the tips for Instagram applies to facebook too. Visual Aesthetic, posting frequently and being strategic about your content and target audience is a key factor on any social media, including facebook
Target Audience
Every platform has its strengths and weaknesses and our strategies should vary according to those. Facebook has a bigger audience from rural and suburban parts of the countries than LinkedIn and Instagram, so if rural or suburban real estate is part of your interests, Facebook can be the right platform for you to explore.
Helpful tip: Research says, people usually use Facebook during work hours, so that's a great time to go live or to post.
Video Content
Did you know that Facebook's algorithm favors video content? The organic reach of video messages is 135% higher than any other visual content. So if your objective is to boost your Facebook page, the best way to go is to use video to encourage content that generates leads, be it promotions, functions, training or anything else.
Facebook groups
One of the best ways to build a community on Facebook is to join and create facebook groups. You can use it to communicate with your potential customers, colleagues, promote events and grow your network.
However, do not, in any circumstance, spam your audience with links to your site, instead provide value for them, discuss current events, start discussions, ask and answer questions. Groups work both ways, it has to be beneficial for you and members also, otherwise it won't work.
Helpful Tip: if you decide to create a Facebook group, you have to know, it's about quality, not quantity. I'm in marketing and the minute I decided to get into this business I created a facebook group and added industry leaders, other beginners and people interested in marketing in general- best decision ever! It has 700 members, which isn't a lot at all, but people still post exclusive vacancies, offers and other beneficial content.
LinkedIn
LinkedIn is one of the best platforms to invest in. Why? because LinkedIn is 277% more efficient for lead generation than Facebook and Twitter, according to a research conducted by HubSpot. 45% of LinkedIn's audience earns more than 75k a year, also 50% of users are college educated, use this info when targeting the audience on LinkedIn. Besides, LinkedIn has a very specific etiquette that you should be aware of, here are some tips to navigate the platform professionally:
Customize
Since LinkedIn is so professional, it is important to keep in mind that you can not use same etiquette you use on other social media platforms. Profile picture, Cover photo and bio should look very professional. A headshot is the best option for the profile picture. Customize your invitation. LinkedIn offers a prefabricated connection message with the built-in courtesy, but it is preferred to have a unique one to show that you are the person who takes time to establish genuine relationships.
What & When to Post
Keep in mind, people don't go on LinkedIn during work hours, according to research most of LinkedIn's audience use the platform before and after work, so plan your posting strategy accordingly. Also, we are recommended to only post once a day, since LinkedIn's feed gets cluttered really quickly
As for what to post, pretty easy- anything beneficial for your target audience, keep it professional, but don't neglect storytelling tactics you use on other platforms, it's important to be readable, relatable and trustworthy on LinkedIn too. Share Industry news, photos of local landmarks, infographics etc.
The best way to generate leads on LinkedIn is to seem real and proficient
LinkedIn Profile Data
If your main goal in lead generation is to increase lead quantity, you will need a way to reach the unexplored, potential customers without wasting budget and without diminishing lead quality. In other words, you need information about LinkedIn profiles.
LinkedIn Lead Gen Forms are a crucial component of any LinkedIn lead generation campaign.They gather relevant information from the user's LinkedIn profile, which ensures they can share contact information in just a few clicks. As an outcome, they increase the number of leads generated by a campaign and decrease CPL through the process.
Got a question or two? Let us know in the comments down below. Check out our 10 Commandments of Real Estate Lead Generation on Social Media and Your Website