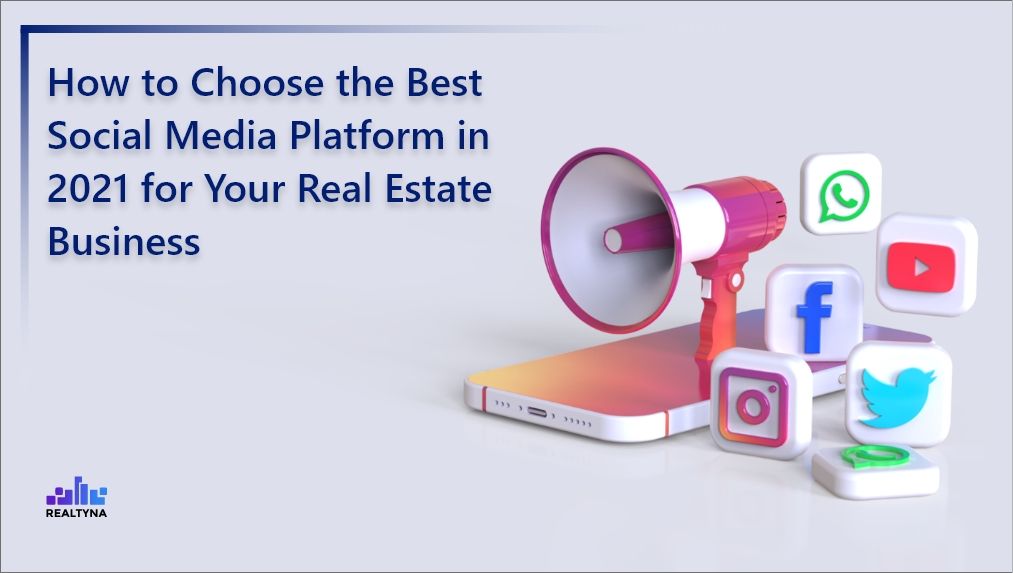 How To Choose the Best Social Media Platform in 2021 for Your Real Estate Business
23 Aug 2021

Posted at 11:00h
0 Comments
What is the best way in 2021 to choose a social media platform for your real estate business? Or why do real estate businesses require using different platforms? Or why do they need active engagement on different social media platforms?
Today we are going to answer all of these questions, and we'll suggest the best way to choose a social media platform in 2021 for your real estate business.
Let's jump into it!
The Importance of Social Media Platforms
Social media platforms are very popular and useful nowadays, especially when speaking about real estate business and marketing. Social media simply allow you to target and reach the right audience for your business needs. That's why it is important to run your business campaigns on social media platforms. This has been especially important during the COVID-19 pandemic, when the internet has become the most useful tool for marketing and for work.
The Usage of Different Platforms for Real Estate Professionals
Real estate professionals handle different tasks on a daily basis. For their job, they use different tools to achieve their goals. One of the main tools is social media platforms. Real estate agents use social media for different purposes. Some of them are outlined below:
To become popular agents;

To market their listings;

To target the right audience;

To generate leads;

To engage with the right audience.
For real estate professionals, in order to have more leads, it is important to use different social platforms. It will help them to be more successful and to achieve their goals.
Choosing Social Media Platforms in 2021 for Real Estate Business
Below is a small list of social media platforms that can be used by real estate professionals in 2021. Quite simply, there are more than this.
But what to choose as the main social media platform?
There is no one answer to this question, as it depends on you.
Although social media platforms differ from each other, they still have one thing in common — they allow you to express yourself and to make connections with the right audience. Let us have a look at how these social media platforms differ from each other and for what purposes they can be used.
Instagram
It is the best platform for sharing new photos and gaining followers. If you want to market your listing via social media platforms, then this is the right one to choose. You can also use "day" to upload your daily routines, to market your properties and more. Also, from time to time, it becomes a very popular platform, so as a real estate agent, you can easily achieve your goals if you will be active on Instagram. For more, check our article on why does a real estate agent need Instagram?
Facebook
This is the social media platform that allows you to post anything you wish: photos, "days," small videos, long videos, lives and more. As there are many groups for different subjects on Facebook. You can simply become more popular by posting news on groups, engaging with your "friends" and more. Are you interested in content ideas for Facebook? Check our article on 20 engaging content ideas for your real estate Facebook page.
Linkedin
Want to show your professional identity on social media platforms? Then you should definitely create a LinkedIn account, where you can post anything related to real estate and to connect with professionals like you. LinkedIn allows you to have small blog posts, which can easily be one way to success for your real estate business. Want to know how to generate more leads using this platform? Check our article on LinkedIn for real estate: how to generate real estate leads and referrals.
TikTok
Speaking about the marketing strategy on social media platforms, TikTok should be mentioned as one the best platforms out there. Its usage is quite simple, and it allows you to easily become an influencer just by uploading small, but useful videos on TikTok. Want to know how it can be used for real estate business? Check our article on TikTok for real estate agents: a detailed guide.
Suggestion From Author
Quite simply, before choosing the best platform for your real estate business, you should analyze what you are going to post about, and only after that, you can choose the right ones for you. For example, if you are only going to have stunning pictures of your listed properties, then Instagram is the best one to choose from. If you are going to record small types of videos on your social media platform, then TikTok can be very helpful. Or if you are going to have everything at once and collect it on one social media platform, then Facebook is the best choice for your real estate business.
The usage of social media platforms is one of the most important aspects for every real estate agent. With the help of it, it is easier for real estate professionals to achieve their goals and to generate more leads.
Are you wondering how to increase followers on your social media platforms? Check our blog on 4 tips for Realtors on social media: how to raise followers
Or maybe you are interested in promoting your social media platforms, but don't know how to do it; then you should definitely check our article on five tips to promote Your real estate social media platform