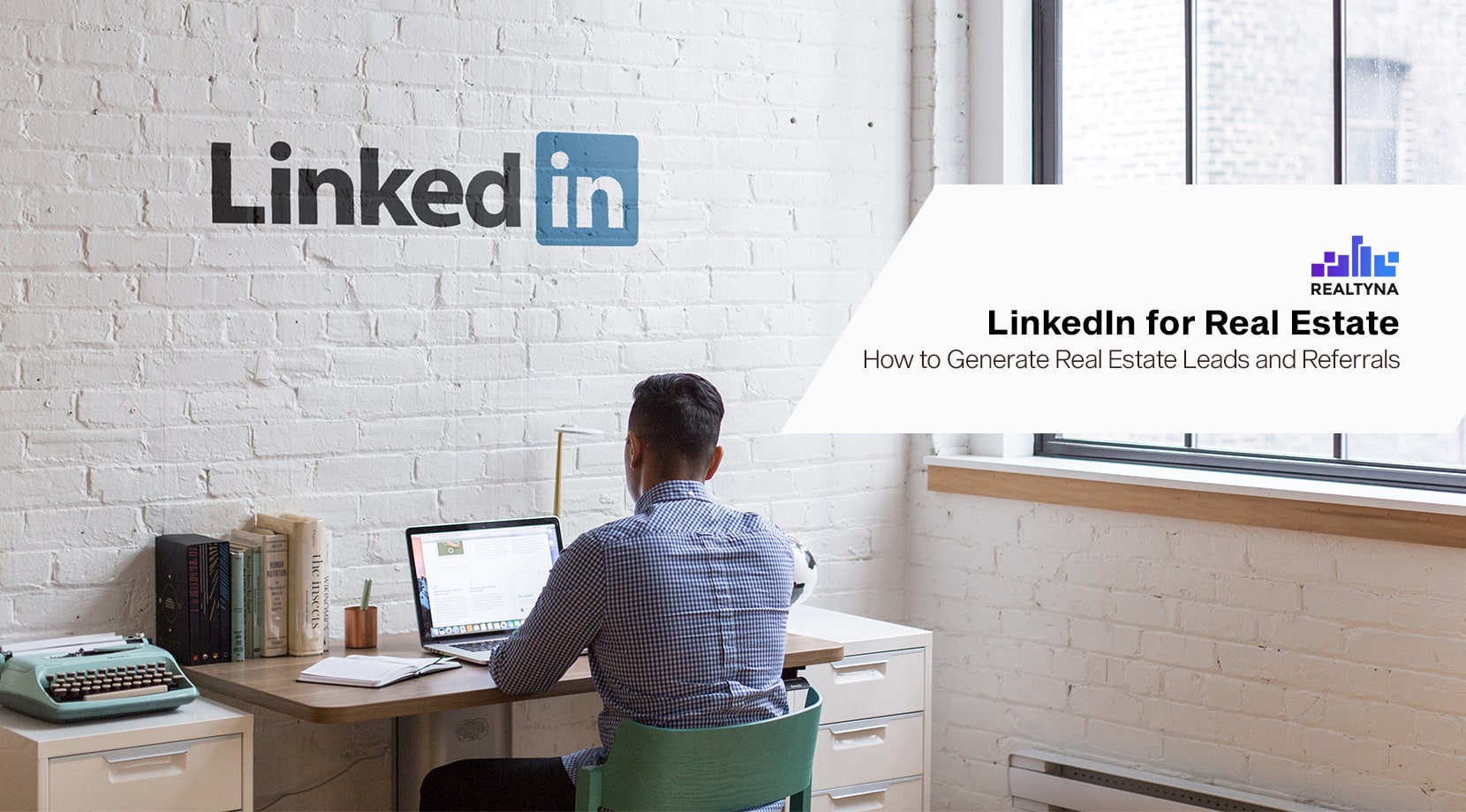 LinkedIn for Real Estate: How to Generate Real Estate Leads and Referrals
15 Apr 2021

Posted at 11:00h
0 Comments
Can you get real estate leads through LinkedIn? Yes! Suppose that your ideal customer or buyer only hired you once or twice in a few years. It will be daunting. Yet, this is the dilemma that most real estate agents have to confront daily. Making continual, stable lead generation is a necessity.
The conventional approaches such as billboards, bus stop signs, and newspaper ads aren't providing quite as much yield as they once did. As a result, an increasing number of real estate agents are doing outreach through social media platforms like LinkedIn to find fresh leads. And does it work? Yes! And here is how:
LinkedIn has about three times the lead-to-visitor ratio of Twitter and Facebook!

About 80 percent of LinkedIn members make corporate decisions using LinkedIn.

The demographics on LinkedIn work well for lead generation with most users aged 30 years and above. Also, 90 percent of LinkedIn members have relatively high annual income, and most make household decisions.
Therefore, it goes without saying that several real estate agents have earned millions of dollars from LinkedIn leads.
In this article, you'll find some valuable ideas that will help you increase your client base and expand your revenue from LinkedIn.

How Can Real Estate Agents Use LinkedIn to Generate Leads?
Create a Profile That Sticks Out
Each user on LinkedIn builds their profile. A LinkedIn profile is similar to a resume for a real estate agent. Your LinkedIn profile will give your prospects the first impression of you. As a result, it's essential to customize your real estate LinkedIn profile better. The summary of a user's profile includes:
Provide your name.

Have a professional profile picture and a cover shot.

Create a catchy headline.

Have a description that establishes the brand's reputation and authority.

Make your URL exclusive.

In the featured segment, provide the landing page links and CTAs.

For LinkedIn endorsements and recommendations, reach out to your coworkers and customers.

Fill in any remaining information, such as experience, education, and contact information.
Build a Network
The most crucial aspect of generating real estate leads on LinkedIn is to expand your network. You can't just add people at random and hope to get new leads. Your strategy to growing your LinkedIn network should be practical and well thought out with processes such as:
Sending Connection Request to Relevant People
You can send free access requests to your 2nd-degree links on LinkedIn, along with a message. It means that if you are connected to your colleague, you can send a personalized message to their contacts.
Use this often to increase your lead generation by adding building firms, HR professionals searching for recruits, and your colleagues, who may choose to use your services, as well as those who are likely to engage in real estate.
You can also add new prospects that may qualify for your list of those who might become your real estate clients in the future. On LinkedIn, the more important connections you have, the quicker you'll expand your exposure, and the greater your network will grow.
Direct Mail Campaigns
However, adding connections without any message might get your requests ignored. Thus it is advisable always to send a personal note. Use their first name, then say something you both have in common and compliment them. Then go ahead to say that you'd like to add them to your network. It increases the likelihood of being accepted!
Create Relevant Content
LinkedIn aims to encourage members to become more engaged in LinkedIn posts and blogs. Post relevant content often on LinkedIn to get noticed to increase your leads.

You should aim to create valuable content to add value to your real estate leads in every way. You establish yourself as an authority and increase engagement by generating real-estate-related material.

Use related hashtags to improve interaction.

To increase your online brand visibility, share your blog posts on LinkedIn.

Get directly involved in the comments. Share your views and ideas in the comment section. If someone expresses interest in seeing your listings, involve them in a valuable discussion.

It's a brilliant idea to have property listings on your LinkedIn profile since many LinkedIn users might be looking to buy houses or know someone who might be interested.

However, make sure that not all your posts are exclusively about listings. People will scroll past your post if you do that. Make sure to put up some non-promotional posts to add value to your prospects.

On LinkedIn, stories get a lot of engagement. As a result, use storytelling to make your posts more interesting.

Divide content into bullet points, chapters, and keep the text short and simple.

Create more exciting content, such as LinkedIn polling, to boost engagement.
Automate the Process of Generating Real Estate Leads
With LinkedIn, it is all about numbers. Lead generation is a numbers game. The more time you spend on connecting, personalizing texts and follow-ups, the more you'll be able to generate leads.
Nevertheless, this approach is tedious and time-consuming. It is why an automation tool for LinkedIn is the best option to take advantage of to make your job easier.
The process of using a LinkedIn automation platform for messages, connection requests, and follow-ups is quick and easy. LinkedIn automation will also customize your experiences with your leads, so your sales rates increase.
With automation, you can scale your real estate leads while working on a growth strategy for your real estate business.
In a Nutshell
For real estate agents trying to generate more leads, LinkedIn is an untapped goldmine. Before you go ahead and start using the network, make sure you have a plan and strategy in place. Unlike Instagram, Twitter, and Facebook, LinkedIn users are truly interested in connecting with others to learn more. So, hop on LinkedIn, get discovered, and generate new real estate leads.
For more information, read Five Tips to Promote Your Real Estate Social Media Platform and Undisputable Advantages of Email Marketing for Real Estate Agents.