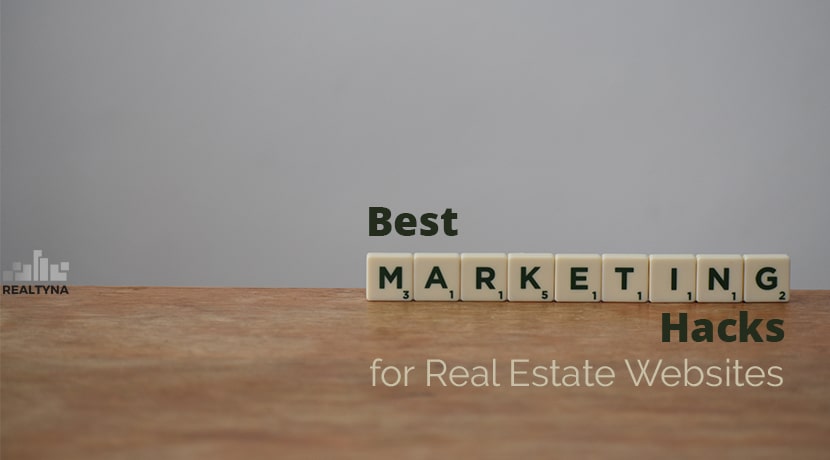 Best Marketing Hacks for Real Estate Websites
31 May 2020

Posted at 11:00h
0 Comments
Are you trying to find out how to increase your website traffic? Or maybe you want to convert your website visitors into leads? If yes, what are you doing to increase your website lead generation? Have you implemented all the necessary marketing hacks on your website? Let's talk about some very useful marketing hacks for real estate website.
Before we start, we have to say that in the article we will discuss only organic marketing hacks for real estate.
Know Your Audience
In order to know what your audience's interests are, you should understand them. You need to know what type of website visitors you have and what they prefer on your website. After that, it will be easier to find interesting blog topics and other information you are going to post.
For example, you can use Realtyna's User Analytics Add-on and identify general trends on your website. The add-on provides you with information on how your website is being used. You can choose a date range and view how certain listings, searches, or neighborhoods performed.
By knowing your audience you will make better marketing decisions.
Site Content
When you already have the information about your user's demands, you can organize the website content.
Videos for Your Real Estate Marketing
Increasing traffic on your website with the help of videos is always a good idea. They are an important part of marketing and their role is increasing every year.
There are different ways to implement videos on your website: showing listings, explaining demographic information, recording experienced buyers/sellers. You can try different methods.
For more information check our blog on top video ideas for your real estate blog.
Blogs for Real Estate Marketing
Blogs are a fascinating way to generate leads on your website, especially organic leads. However, there are several rules you have to follow:
Always know why you are writing your blog. Never forget that your users are your potential clients and your blogs must be beneficial for them. Think about the kinds of questions they always seem to have for you. You can even search on different platforms what your potential clients might ask. Answer their questions in your blog, and use all the necessary keywords.
Caring about what your website users might be interested in is good, but don't forget your own interests. Try to use blogs for marketing your own products. And one last and most important thing, use internal links that redirect your website visitors to different pages. This way you will decrease the bounce rate on your real estate website.
FAQ As a Marketing Hack for Real Estate
The FAQ, or frequently asked questions, section is one thing clients will appreciate on your website. Everyone wants to get answers to the things they are searching. Use FAQ on different pages and make your website even more customized.
Sign Up Forms
Sign up forms are important for businesses. It's the place where you are directly communicating with your prospective clients. With sign up forms, you can collect emails and different kinds of data about website users.
There are different sign-up forms. Generally, you can use: contact sign-ups where visitors contact you or ask a question, product sign up forms, sign-up forms for individual pages, etc.
Retargeting Ads
Have you noticed that sometimes, when you visit a random website, after opening your Facebook or Instagram the website follows you? You see the ads for their products. This means that the business is using retargeting ads on their websites. With retargeting ads, you can reach the audience that visited your website. This will give you a chance to remind them about your business when they log into social media platforms.
Social Media
The power of social media is incredible, especially for real estate businesses. It helps agents increase brand visibility. That's why you should always try to connect your website to social media channels, have social media icons on your website, and share your website content on different social media platforms.
You can use Realtyna's Facebook Add-on and generate more leads. It allows you to develop cost-effective advertising to keep the attention of your leads even after they leave your site.
Did you find the information useful? See our blogs: Organic Marketing Strategies and Their Implementation for New Realtors and Organic Marketing Strategy: Be Ahead of the Game with These Marketing Tips
Disclaimer: The product mentioned in this article as "Market Reports Add-on" has been later renamed to "User Analytics Add-on".