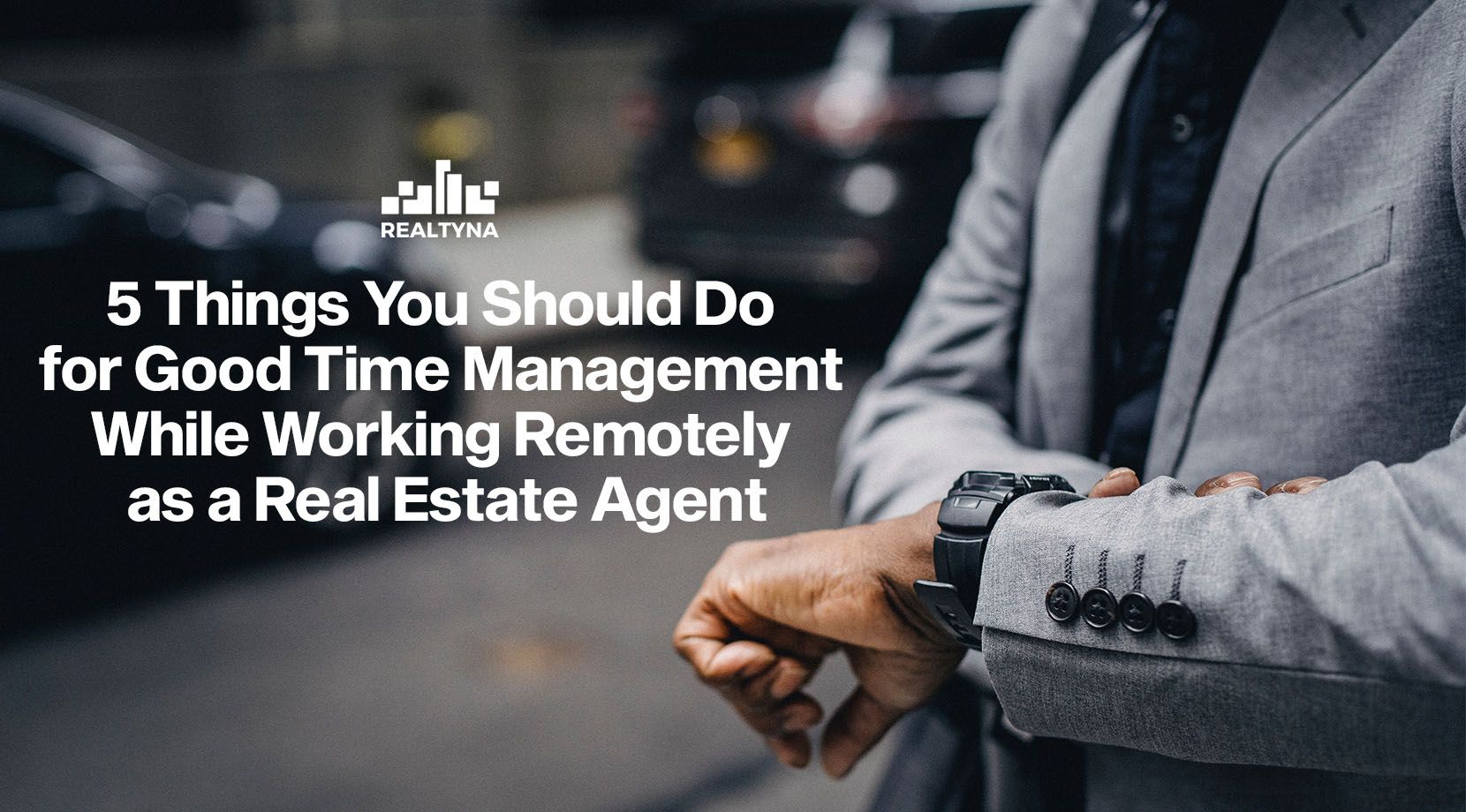 5 Things You Should Do for Good Time Management While Working Remotely as a Real Estate Agent
08 Jan 2021

Posted at 11:00h
0 Comments
In the modern world, especially in the COVID era, the number of people working remotely is increasing day by day. It has become clear that some part of the work, in any case, can be done remotely. However, working from home doesn't automatically mean more productivity. For some, working remotely has made things easier. For many organizations and employees, new challenges have arisen in time management, task management, measuring the effectiveness of work performed, etc.
These changes have also affected the real estate industry. It has become more and more important to manage time properly to increase the productivity and success of your real estate business.
In this article, we will talk about 5 things you should do for good time management while working remotely. Following our recommendations will allow you to avoid the risks posed by working remotely and make your business work more efficiently.
Create a Work Space in Your Home
The main issue when working remotely is the arrangement of the workspace. Try to separate your working area from your living area. This will make you feel like you are in the office and not at home. Choose a specific desk for work. Put all the necessary inventory that you use for work and need throughout the day nearby. While you are working, stay away from spaces that are for leisure. Such an approach will help you, as a member of the real estate business, to create a connection between physical space and what you mentally focus on. By taking this step, you will be able to manage your time more productively.
Dress Like You're Going to the Office
The second and most important point when working from home is to prepare yourself as you did when working in the office. To do this, set an alarm clock, tidy up, enjoy a cup of coffee or tea, take off your pajamas and wear clothes you would wear to the office. This routine will make a big difference in your productivity. The mood you create with these small details is directly related to the efficiency of the work done.
Plan Each Day
Working in the real estate industry means being more responsible and result oriented. This is especially difficult while working remotely. So, to achieve this goal you have to have priorities and tasks for each day. If you start a day with a to do list it will help you to manage everything. Plan your day and make a list ordered with the most important to least important tasks you need to work on during the day. Prioritizing issues will allow you to manage time properly. When planning issues, it is important to have a daily goal that you want to achieve. Goal setting will help you to focus on important issues and allow you measure your daily progress. Daily planning is one of the most important parts of productive time management.
Take a Break
It doesn't matter if you work in the office or at home, your mind definitely needs rest, especially when there are so many challenges in the real estate industry. You have to have small relaxation moments at home while working. It can be yoga, listening to your favorite music, drinking tea or coffee, eating sweets or anything else that will cut you off from the working environment. It will refresh your mind and will make your working day more productive. As a remote worker, you need to constantly balance work with rest. Working with a relaxed mind will increase the success and progress of your real estate business.
Stay Organized
Taking into account all the above points will allow you to be organized. This is one of the main formulas for success in the real estate industry. Staying organized will save your time, which will give you an opportunity to accomplish more tasks in a shorter time. Planning your day, setting goals, dedicating time to mental relaxation and being organized are the biggest part of your good time management and the main formula to avoid all possible risks when working remotely. All this will increase your progress and give you more opportunities to set and achieve new goals in your real estate business.
Hope you enjoyed reading the article by Realtyna. Feel free and share your experience as a remote worker.
Want to learn more about remote working? Check our blogs: How to Protect Your Real Estate Business While Working Remotely and How to Work From Home As a Real Estate Agent.