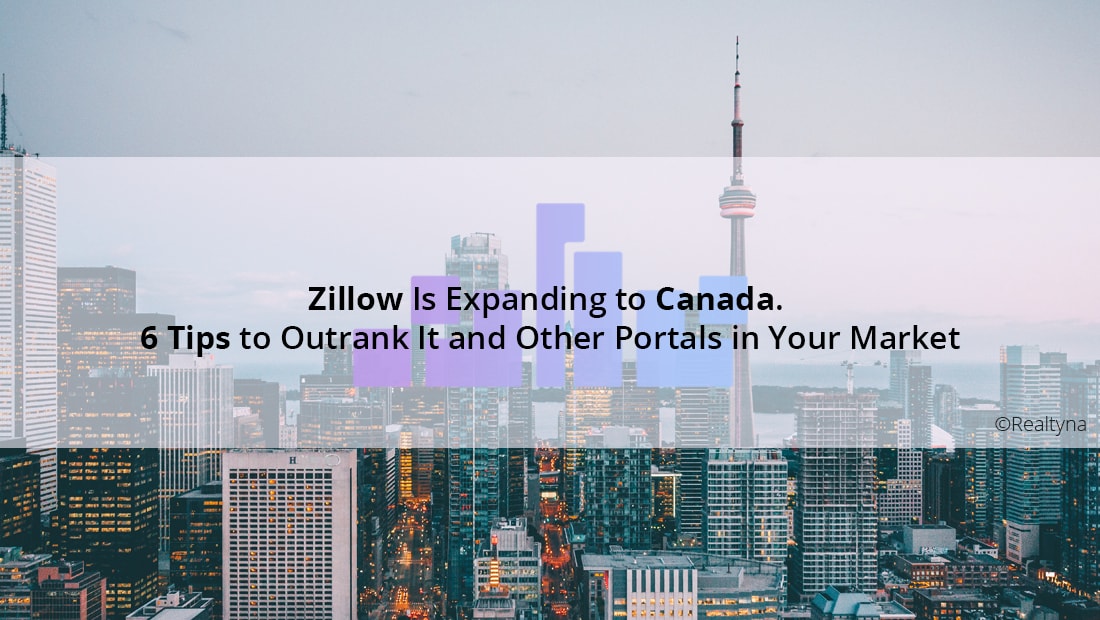 Zillow Is Expanding to Canada. 6 Tips to Outrank It and Other Portals in Your Market
20 Jun 2021

Posted at 10:01h
0 Comments
Zillow's entry into Canada will increase competition for leads. But agents have a secret weapon.
In October, Zillow launched its first property listings in Canada. The company joins Realtor.ca, Centris, and others providing listings at the regional and national level.
It's no secret that real estate portals capture the vast majority of page views for listings. And Zillow's expansion into Canada will surely increase the competition.
But Canadian agents can still compete with these sites and even outrank them in their local markets.
The key is to tighten your business model as portals broaden theirs. In this article, we'll share some tips Canadian real estate agents can use to grow their online visibility and peel off leads from bigger sites.
LUKE'S TIP:
How to Outrank Zillow and Other Portals in Your Market
1) Go Local
2) Get Into Neighborhood Specifics
3) Build a Niche
4) Use Organic Listings
5) Publish Original Content
6) Use Lead Capture Tools
Go Local
Portal sites provide vast quantities of listings over a large region. This provides a one-stop shop for homebuyers looking in several communities. This is their competitive edge.
But, to borrow an expression, portal content is "a mile wide and an inch deep."
Zillow and other portals cannot go into detail about any one community. This is where Canadian agents can shine. No one knows your market better than you. You live and work there. You know the shop owners and the teachers.
If you can package this information and present it on your website, you will provide more value and more context to the listings on your site. And this simply cannot be matched by portals.
Get Into Neighborhood Specifics
If you run a web search for "Homes for sale Halifax," you will see the results are virtually all portals. But if you search something even slightly more specific you will find that portals quickly disappear.
Try, for example, "Best neighborhoods for children Halifax." The first result is a Reddit thread.
This is a huge missed opportunity for some Halifax agent to demonstrate his local expertise and generate leads.
Homeowners spend the majority of their time in their neighborhood. So details about that neighborhood are essential. Many advanced IDX systems allow users to group listings by neighborhood page. If yours has this feature, take advantage of it. Then add as many details about that neighborhood as you can on the page. These specifics will help leads know everything else that comes with owning a home in that neighborhood. Once they know you provide this level of detail, they won't go anywhere else.
There are even website plugins that will layer neighborhood intelligence on your property search map.
Build a Niche
It's not just neighborhoods that allow real estate agents to set themselves apart. They can develop specializations in home types, property types, client types and more.
For example, some agents specialize in land and farms, others in luxury condos and apartments, others in baby-boomer buyers.
If you can develop an expertise in one of these niches and market it, you will carve out a segment of the industry for yourself and take leads from the portals.
Use Organic Listings
If you want to outrank Zillow and other portals in your market, you also have to have great SEO. SEO depends on the content on your site, including the type of IDX system you use.
The best IDX for SEO is organic IDX. Organic IDX treats each listing as an individual website page that is searchable on Google and other search engines.
With an organic IDX system, a website with 9,000 listings on it will have 9,000 extra pages of SEO content. This can boost your authority and help you climb the search engine rankings.
Publish Original Content
Many real estate searches are in the form of questions.
"Where to take a walk in Ottawa?"
"Top foodie neighborhoods in Toronto?"
"What are the best views in Vancouver?"
You know how to answer these questions for your community. If you can package your answers and post them online in a blog, you will attract new visitors to your site and demonstrate the local knowledge portals cannot match.
Original content, of course, can be many things. If you are able, take regular photos of some of the neighborhoods in your community to show off their charm. Or publish interviews with local business owners to provide examples of the type of people that live and work there.
We have more blogging ideas in our post What Should I Write About on my Real Estate Blog.
Use Lead Capture Tools
To compete with Zillow and other portals in your market, you also need to convert leads. So pair your content strategies with lead capture tools. To get you started in this regard, we put together 11 IDX Lead Capture Strategies.
Zillow and other portals may take in the majority of page views in Canada. But by using these strategies and combining them in clever ways, local agents can win their local market and grow.