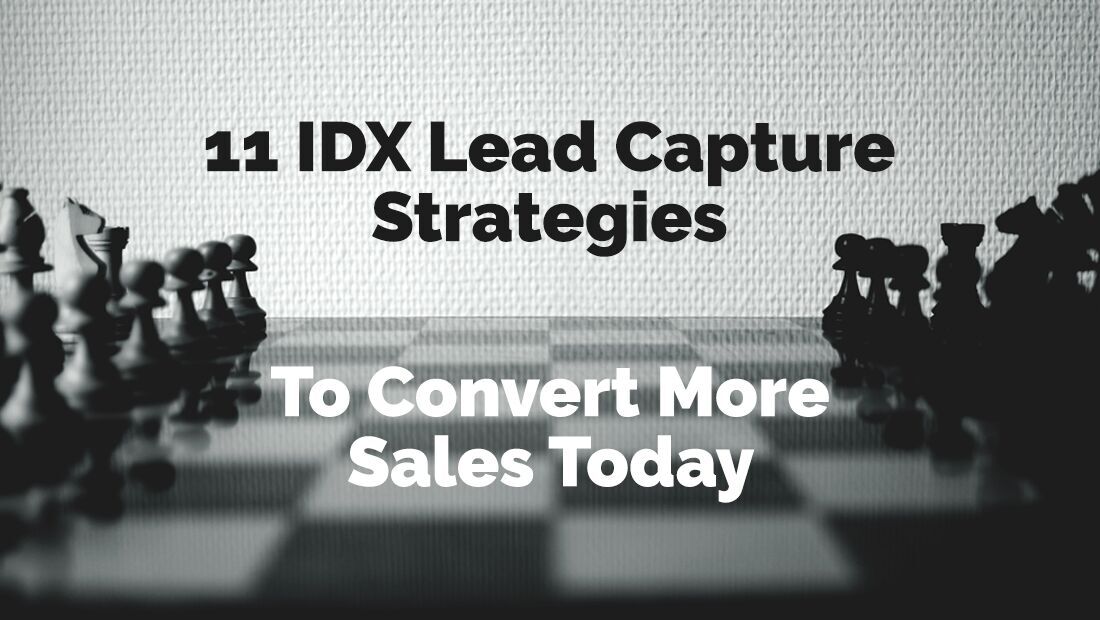 11 IDX Lead Capture Strategies to Convert More Sales Today

Posted at 14:01h
0 Comments
In this blog post, you will read about 11 IDX Lead Capture Strategies to Convert More Sales Today
We've covered in length on this blog how to boost your real estate website's search engine visibility and attract new users:
•Best WordPress IDX for SEO: https://realtyna.com/blog/best-wordpress-idx-for-seo/
•Why Isn't My Real Estate Website Ranking: https://realtyna.com/blog/why-isnt-my-real-estate-website-ranking/
•Why Organic IDX Integration is the Best For SEO: https://realtyna.com/blog/best-idx-integration-in-seo/
Once they are on your site, you need to engage with your leads and communicate with them effectively.
To help, we've put together a list of IDX lead capture strategies to convert more sales.
AGENT CONTACT
Your contact information should appear next to every listing on your site, including those listed by other agents. This will allow you to be the first point of contact for all properties, even those you don't list. While agent contact is pretty much standard now across IDX systems, it can get complicated when you are sharing an IDX across an office. Whose contact should appear next to the listings? Many offices use a general office contact and a round robin to assign leads. But other IDX systems provide agent mapping, to allow your contact information to appear next to all properties you list and a generic office contact for the others. You should find out if this is offered by your IDX provider.
Here is an example of a mapping product we offer at Realtyna: https://realtyna.com/mls-agent-mapping/
REQUEST A VIEWING
A 'request a viewing' form is another important lead capture tool for the listings on your site. This will encourage users to quickly and schedule a time to view a property. Beyond allowing you to capture contact information about your leads, request a viewing will help transition them toward a face-to-face meeting, which should be the ultimate goal as very few buy a home without seeing it or meeting with an agent first.
SEND TO A FRIEND
This strategy has a potential multiplier effect, as it will allow you to capture information about the sender and the receiver. Plus, it will help get your listings in front of new eyes and attract new leads to your site. Send to a friend is absolutely essential for lead conversion. You should make sure your IDX provider offers it.
SOCIAL MEDIA SHARE
Getting your leads to post your listings to Facebook or to tweet about them can have huge benefits for your business. First, it will help your listing travel far beyond your site via likes and retweets. Second, it will help you generate social media activity, which can improve your search engine rankings. With social media share you can create a positive feedback loop between SEO and lead capture, leading to more leads and more sales.
FAVORITES
Many serious buyers are interested in more than one property. You should give them the options to monitor several listings at the same time on your site. Favorites is a good way to do this. Favorites can allow your users to select a number of properties and save them for later viewing or to request information on all of them at once.
SAVED SEARCH
You also should give your leads the option to save searches, so they can receive notifications if a new property is posted that matches their search profile. This can keep your clients engaged with your site even after a long absence: https://realtyna.com/advanced-portal-search-aps/
FORCED REGSITRATION
Forced registration can be a good strategy if you have a lot of listings on your site. You could, for example, require users to login after five property listing views, helping create a premium for your site. Or you could send a registration reminder without actually requiring it. This will allow users to continue browsing but recommend that they login for more information.
CRM
A CRM can help you manage leads by allowing you to set reminders, schedule events, and assign leads. But it also can help you gather more information about your website visitors. For example with Realtyna's CRM, you are able to see what searches your leads are saving and what properties they are viewing when they are logged in. This can help you craft marketing campaigns and advertisements to provide your leads with the information they need.
MOBILE APPS
Mobile apps will transform your website and property search into a downloadable app available on Google Play and the iTunes app store, allowing you stake out territory on your user's mobile devices. This can help you effectively engage with your leads whether they are at home, at work or on the go.
SUBSCRIPTION & MEMBERSHIP
A subscription or membership system can take your lead engagement to the next level by allowing different access by user type. For example, general users may be able to see for rent or apartment properties while paying members are granted access to homes and for sale properties. This can allow you to judge the seriousness of your lead by his or her membership type: https://realtyna.com/membership-for-wpl/
SMS NOTIFCATION
SMS notification can be a more personal way to communicate with your leads. You can notify them by text if a new property matches their profile or if their membership is about to expire. This can add to your credibility and increase the level of connection you have with your leads.
Real estate agents are creative and resilient. And we know you have some lead capture strategies you've developed over the years that aren't on this list. Feel free to leave us a note in the comments below about your lead capture successes.
Or contact us for a free consult about your site.
Watch our video: