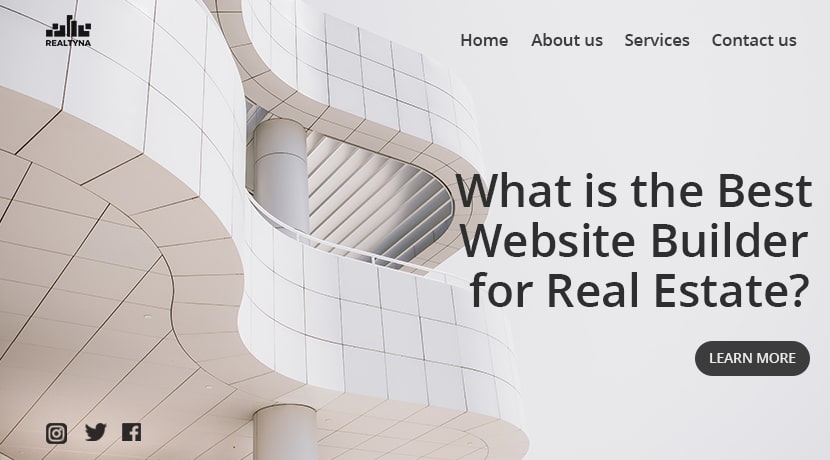 What is the Best Website Builder for Real Estate?
02 May 2020
Posted at 11:00h
0 Comments
Overview
The most important step in entering the real estate market is developing your brand and letting other people know about it. All realtors, agents, and brokers at some point in their business, need to start creating their own website. Having your real estate website will increase your exposure considerably and help boost your sales. However, there are some fundamental steps you need to take before starting your branding. Here is the most important question: what is the best website builder for real estate? Let's find the answer together.
If you are new to this highly competitive market, you may feel a little confused in the beginning. The whole idea of using a website builder is to help you stand out and make your online presence unique. However, all the website builders on the internet are not useful. Some of them are too generic and others too specific. You as the realtor need one that is specified for your business. There are several items you need the most when building your own real estate website, such as video features, lead generation activities, newsletter options, live chats, and other client interaction tools, event calendars, smart searches, a wide range of templates, testimonials, content and blogging features, SEO optimization, etc. All these features can help you create your ideal real estate website in even less than an hour and start making profits.
With a quick search on the internet, you easily understand there are tons of website builders recommended by both beginners and experts. Here, I prefer to name the specific features you need in real estate and explain a little about each of them.
IDX/MLS Integration:
This is the possibility to access the MLS database, to show the latest listings on your own website and also update them continuously.
Templates:
A wide range of professionally designed templates will help you to build your brand more easily. You don't need to start from scratch with coding or spending too much money on website design. In many cases, with the help of templates, all you need to customize your website is simple drag and drop features.
SEO Optimization Capability:
With the help of this feature, your website will get a higher rank on Google and help you get more organic traffic that hopefully results in more customers and more closings. One of the best ways to optimize your real estate website is to update your content regularly and contribute to the efficacy of your website and your niche.
Client Interaction Tools:
Being able to interact with your leads and close deals is all that matters here. You need different features on your real estate website to guarantee the best possible communication with clients. Some of them include the possibility of live chats, drip campaigns, and newsletters, event calendars for reminding agents about their meetings, callbacks, news updates and appointment bookings online.
Client Testimonials and Reviews:
At some point in your career, you need to establish yourself and your services as preferred professionals in your clients' minds, so they will know and remember you as trustworthy. By providing them the chance to leave comments and reviews on your website, you show your respect towards them and also your eagerness to improve. Testimonials are really fundamental for any real estate website.

Blogging:
One of the best ways to increase your engagement with clients and get higher SEO on Google is to provide related and up-to-date content. With the help of this feature, you will be able to raise your exposure and generate more leads.
Lead Generation and Lead Capturing:
Generating leads is the most important step to take in order to last in this market. You need high quality leads to close deals with them. The website builder you choose must provide an efficient lead generating system for you.
CRM:
Through CRM, you can easily manage your leads, build stronger relationships with them, gather more information about them, monitor their online presence, find out about their taste and favorite listing, and a lot more.
Pictures and Videos:
Try to use the website builders that help you to promote your listings best. Make sure your listings' images look as great as possible. Most of the buyers find their desired property online and then ask their agents to help them. So eye-catching pictures or videos will lead you to attract more homebuyers.
Map:
Being able to show your listings on Google Maps helps customers to find more about specific details like the neighborhood, the schools, services, shopping malls, health centers and more. Demographic add-ons are also elemental in helping your clients to make better decisions.
Mobile Apps:
People use their mobile phones all the time. Being able to bring your properties to their cellphones, will help you a lot. In order to do so, you need the website builder that makes the mobile application of your real estate website for both IOS and Android users.
Final Words
Finding the best website builder is not difficult at all, but it takes time to consider all your needs and all they provide for you. As the title of the article itself suggests, the main purpose here is to name the best website builder. In my opinion, WordPress is the best option. It includes all the useful add ons and plugins I mentioned earlier in this article and much more. You can use it to create an advanced website no matter what business you are in.
You can also read the following articles as well: How to create real estate websites? And How to Build a Real Estate Brokerage Website With WordPress
Questions or feedback? Leave them in the comments.