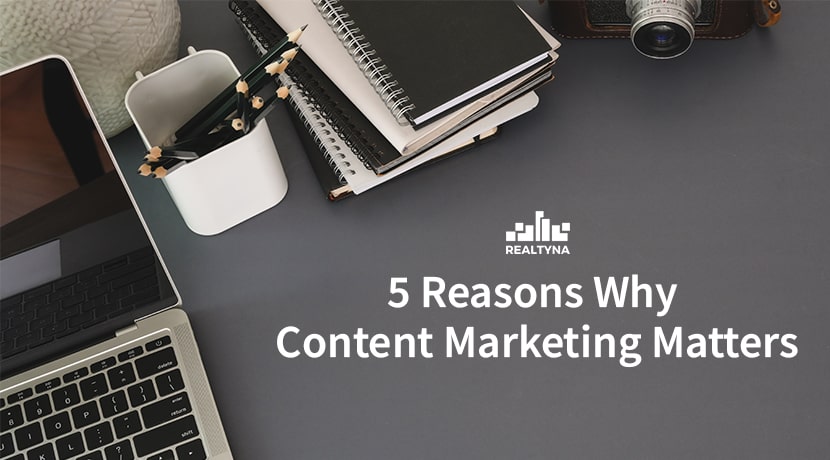 5 Reasons Why Content Marketing Matters for Your Real Estate Business
Content marketing is the most important part of digital marketing. Behind every successful brand is powerful marketing content that helps connect with clients. It is important for the real estate business as well. In the article, we will give you the reasons why you should focus on content marketing for real estate, if you haven't already.
What Is Content Marketing?
When anything new happens on the market, people try to find solutions. You, as a realtor, can provide information on your website for buyers/sellers and create useful content. This way you can generate leads.
There are different ways to have strong content. Let's discuss a few of them.
Examples of Powerful Content Marketing for Real Estate
Video
Video is an incredible way to increase traffic on your website. There are different ways to have videos on your site. One of the most powerful ways is to show listings in your video. Also, you can show neighborhood ideas and talk about it as many buyers would like to know what the neighborhood area is like in certain places. Or, you can also interview experienced buyers who can provide testimonial videos.
Blogs
Blogs are still very effective for lead generation. The most important receipt here is: Make the content unique and valuable for readers. Also, include visuals in your blogs and think about proper linking.
Podcast
Audio content is engaging, there is no other opinion. That's why podcasts are popular. In order to run a powerful podcast, you need a clear plan: Why and how are you going to record it? Will you have guests? What will be your slogan? If you know the answers to the following questions, you can be sure that your podcast will help you to have good presence on the market.
For more information on what type of content and how you can provide for your brand, see our blog.
Why Do You Need Content Marketing for Real Estate?
Increases Brand Awareness
Content marketing is powerful organic marketing. It helps you stand out among competitors. With the quality content that you post on different social media channels, on your website, and on different platforms, you will generate leads. The inbound links will help you to increase traffic on your website.
Builds Trust
Building trust is crucial for any kind of business. With content marketing you are building trust and relationships with prospective clients. You can post useful information, ask and answer questions, and have close relationship ties with clients.
Generates Organic Leads
When you create relevant content, Google recognizes it. So, you will get a high search engine ranking for your content. This means, that when the user searches for something you have provided the content already, Google brings your content to readers on the first page. Using your content in different social media channels also will bring you organic leads.
Great for Social Media Presence
In the era of social media, the power of social media marketing is limitless. It helps agents to be notable and have presence. Providing powerful content for your social media channels, posting videos, blogs, reposting, and sharing various content is a necessary thing.
It's Cost-Effective
Content marketing is cost-effective, there is no doubt. It takes time to see results and we shouldn't forget to be patient. The thing is, content marketing isn't as expensive as other traditional marketing solutions and the result is great. It helps you to generate leads with the least expenses.
Did you find the information useful? You can see our articles: Organic Marketing Strategies and Their Implementation for New Realtors and What are the Most Expensive Marketing Ideas in Real Estate