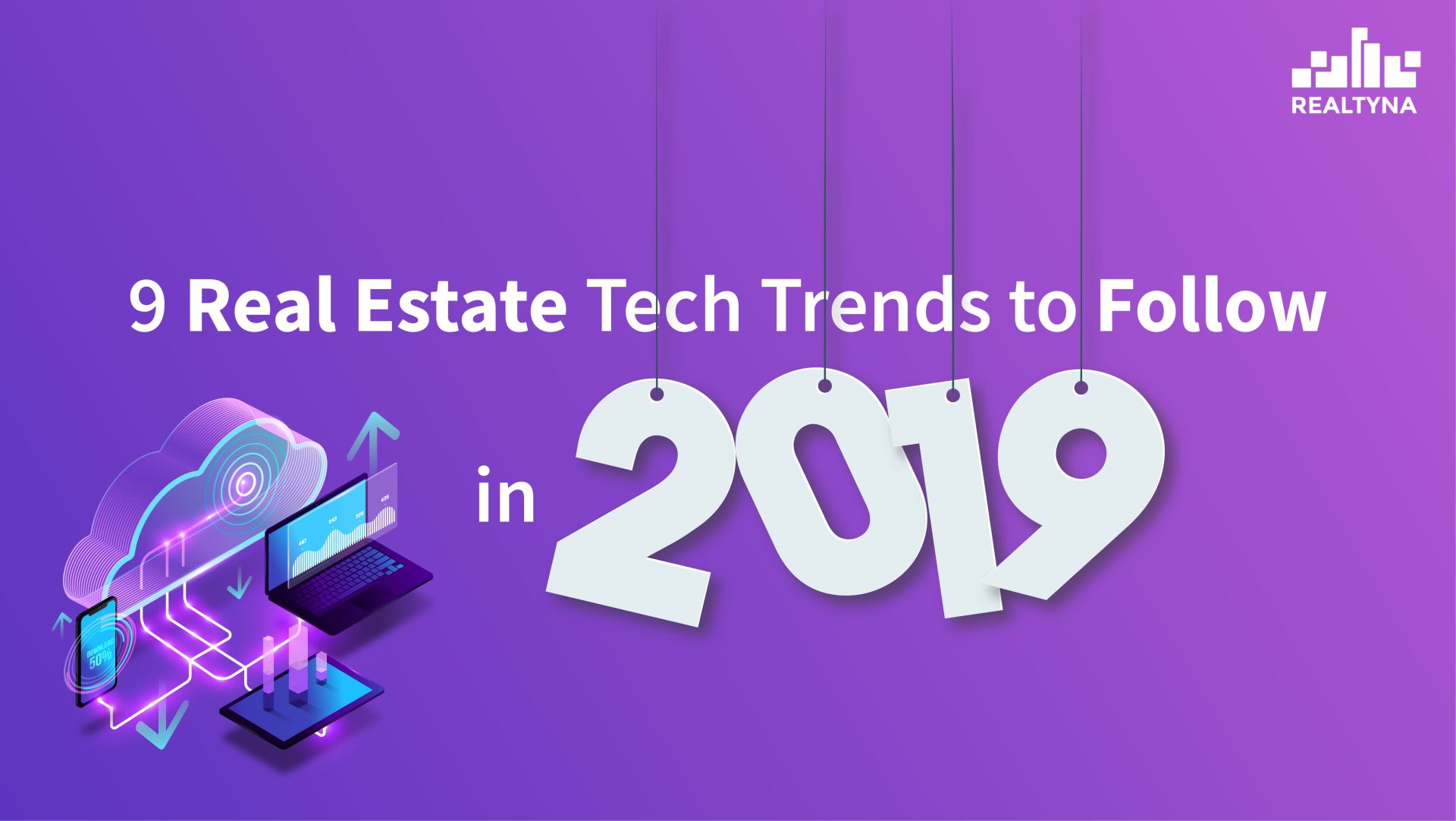 9 Real Estate Tech Trends to Follow in 2019

Posted at 10:00h
5 Comments
The real estate industry is evolving. Each year brings new technologies that reshape the way agents and brokers approach their work. For many, this can be a stressor. However, those that embrace the change and adopt new technologies in clever ways can get a leg up.
To keep Realtyna clients in the second category, we put together a list of 9 real estate tech trends to follow in 2019.
Check out our list below, or leave a comment if you have another suggestion.
The Switch to RESO Web API
In March, RESO announced that it would no longer support RETS as a means to construct an IDX website. Instead, it will push MLS, agents, and brokers to adopt a technology standard known as RESO Web API. For now, RESO Web API and RETS co-exist side by side, but we expect a wave to the new standard in 2019. To find out more about RESO Web API and how it works, check out What Is RESO Web API?
Portal Expansion
In June, we found out that Zillow is expanding into Canada. The growth of portals has been a trend over a number of years, and we expect it to continue into 2019 as the major players move into new markets. Agents looking to compete with these mega sites should consider a narrow business focus and niche marketing.
A Push for Security
The number of cybersecurity incidents over the past year has been overwhelming. While real estate has not experienced the catastrophic breach seen in some other industries, we still expect a push for security. In fact, security is one of the motivations behind RESO Web API. The technology reduces the need for local hosting of MLS data which reduces potential access points.
Adoption of Predictive Analytics
Real estate is a data rich industry. Over many years, we have seen more and more IDX sites integrate analytics into their listings. This benefits homebuyers by providing more context about the home and its qualities. But we have not seen wide adoption of analytics to benefit agents. Predictive analytics track consumer behavior to understand the conditions in which clients are most likely to buy. This can help agents and brokers to better allocate their time and resources to maximize sales. Over the next year, we expect the use of predictive analytics in the real estate industry to accelerate.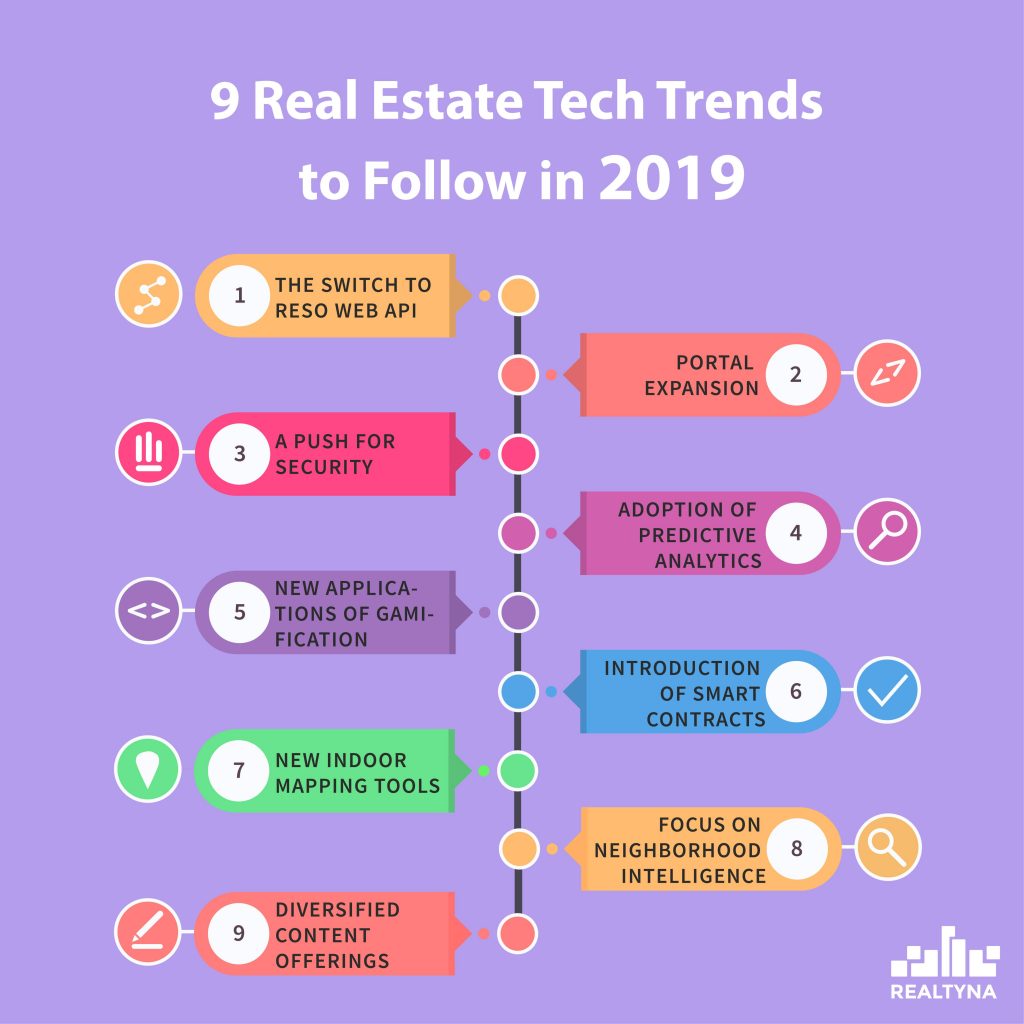 New Applications of Gamification
Gamification takes complex tasks and breaks them down into simple steps like a video game. This can motivate people to do mundane tasks and help reduce errors. Real estate is ripe for gamification. On the client side, there are inspections, paperwork, and legal steps that all must be completed before a property changes hands. On the agent side, there are also training and marketing requirements. In 2019, more of these tasks will be gamified.
Introduction of Smart Contracts
Real estate has long been considered a place where blockchain technologies could flourish. While it's far from commonplace, in the last few years, we have seen a few transactions completed with cryptocurrencies. Smart contracts present another potential development for real estate. Similar to cryptocurrencies, smart contracts use a computer protocols to verify legal transactions. This can help the involved parties save time and reduce costs. While its growth will likely be slow and measured, we may see smart contracts creep into the industry in 2019.
New Indoor Mapping Tools
Indoor mapping allows agents to create 3D representations of an interior space that can be posted online or displayed on a tablet. Theses technologies are improving at a rapid pace. And they have a wide range of applications for real estate. In 2019, agents and brokers will find new ways to incorporate indoor mapping into their listings and client relations.
Focus on Neighborhood Intelligence
It's no secret that younger buyers have different preferences than older buyers. Many millennial put a premium on access and community. For these buyers, the neighborhood can be as important as important as the home itself. For this reason, we expect growth in neighborhood intelligence in 2019. These services visualize a neighborhood and its amenities in a map or graph.
Diversified Content Offerings
The amount of real estate information online is booming. To get ahead, agents will need to offer robust and diversified content. More agents will get into podcasting, live streaming, and videos than ever before. The agents that produce the strongest content will attract the most leads.
Now you know what to expect in 2019. Despite the rapid transition, the IDX website remains the core technology for agents and brokers looking to build a business online. To get started in IDX check out our guide: 13 Steps to Build An IDX Real Estate Website With WordPress.