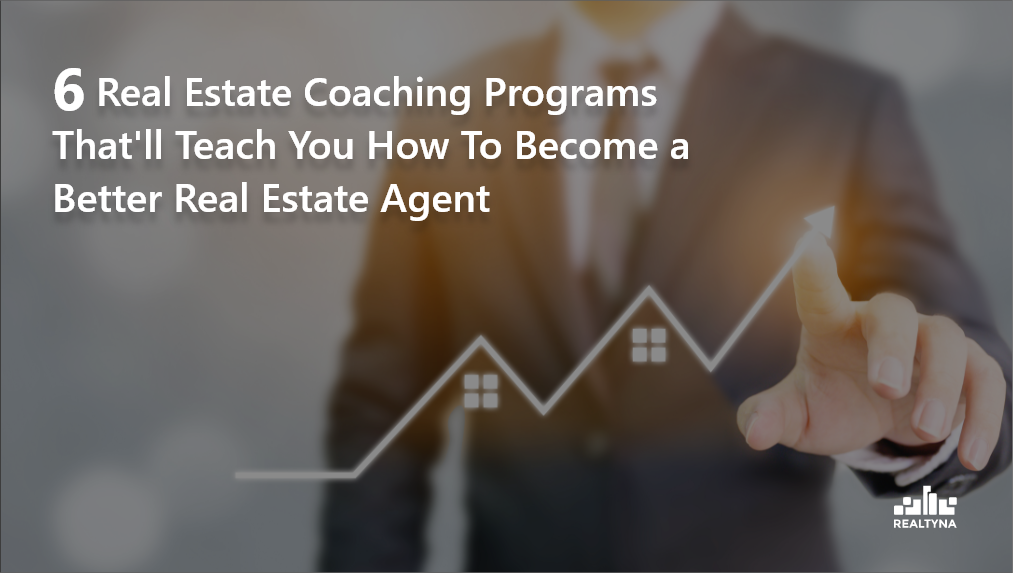 6 Real Estate Coaching Programs That'll Teach You How To Become a Better Real Estate Agent
24 May 2021

Posted at 11:00h
0 Comments
Nobody enters into real estate intending to fail. In reality, most agents begin their careers in real estate to make it a lifetime profession. However, the irony is that many novice agents give up after their first year in the industry. Adults may likely overlook the usefulness of a mentor or coach. However, agents who constantly learn new tactics to increase their efficiency and revenue are the most effective. In addition to seminars, networking activities, staff training, and on-the-job learning, real estate coaching services are another way for agents to expand their businesses and keep up with industry news, resources, and procedures.
6 Real Estate Coaching Programs To Become a Better Real Estate Agent in 2021
If you're at a stage in your career where you'd like to devote more time to studying, but don't want to waste time looking for coaching programs online, here are six of the best real estate coaching programs available for real estate agents.
1. Mike Ferry
Mike Ferry is a household name in the real estate industry. He was the first modern real estate coach who accepted teaching his peers and the entire industry in many respects. Whether he's laying down actionable lead generation strategies on YouTube, presenting at an event, or sharing inspiring quotes on Twitter, if you're an agent, you'll find it challenging to ignore Tom Ferry.
Ferry has a variety of coaching options for agents. Ferry's counseling strategy is diversified, ranging from one-on-one sessions to complete retreats. There are three distinct real estate coaching packages available: Core+, Team+, and Elite+. Each package covers a range of subjects, including sales confidence, leadership skills, and lead generation.
2. Brian Buffini
Brian Buffini's coaching program is another well-known brand in the real estate industry. Brian Buffini, a former top-performing real estate agent and owner of Buffini & Company, North America's most extensive consulting, coaching, and growth firm, founded Buffini & Company Coaching Solutions. Buffini & Company has spent the last two decades helping agents in becoming more productive in lead generation. To date, over three million agents in 37 countries have completed the initiative and expanded their businesses. There are three coaching options available:
One2One Coaching

Group Coaching

Referral Maker PRO
These programs are made to assist agents in generating more leads, sales and streamline operations. It was developed to help agents generate more leads, generate sales, and streamline processes. Additionally, each program includes a Referral Maker CRM for generating leads and a monthly marketing kit.
3. The Real Estate Trainer
The Real Estate Trainer was established by the real estate executive, speaker, and mentor, Brian Icenhower, powered by Icenhower Coaching & Consulting (ICC). Brian is highly esteemed in the industry as the former CEO of Kansas City's Keller Williams realty company. Since June 2019, ICC has helped 500 real estate agents through coaching to achieve their goals. Agents experienced growth in average sale price, lead generation, and gross commission income.
4. Tim and Julie Harris
Tim and Julie Harris are expert coaches who used to be top-selling real estate agents. They're also best-selling authors who've collaborated with other experts to provide cutting-edge strategies and business expertise to help agents thrive. Five program choices are available. Each program provides considerable value and a comprehensive list of resources:
Premier

Premier Accountability

Premier Plus

Premier VIP

Elite
The major distinction between the programs is that the private and semi-private participants receive phone calls each month. Agents are eligible for one or four calls each month, depending on the package they select.
5. Tom Ferry Coaching
Tom Ferry is one of the most influential real estate brokers in the country and a leading educator. He has over 30,000 hours of coaching experience and has matched his clients with their certified coach for private sessions. This company offers three separate coaching programs, including Core+, Team+, and Elite, concentrating on strategy, sales skills, and lead generation. Tom Ferry's services focus on real estate agents personally, empowering them to make meaningful changes, set goals, and provide them with tools to keep them accountable.
6. Floyd Wickman
Finally, let's take a look at Floyd Wickman's coaching services. The Floyd Wickman Program is now led by Mike Pallin, who founded the organization with Floyd. Floyd has a legendary reputation as one of the most potent agents in history, and Mike is carrying on that tradition! The program's courses are designed for those who want to learn from a business pioneer with decades of experience. Their training focuses on selling techniques and marketing strategies.
Final Thoughts
Having gained some insight into the value of coaches, you might be curious about the ones who can help you. There are many excellent real estate coaching services available, but they are all different. The package you choose should be based on your budget and your personal goals. Consider your objectives and compare each program to find the one that best meets your needs.
Read the following blogs for more real estate advice: How to Be a Professional Real Estate Agent and How Real Estate Agents Can Increase Their Online Presence in 2021.