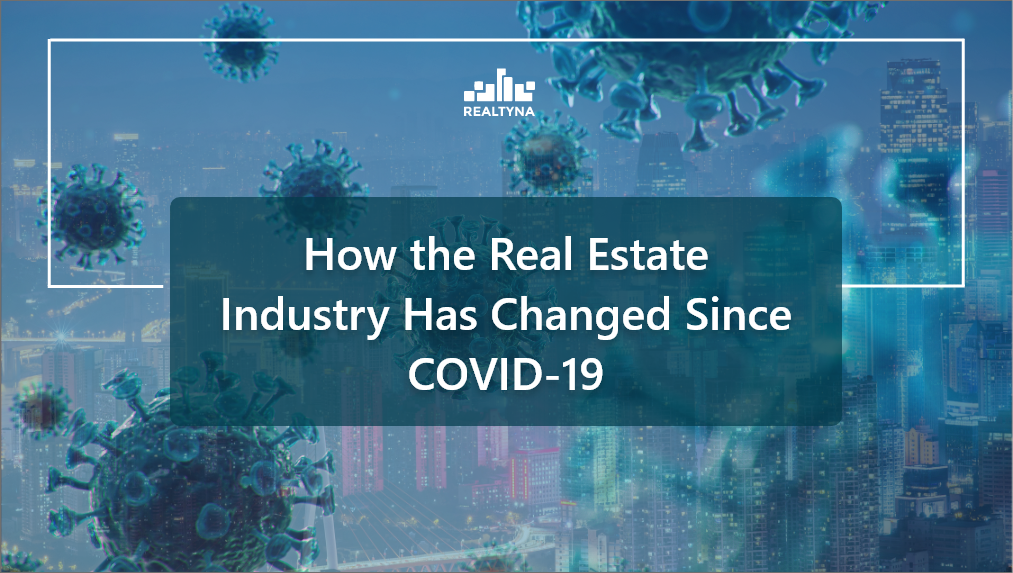 How the Real Estate Industry Has Changed Since COVID-19
29 Jun 2021

Posted at 11:00h
0 Comments
We have witnessed a global pandemic in the 21st century, mainly in the year of 2020. The real estate industry has made changes during the pandemic. Many things have changed in this huge industry. Offices were shut down, and real estate agents, brokers and Realtors have started working remotely and open houses were changed into online housing tools.
Today, we are going to speak about the pandemic and changes in the real estate industry during this period of time. We will outline the top six things that have changed or evolved in this huge and evolving industry.
Let's jump into it!
Top 6 Things COVID-19 Has Changed in the Real Estate Industry
Working From Home
One of the main outcomes of the pandemic was the full lockdown across the world. There were strict restrictions in order to avoid the spread of the coronavirus. Almost all offices had shut down and the governments were speaking about remote working. Quite simply, all the offices were closed and the industries became fully dependent on the internet. The real estate industry was not an exception. Real estate professionals, those who were working from the office, have started working remotely.
Active Usage of Technology
The lockdown, social distancing and working from home made us more dependent on technology. We started using different gadgets more frequently. Our job and work became fully dependent on the gadgets we have. This type of active usage of technology helped us to become more knowledgeable in technologies and different solutions. Tech companies have started to think about new solutions out there. One example can be Realtyna's announcement of WPL marketplace. For more information, check our article on what Is Realtyna's WPL MarketPlace?
Demand for Digital Solutions
During the pandemic, real estate agents, brokers and simply professionals started thinking about new digital solutions out there. Real estate website owners came to the conclusion that if they wanted more leads and new customers, that they needed new and different tools, add-ons and themes to upgrade their website. There were also professionals who thought that it was time for them to run their own real estate website. During COVID-19, the demand for digital solutions has risen.
Enlightened Professionals
Have you seen how social media interaction has increased during the pandemic? We can easily say that this was very good and influential for both professionals and for beginners in the real estate industry. Professionals and influencers had more time to record or to post their success stories and tips and tricks for the real estate industry. We have seen how many enlightened professionals we do have in this huge industry, and it has helped newcomers to seek enlightenment.
Price Changes
The economy and changing prices depend on the political situation, pandemics, and more. Speaking about COVID-19, quite simply, this pandemic has affected the prices of real estate. For example, during the year of 2020, the price of houses sold has risen in the U.S. and elsewhere. We can easily conclude from this, that the pandemic has a positive effect on real estate prices.
Security Issues
Security\safety tips are very important in the real estate industry. Whether speaking about physical or digital security tools, these are equally important. This applies to real estate agents who have communications with different people and who have open houses tours. To know more about physical security for agents, check our article on safety tips for real estate professionals: things you need to know.
Security issues are always prevalent, especially during the pandemic when businesses had to secure themselves. One of the most detrimental security issues is identity theft, in which your personal information is stolen from one or various sources. To know more about this theme, check our article on a real estate guide to identity theft.
Last Several Words
The year 2020 has changed everything. It affected every industry available in the market. Real estate industry has changed as well. Real estate professionals have managed to improve their online presence on the internet. To know more about it, check my article on the usage of every social media platform – real estate edition.
Since the coronavirus still exists, real estate professionals may be interested in learning about how to succeed in this industry during the pandemic. If so, then you should definitely check our article on 5 things you should do to make your real estate business successful during the coronavirus pandemic.