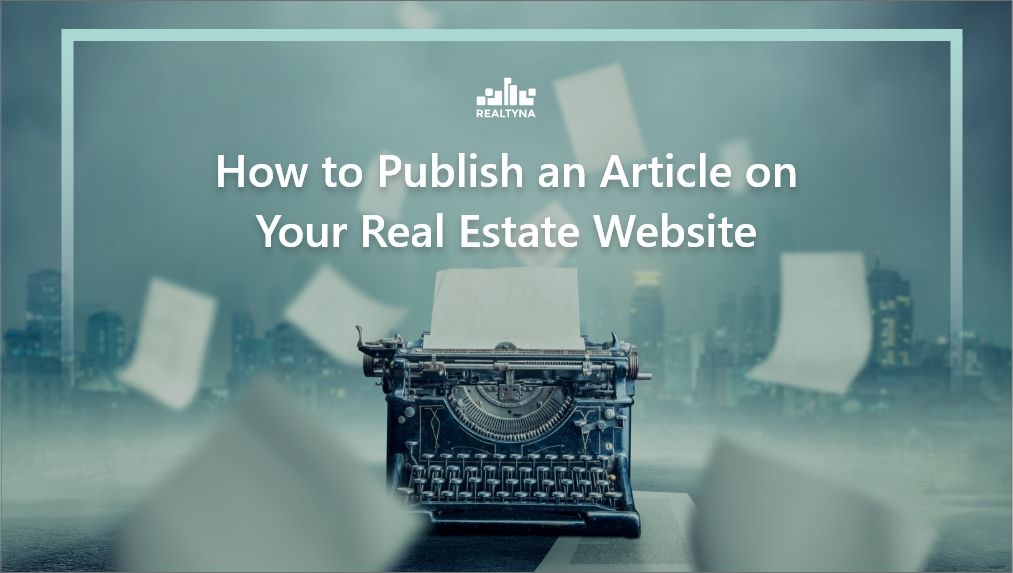 How to Publish an Article on Your Real Estate Website
07 Jul 2021

Posted at 11:00h
0 Comments
If you are running a real estate website, then you definitely need to know how to publish an article on your real estate website.
While having a real estate website, you need to have blogs and articles related to your sphere of influence. That's why we decided to speak about how to publish articles on WordPress-based real estate websites.
Let's jump into it.
11 Steps for Publishing an Article on Your Real Estate Website
WordPress Dashboard– The first thing you need to do is to go on your real estate WordPress's dashboard. There are two options; you can click to add a new post, or if there are already posts uploaded there, you can simply duplicate the previous. Then, go to the duplicated version and click to "edit." In both cases, the dashboard will look the same.
Apply Title– The next thing you need to do is to apply a correct title. It is important to apply a title that will be good for your SEO. Try not to use very short titles or very long ones. Remember that the title is something that affects the SEO, so try to have unique titles on your real estate website posts.
Add Permalink– After inserting the right title for your post, you will see the "permalink" field, which is where you should write the permalink according to your needs. While writing it, try to delete all the useless words. As an example, we can suggest the permalink for this blog. It should be like "how publish articles real estate websites." The main case here is to write only the necessary words for the permalink.
Put the text in a box– If you already have written the article in a separate document, you can simply paste the whole text in the WordPress posts box. If not, you can easily write down everything you want to publish. While pasting the article, try to pay attention to the spacing, as the structure of a blog is very important.
Uploading Image\video– All the blog posts should include at least one image — the so-called "featured" image — where you include the title of your article. The blog itself may include one designed image or video in the article, or several images. To upload any image, it is very easy. You just need to press the media button and upload the desired image. Don't forget that every image needs its description and ALT text.
Check SEO Analysis– WordPress allows you to check the SEO analysis of your blog. This includes keyphrases, SEO titles and more. Here, you can find the mistakes you have on your blog that need to be fixed. If there is something wrong, you can easily make changes from the suggestions.
Write Meta Description– A meta description is something that will be seen while searching in Google. It is a small description of what your article is about. Simply put, your article's first two sentences should outline what it is about and why someone should read it. That's why you should use the first or second sentence in the meta description of your article.
Add Tags– If you are going to have many different types of blogs on your real estate, then you should definitely use tags. This will help your blog readers search for interesting information. So, never forget to apply tags on your blog. The best number of tags to use in blog-posts is 3-4.
Add Categories– If someone is looking for your blogs, it is important to have several different categories. It will be very useful for your real estate website visitors to know exactly where to look for their interested topics. While publishing a post, try to use categories that are related to your article.
Preview– It is a very important aspect while publishing your blog. Quite simply, you need to know how the blog looks before you publish it. Are there any mistakes you made? Are there any formatting errors? To answer these questions, preview is the best option.
Publish– When you preview and check that everything looks good on your real estate website, then you can publish the blog directly, or schedule for a later time that fits you best. If you schedule it, then you have the opportunity to double-check whether everything is correct or not.
Last Few Words
Today we have discussed how to publish an article on the real estate website. Blogging is very important for any business, especially speaking about real estate. To know more about it, check our article on how blogging can help your real estate business grow.
Good SEO strategy is very important in real estate. Are you interested in SEO strategies? Then you should definitely check our article on how to make a real estate website SEO-friendly?