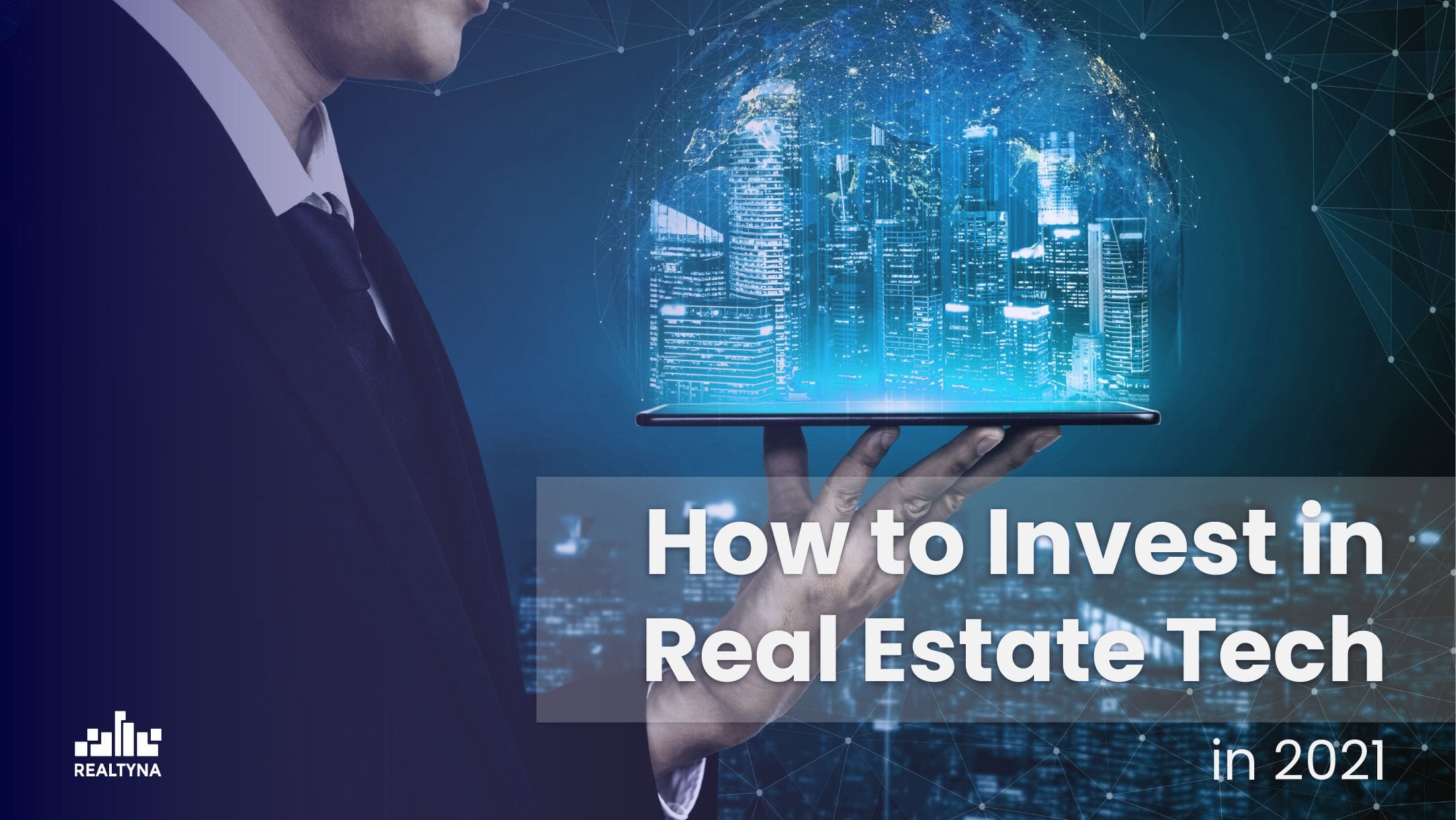 How to Invest in Real Estate Tech in 2021
01 Oct 2021

Posted at 11:00h
0 Comments
Real estate was long slow to adopt new technology. Initial movements to digitize listings in the early to mid 2000s were followed by a decade of upgrading and retrofitting existing systems.
Finally, in the past three years, this has begun to change. New companies have introduced solutions for real estate data, financing, workflow and marketing, and the pace of development has accelerated.
Over the same period, barriers to investment have come down, resulting in more opportunities for individuals to engage in the market. Below, we will break down this new environment and take a closer look at how to invest in real estate tech in 2021.
What is Real Estate Tech
Real estate tech or proptech is the real estate industry sector focused on technological solutions in the market. Real estate tech firms innovate in finance, analytics and lead generation to drive efficiencies, increase transparency and ultimately increase profitability industry wide. Like other tech sectors, proptech is relatively young, consisting of a large share of startups and new participants in the market. Investors seek to provide capital to these companies and generate returns as they increase in value.
History of Real Estate Tech
The modern real estate tech movement arguably began in 1999 with the creation of the Real Estate Transaction Standard (RETS). RETS introduced a set of guidelines for sharing and publishing electronic property listings. The standards spawned a new industry model that brought property listings to a wider audience via the internet. Agents and brokers built internet data exchange (IDX) websites and hundreds of new companies introduced products to support them.
The next major evolution in real estate tech occurred in 2004 with the founding of Zillow. Trulia — now owned by Zillow — launched the following year. Zillow, Trulia and similar companies ushered in the era of the property portal. They brought scale and consolidation to the real estate industry. Rather than browsing a different site for each community, buyers began turning to property portals to compare homes across markets directly. Agents also turned to these sites to generate leads.
But in the next decade, the pace of real estate innovation slowed. RETS remained the predominant real estate technology standard until its retirement in 2018, and IDX and property portals remained the primary tools for agents to market listings and generate business online. The sluggishness of real estate tech could be summarized by a 2017 Brookings Institution report on digitalization in the workforce. The report found that real estate, including rentals and leasing, scored just 45 out of 100 for digital technologies used in the industry. The report considered scores of 60 or above as highly digital.
Real Estate Tech Today
The reasons for real estate's lag in technology development are varied. The industry remains largely decentralized. Real estate listings are housed among more than 500 multiple listings services across the United States, making coordination complex and costly. Also, there may have been some industry-wide inertia. A 2018 National Association of Realtors technology survey found that just 21 percent of agents wanted additional technology tools from their broker.
However, in the past three years, the trend seems to be shifting. A push for an API-based model for listing transfers by the Real Estate Standards Organization has opened the industry to more mobile development. The growth of 5G also promises more technology options for agents and brokers working in the field.
Investment appears to be following the new opportunities. According to data from the research firm CB Insights, equity investment in real estate tech companies increased nearly 200 percent from 2016 to 2019.
Investment in the year 2020, was down slightly due to the COVID-19 pandemic and other factors. Still, proptech attracted some $23.8 billion in venture capital last year, according to the Center for Real Estate Technology and Innovation (CRETI). Analysts say the sector likely has room to grow because total proptech funding remains small relative to related industries such as fintech.

The Investment Environment
When considering an investment in the real estate space, most people think of rental properties or fixing-and-flipping. Others may be familiar with real estate investment trusts (REITs). These traditional investments help individuals generate returns from real estate assets.
Real estate tech investments are structurally different. Rather than funding real estate purchases and development, investors bet on the growth and profitability of specific real estate tech companies. Traditional real estate and real estate tech are certainly linked, but growth rates between the sectors can vary.
Once largely limited to venture capital firms and institutional investors, real estate tech investment opportunities have become more widely available thanks to several market changes in recent years.
The first notable change occurred in 2012 with the passage of the Jumpstart Our Business Startups (JOBS) Act, which eased restrictions on crowdfunding for the first time. Under the law, sponsors could raise up to $1.07 million in a 12-month period from an unlimited number of investors. Crowdfunding allowed early-stage real estate tech companies to rely on their clients and others to raise money outside of traditional markets. Changes adopted by the Securities and Exchange Commision in November 2020 will increase crowdfunding limits to $5 million.
The proliferation of stock trading apps also have helped make the market more accessible to individual investors in recent years. Companies such as Robinhood have grown rapidly by making commission-free trading possible directly from a smartphone. The popularity of these apps and their ease-of-use have also attracted new investors to the stock market. Robinhood reported 3 million new accounts in the first half of 2020 alone.
Finally, general growth in the real estate sector has helped create new opportunities for investors. As more real estate tech companies form and go public, individuals have more diverse investment options. According to CRETI, nearly 6,000 new real estate tech companies have formed since 2016.
How to Invest in Real Estate Tech
Given this new environment, there are several ways individuals can invest in real estate tech and take advantage of growth in the sector. Here are some options.
Stocks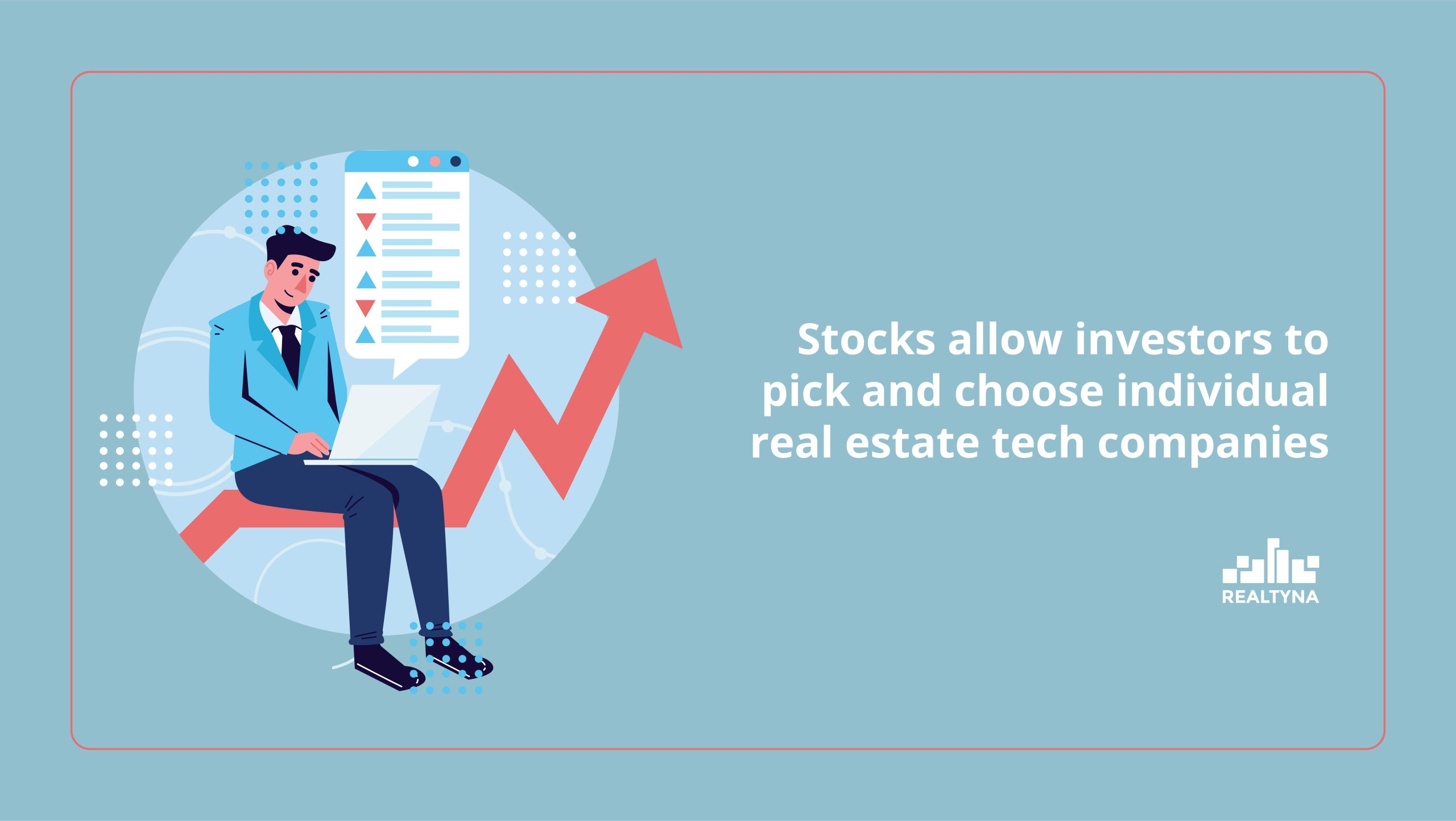 Stocks are one of the more traditional ways to invest in real estate tech. Stocks allow individuals to select specific real estate tech companies for investment. The companies must be publicly owned and freely traded on an exchange. Stock investors generate returns by taking a small stake in the company. This stake can increase in value as the company grows and becomes more profitable. Stock owners also have the right to any dividend payments issued by the company. Some of the most prominent public companies operating in the real estate tech space are Zillow Group (ZG), a property portal and marketplace, Redfin Corp (RDFN), a discount brokerage, and Opendoor Technologies (OPEN), an iBuyer.
The advantages of investing in real estate tech stocks include the ability to generate high returns from fast growing companies and the ease of selling in a liquid market. Mobile platforms have also made buying and selling stocks much easier in recent years.
The primary disadvantage of investing in real estate tech stocks is risk. Companies can go bankrupt, and individuals can lose their investment. It takes time and experience to minimize risk in stocks. Investors should research the companies they are targeting, assess their business models and evaluate their prospects for future growth.
ETFs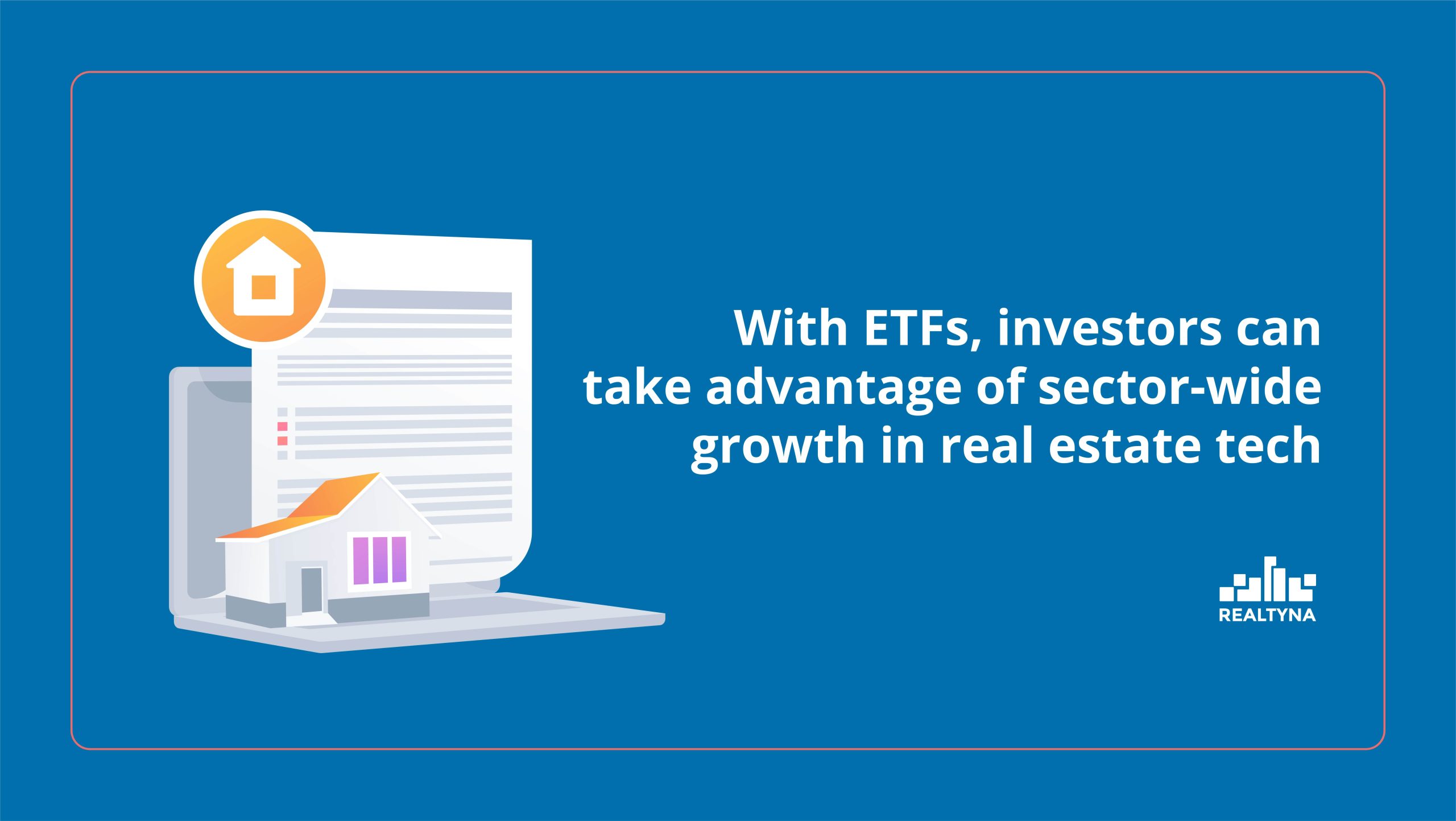 ETFs, or exchange traded funds, include a basket of securities, providing a more diversified investment than single stocks. ETFs can include stocks from a set of related companies or from a specific industry. This allows individuals to invest in a sector as a whole and take advantage of broad, industry-wide growth while limiting exposure to any individual company failures. While asset managers have yet to create ETFs specifically for proptech, individuals looking to invest in the sector can turn to other ETFs that include real estate tech companies, such as the Hoya Capital Housing ETF (HOMZ), which targets residential real estate including homebuilders, REITS, and real estate tech, and the ARK Fintech Innovation ETF (ARKF), which invests in financial technology and some companies that cross over into real estate tech.
The primary advantage of investing in real estate tech via ETFs is diversification. By investing in several companies instead of just one, investors can reduce risk and link their investments to the performance of the industry as a whole. ETFs are also bought and sold like stock, giving investors the ability to find price information and execute trades.
The disadvantages of investing in real estate tech via ETFs are the current options. For whatever reason asset managers have not yet fully incorporated real estate tech companies into ETFs the way they have for other technology sectors. ETFs also generally offer lower yields than stocks due to the tradeoff between risk and returns
Crowdfunding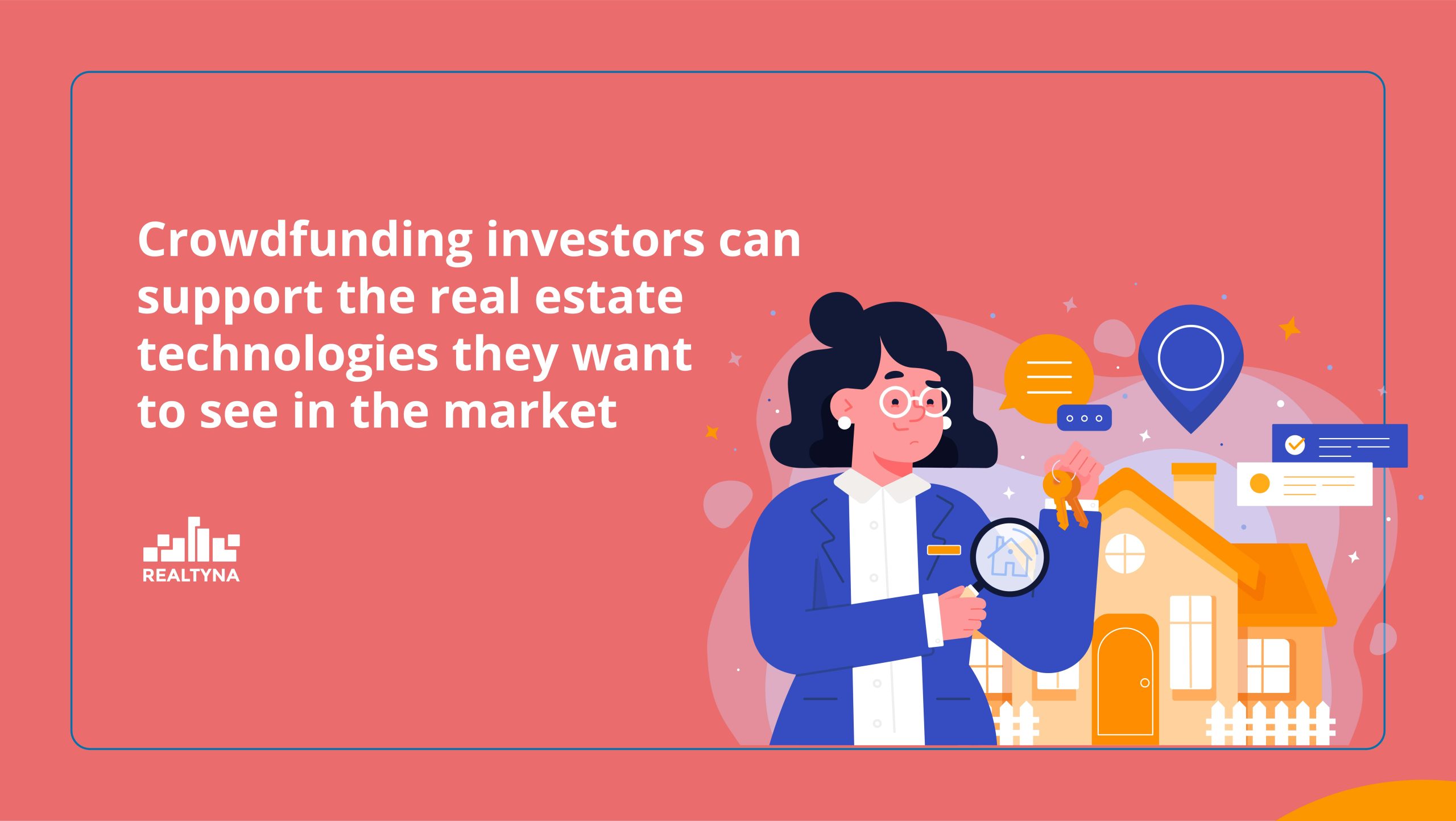 Crowdfunding is a fundraising option for private companies. Companies that use crowdfunding are typically small, or they are in an early stage of development. Crowdfunding allows these companies to raise small amounts of money from a large number of people. Investors may earn returns when a crowdfunded company is sold or goes public. The internet has led to a proliferation of crowdfunding platforms, especially in the wake of the 2012 JOBS Act. Some of the most popular are Republic and StartEngine.
As an investment strategy for real estate tech, crowdfunding offers low barriers to entry and the ability to support companies in their early stages. Crowdfunding platforms also serve as a sort of marketplace of ideas. With as little as $10 on some platforms, investors can choose among the various companies available, vote with their wallets and fund the products and services they want to see in their industry.
The disadvantages of crowdfunding for real estate tech is the risk and the likelihood of a delayed payoff. Many early-stage products and companies will ultimately fail, leaving their backers with losses. For those that do succeed, it may take years for them to reach their full potential. Also, individuals contributing small amounts cannot expect large returns on their investments.
SPACs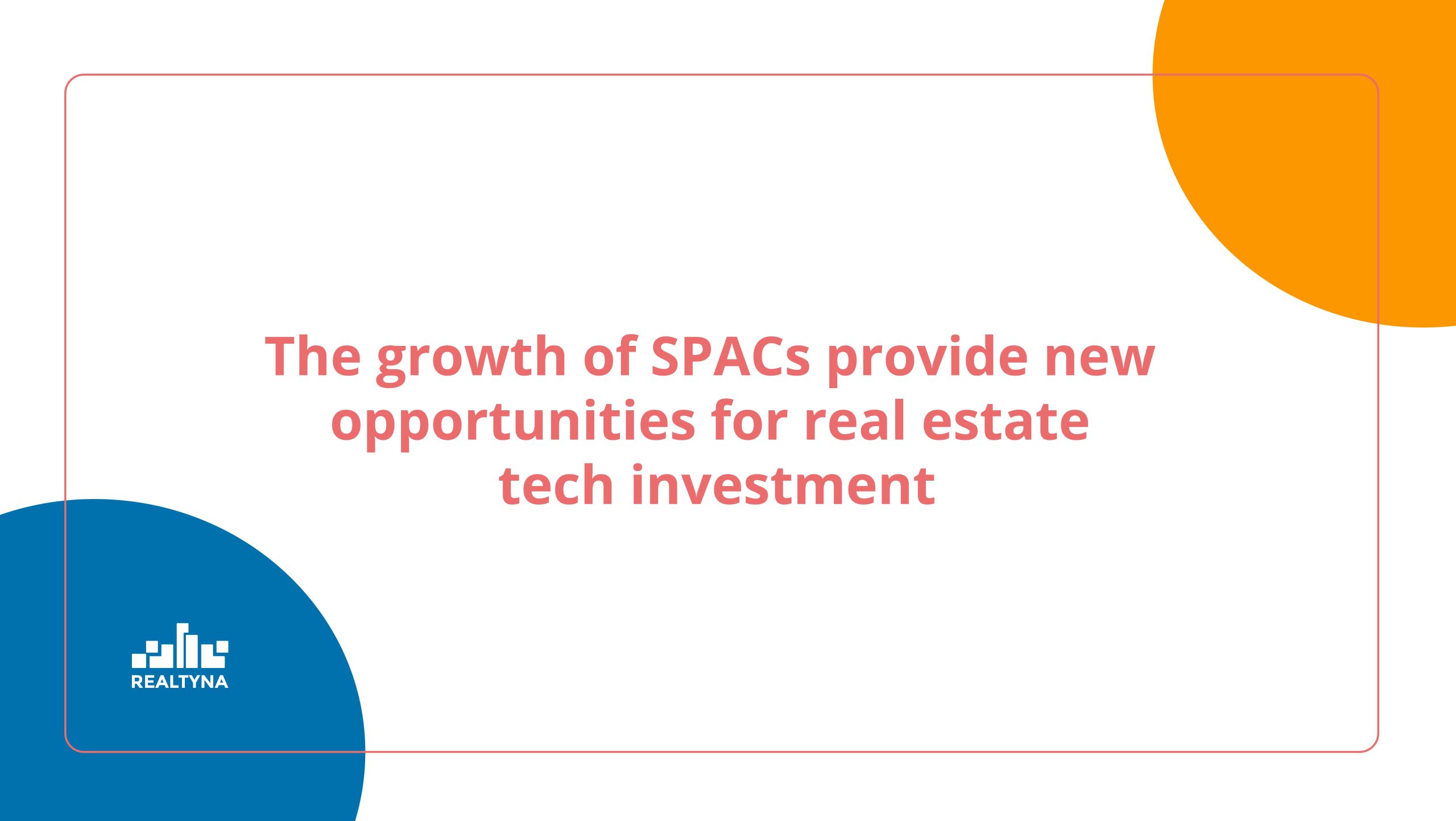 A SPAC, or special purpose acquisition company, is a publicly listed company whose sole purpose is to identify and purchase a private firm so it can have publically listed stock. A SPAC is formed by a sponsor who generally has an expertise in a particular business sector. Once formed, a SPAC usually has two years to complete an acquisition. SPACs have grown in popularity as an investment vehicle in recent years. Opendoor Technologies went public via a SPAC in 2020. People can invest in a SPAC just like they invest in a private company, either through individual securities purchases or as part of an ETF. Several new SPACs, including PropTech Investment Corporation II (PTICU) and Crown PropTech Acquisitions (CPTK.U), have been set up in the last several months to target and acquire real estate technology businesses.
The advantages of investing in real estate tech via SPACs include the ability to choose a proptech-specific sponsor, and the ability for individual investors to participate as a company goes public. If the SPAC trades up after announcing a merger, investors stand to earn on their shares.
The primary disadvantage of SPACs is the risk to the investor. SPAC investors may bet on sponsors with limited information about the companies they will ultimately target. The growing popularity of SPACs has also raised questions from analysts about the number of eligible companies to acquire. There simply may not be enough companies to take public for all the new sponsors.
Now, you know how to invest in real estate tech in 2021.
Bottom Line
Innovation in real estate tech accelerated in recent years. The current investment environment presents more opportunities to engage with the market. Depending on their risk strategy, individuals can invest in real estate tech through stocks, ETFs, crowdfunding and SPACs.
Not Financial Advice
The content provided is for informational purposes only. It should not be taken as financial advice or used to make any investment or financial decisions.