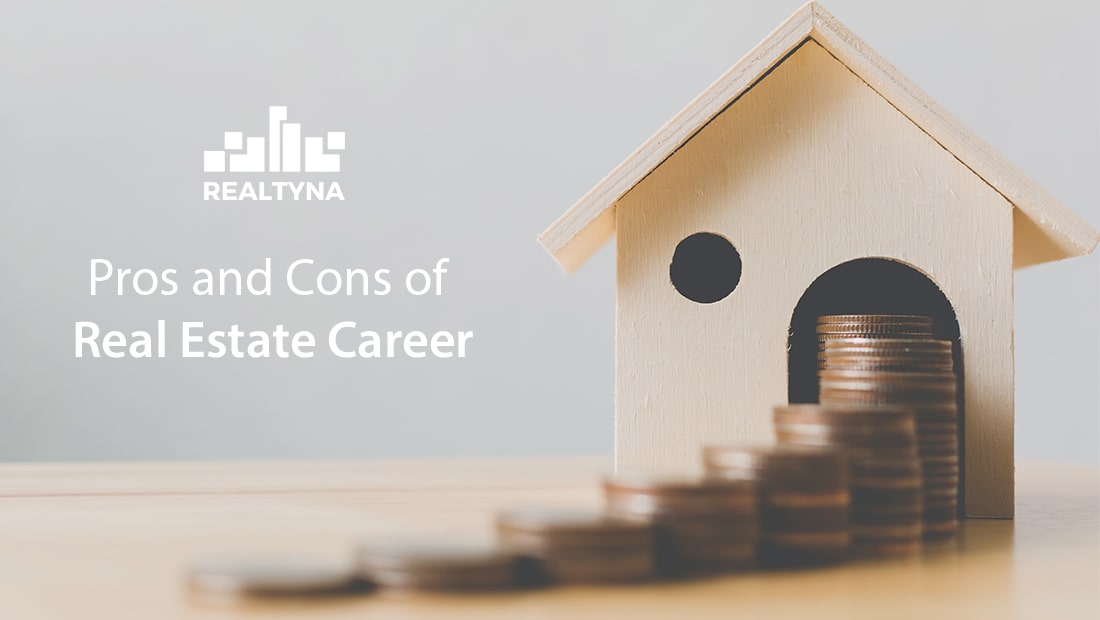 Pros and Cons of Real Estate Career
13 Mar 2020

Posted at 11:00h
0 Comments
Being a real estate agent is interesting and challenging at the same time. You have to work hard and for a long time. Have to be an expert in the real estate market. You should be aware of new trends which are about to come. As a real estate agent you also must have knowledge in marketing and laws. And most importantly, you should be able to understand people.
Sometimes people think that being a real estate agent isn't hard and real estate professionals have lots of time, but it's not so. Like every other profession, real estate has it's pros and cons. Having a good real estate career isn't as easy as it may seem. But as it is said, grow through what you go through.
Let's see what are the challenges and advantages of being in the real estate industry.
Real Estate Career Challenges
It Takes Time Until You See Results
If you are new in the real estate industry or trying to enter the market, you shouldn't expect that you can achieve success in a very short period of time. Real estate demands years of hard work. You should have patience and wait to see the actual result. Sometimes you may even need several years to have a successful career in real estate.
Market Changes
The real estate market isn't stable. It changes and you always have to be prepared. You should be aware of the latest market changes. Sometimes you even have to predict what is going to happen for the future. If you are ready for the future changes, you will be able to run a successful business.
Portal Sites
Portal sites like Zillow, Trulia, Realtor.com and others are one of the main challenges now for real estate agents. Portals like these are conquering the real estate market and challenging real estate agents for leads. Because of the portals, it's becoming harder and harder for real estate agents to work freely.
But don't worry too much, there is always a solution. With the properly built website and the strong strategies you will be able to outrank these kinds of portals.
Constant Leads
In order to maintain your business in real estate, you need constant leads. Constant leads mean constant income. If you don't have it, it will be harder to operate in this huge real estate industry. So, you have to figure out the ways to generate more and more leads.
People With Different Personalities
You never know what kind of buyers or sellers you will meet and what kind of questions or demands they will have. That's when you need your patience. Unfortunately, you will have to deal with various kinds of people with the weirdest behaviours sometimes.
Pros of Real Estate Career
Let's be honest and say that with all the challenges and complications the real estate industry has, there are big advantages too.
You are a Decision-Maker
You are your own boss. Can make decisions about different tasks and you can lead your work in any direction you want. You have entire control of the course of your career. This also means that your success mostly depends on you.
Your Time is Yours
You, as a real estate agent, can decide how to use your time. If you want to work additional hours, you can do it. If you want to reorder your time, no one will forbid it.
Agents are Always Needed
No matter how the real estate market will develop in the future, agents will always be needed. New tendencies and global market changes sometimes seem dangerous for real estate professionals. But buyers and sellers will always need agents for different reasons, and one of the main reasons is that nothing can replace human relations.
No Income Limitation
There is no limit on your income. If you are working for yourself, your success depends mostly on you. If you are working for an agency, you are a contractor. Sometimes your commissions have to last a long time or until you sell a new house. But still, your income mostly depends on your hard work and dedication.
You Can Always Grow
There is no limit to your professional growth in real estate. As a real estate agent, you can always work on yourself, attend different training sessions, and develop skills. Real estate is a big industry, so you will always have an opportunity to try new things and develop yourself in various directions.
Did you find the information useful? See our article about Common Objections for New Real Estate Agents
Question or Feedback? Drop the comment below.