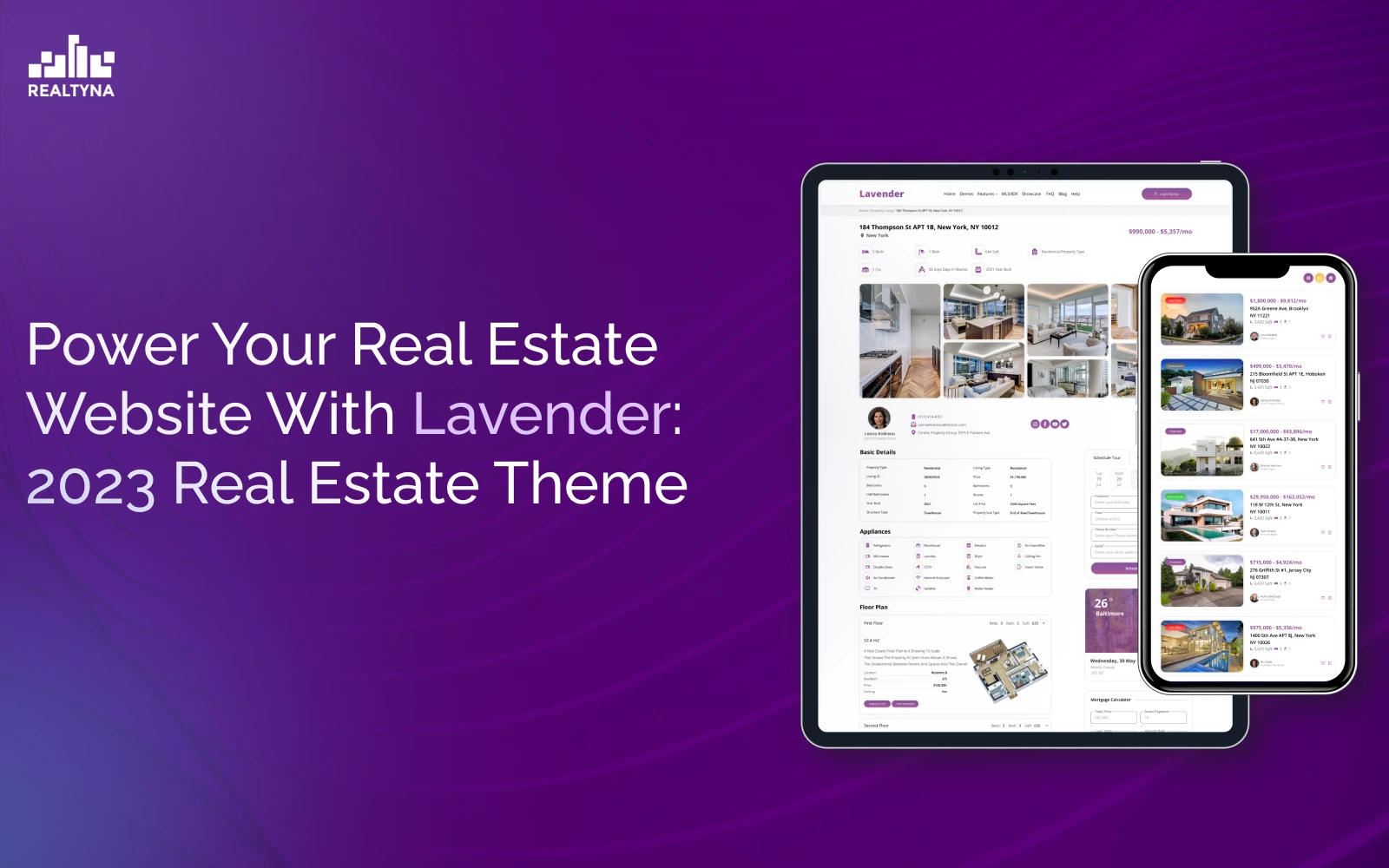 Power Your Real Estate Website With Lavender: 2023 Real Estate Theme
28 Mar 2023

Posted at 10:00h
0 Comments
Given the dynamic nature of the real estate market and rapid technological advancement, reliable and fast-loading websites have become more essential than ever. From super-fast load times to high-traffic real estate websites, agents are taking it up a notch this 2023 with API-based solutions, headless websites, and more.
API-based real estate themes are one of the most in-demand features for real estate websites these days, and Lavender Theme is at the top of it. With its advanced WordPress headless framework built to integrate top-tier features, Lavender Theme provides a cutting-edge solution for high performance through the RealtyFeed API.
Flexibility, scalability, and speed are just a few of the premium features the Lavender Theme offers that unlock endless possibilities for real estate websites. The API-ready real estate theme provides ten times more speed and accessibility.
So what exactly does Lavender Theme offer? Let's take a closer look at how you can power your real estate website in 2023 with Lavender Theme.
What Does Lavender Theme Offer?
Lavender Theme offers a new, improved, feature-rich API-based real estate theme with an advanced headless framework to increase performance. It is based on RealtyFeed API and offers MLSs, custom property listings, custom states listings, custom agent listings, and custom search widgets. It is also fully customizable with Elementor and Bootstrap 5, fully responsive, and compatible with Gravity Forms and WPL Elementor.
Real-time Visual Editor:
With an in-context preview, you can create and edit listings in real-time, making it easier to manage your website.
API-Ready:
The Lavender Theme is built with RealtyFeed API, a real estate-specific headless CMS used to create and manage property listing data and website content.
Limitless Technology and Support:
The Lavender Theme is adaptable to any technology or front-end infrastructure and works with various headless frameworks, including Angular, React, Next.js, Flutter, and Nuxt.js.
Headless Framework:
Lavender Theme provides a headless framework that allows you to build faster, more scalable, and more secure real estate websites. Using serverless pre-rendering technology allows for the instant delivery of dynamic content, serverless HTML generated on the fly, Vue.js frontend, cloud serverless backend, API XRay, and headless architecture.
Improved User Experience:
The Lavender Theme promptly delivers relevant data to users with fast load times, increasing overall user experience.
Designed for Top-of-the-line Performance
The Lavender Theme is 10x faster than other real estate themes, thanks to its delivery of a navigation-ready HTML page that is immediately usable.
It provides a hassle-free setup, making it easier to start building your site immediately.
Easily customizable and user-firiendly integration.
The theme is designed specifically for real estate websites, and it gives you a significant head start by including built-in commonly used queries.
Additionally, it is extensible and easily customizable, making it a powerful tool for developers.
Conclusion
Lavender Theme is the ultimate API-based theme for real estate agents to power their websites in 2023. Not only is it a game-changer, but it also provides real estate webmasters and real estate professionals the flexibility and ability to provide their clients with unparalleled speed and scalability. With Lavender, the bar is set for high conversion and improved performance.
Related Topics:
How to Build Headless Real Estate Apps with Flutter
How Realtors Can Benefit from Seamless Access to MLS Data with MLS Router API: Headless Plugin