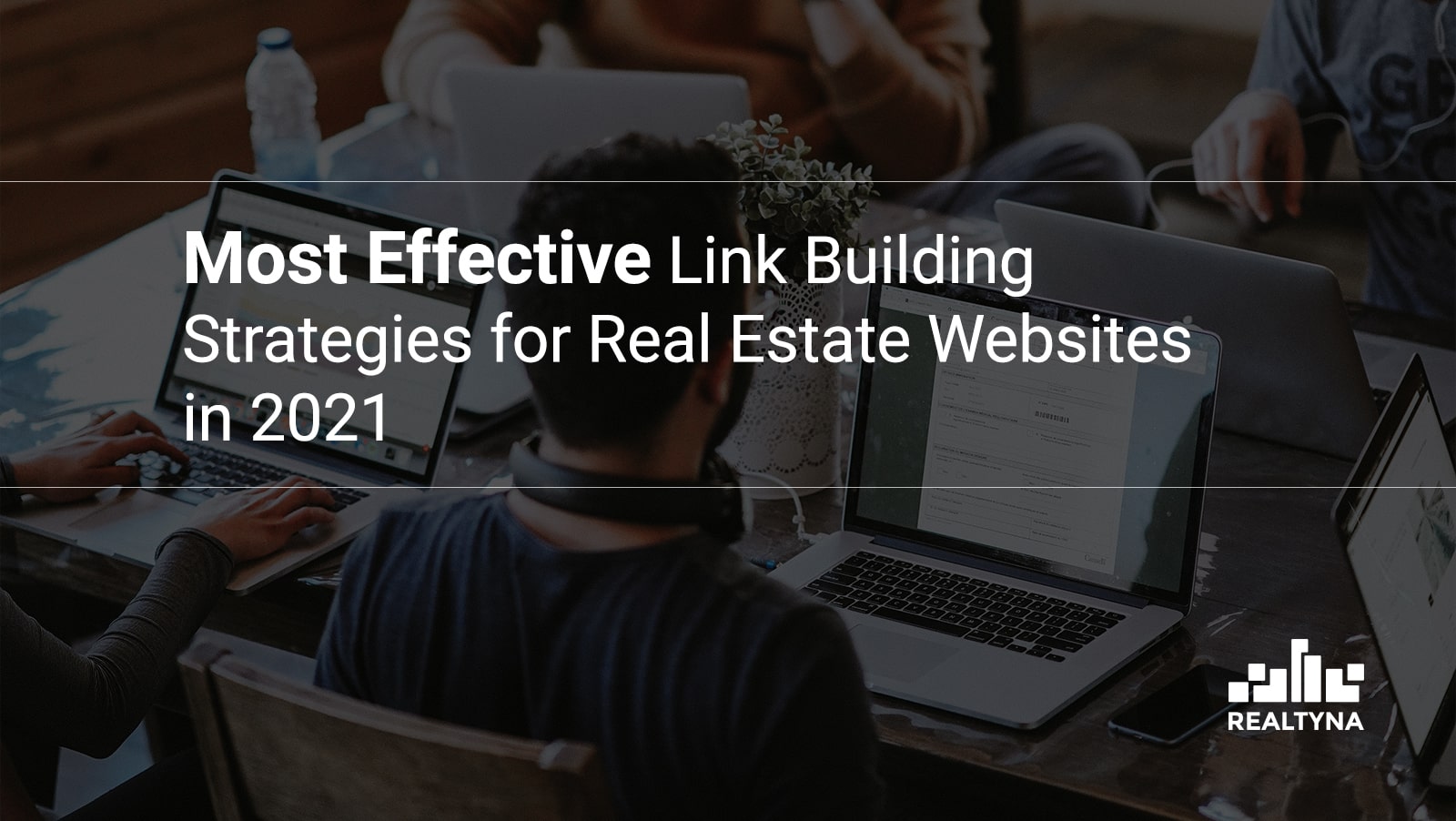 Most Effective Link Building Strategies for Real Estate Websites in 2021
03 Mar 2021

Posted at 11:00h
0 Comments
Search engine optimization is currently at the top of every real estate professional's marketing agenda. From targeting keywords to local SEO and video marketing, there are myriad techniques you can apply to help your IDX website rank better on search engines like Google. Link building has recently become the buzzword for better SEO value, and major companies have hired outreach marketing personnel to actively engage with this strategy.
Before we get to the do's and don'ts of this popular marketing activity, let's clarify what it actually means, especially in the world of online real estate business.
What Is Link Building and Why Is It Good for SEO?
According to Moz.com:
"Link building is the process of acquiring hyperlinks from other websites to your own. A hyperlink (usually just called a link) is a way for users to navigate between pages on the internet."
Currently, there are both paid and organic ways to obtain such links, the former being highly discouraged. Google and other search engines will crawl these links and connections to create quality maps for your website.
Here is an example:
If website A receives (and sends) links to website B, both can enjoy the value of one another in the eyes of the search engine. That is why it's often more common for high-ranking websites to receive requests for link exchanges. In some cases, some are ready to pay the big bucks to be able to obtain such a connection.
This has led to a lot of money being thrown into the world of link building, and there are hundreds of companies that connect you to big websites if you pay an amount, which is often really high. As a result, Google has recently revised its algorithms in a way that organic link building is more appreciated than paid reportage/sponsored arrangements.
Three Link Building Strategies For IDX websites
Given the growing intelligence of Google algorithms, we highly recommend that you try organic approaches to build up SEO credit for your website.
Here are three strategies you can implement to earn such valuable SEO juice for your real estate website:
Become the Authority Through Fresh Valuable Content
This is probably the most organic approach to becoming an authority in your niche. Procuring valuable content that addresses the needs of your audience is the key to win Google's heart. It will take some time until you win its attention, but when you do, it won't get your website off its search results.
Remember, real estate websites can enjoy an alternative way to earn extra credit for their domain, and this Organic MLS integration. Check out the following article to learn more about this:
SEO Value of Organic MLS Integration
Reach Out to Websites Within Your Niche With High Domain Authority
Quick research on Google or Alexa will lead you to a list of websites with high DA (Domain Authority) in your industry. All you need to do is send them a friendly message and offer to produce fresh and original content, so they can publish it on their sites.
Make sure they attach a do-follow link so Google will follow the link to your website.
Feature Valid Resources in Your Content
In some cases, making blog exchange arrangements with some high-ranking websites becomes very difficult. They receive a lot of requests and their criteria become too strict for you to meet, especially if you are a growing website. Alternatively, you can tag or feature these websites and attract their attention, especially on social media. That way you can gain a backlink to your website which is equally valuable.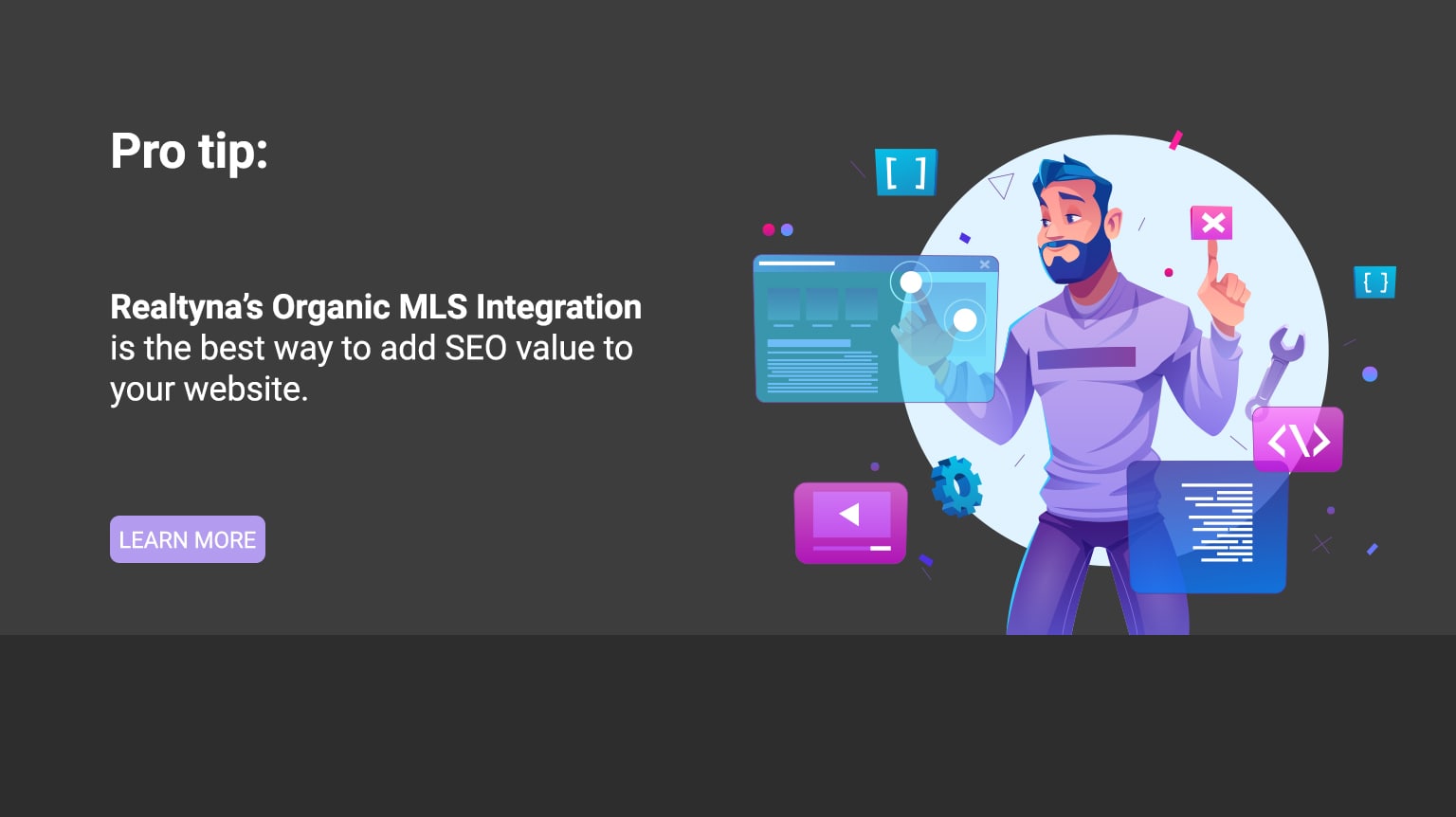 What You Should Avoid
As discussed above, Google is improving its algorithm on a daily basis to create a leveled playing field for all the websites on its platform. As a result, you must definitely avoid:
Paying for a link exchange or link placement

Building links with websites that have nothing to do with your content

Targeting audience outside of your niche even if the visibility is high
As we always recommend at Realtyna, please opt for organic SEO measures to make sure your website ranks high sustainably.
For more about SEO techniques for IDX/Real Estate websites, please check out the following articles:
Google and Real Estate Business: Part 1
Google and Real Estate Business: Part 2
Google and Real Estate Business: Part 3