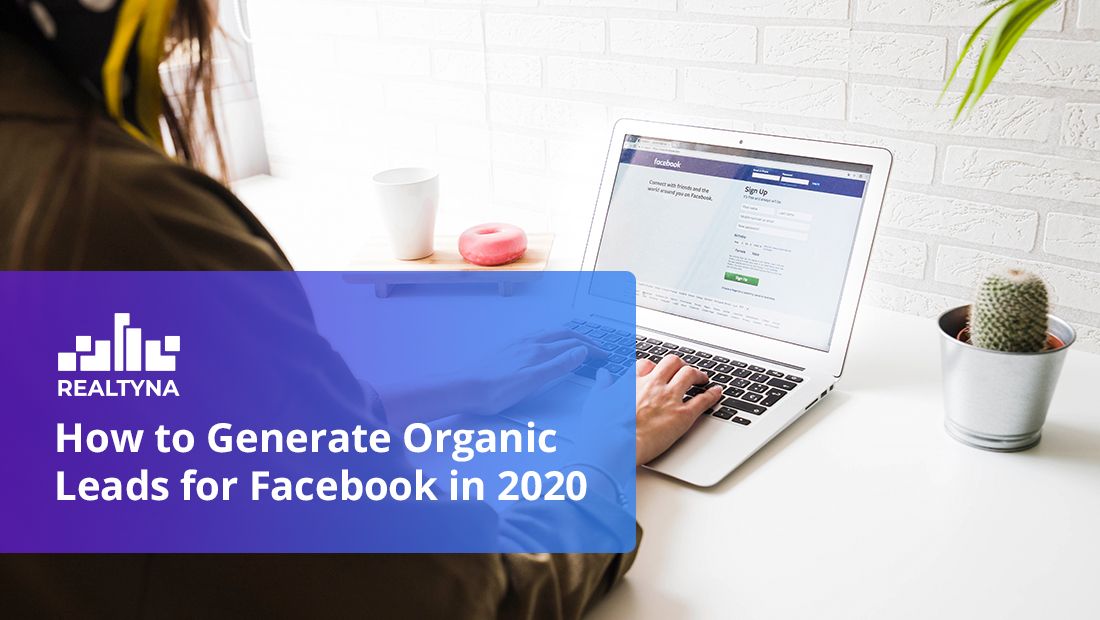 How to Generate Organic Leads for Facebook in 2020
03 Apr 2020

Posted at 11:00h
2 Comments
Facebook is one of the world's main social media platforms. After the launching of the social media network in 2004, its popularity has only increased with time.
Facebook had almost 2.5 billion monthly active users for the fourth quarter of 2019. (Opens in a new Window).
So, it's the biggest social media network worldwide.Facebook is important, and it is a must-have social media channel for your real estate business. It gives you chances to generate organic leads with some correct marketing strategies.
In this article we will talk about some of the ways to generate organic leads for Facebook in 2020.
Facebook Groups
Did you know that on Facebook we see more group posts than individual posts? It's true., If you think about it, group posts are shown more often today than individual posts on most Facebook feeds. So, this shows the importance of Facebook groups for businesses.
Especially for real estate agents, you can create and join groups with your targeted audience. How exactly can you use groups as a real estate agent to generate more organic leads?
Create a Group- So, if you don't already have one, create a Facebook group. Choose your targeted audience and invite them. Write what the group is about, so the users will have a clear idea. Also, try to have a policy for your group. wWrite the rules that people should follow and pin the post. Post interactional posts in your group, talk about new trends and try to engage your audience there.
Join Local Groups- Search for the local groups. You can find groups in the neighborhood where you work. Be active in the group and ask and answer questions, so your prospective clients have a chance to find you.
Facebook Lives
Lives are the best way to engage your audience and generate organic leads. People love videos, especially ones that are natural and not staged. Live videos give viewers a feeling that they are a part of it. Especially in 2020, live videos will work really well.
You can record lives and talk about neighborhoods and your experiences. You can even record the lives with experienced buyers. While recording live, you can answer your audience's questions and make it more interactive. Also, you yourself can ask questions and get their answers.
Moreover, you can put your live on your Facebook page or profile as a post. This means more interesting content on your feed.
Facebook Stories
Stories work on almost every social media channel. In 2020 they aren't going to disappear. Instead, stories will become even more popular. So, how should you as a real estate agent implement stories in your business strategy?
Facebook stories disappear in 24 hours. Do you have any material, which you want to post on your newsfeed? But not sure if it's worth posting? You can add it into the story.
Do you have any questions for your audience? Stories give you a chance to ask questions and get answers. Answers sometimes are sent into your private chat.
Chatbots
On Facebook, chatbots work really well. Even though some chatbots may cause confusion, they still are very beneficial. Especially, for you as an agent, you have to deal with various tasks and don't always have time to answer messages on Facebook. So, you can program the answer and chatbots will lead the automate interactions. This will help you maintain your leads.
Posting Frequency and Time
Do you have a schedule for posting? If you don't, you have to think about creating a schedule. Posting frequency really matters. Huge companies usually post several times a day because their audience is very big, but normal businesses should try to avoid that. Why? It will have a negative effect on their posts. Their visibility will be decreased if there are too many new posts on the page. Also, you should think about the time when your audience is most active. Try to discover the time that brings you the most traffic.
Long Descriptions
Visuals are first in any social media network. That's why videos work the best. But long descriptions are a very significant way to generate leads too. If you use long descriptions, there is more chance that people will comment on your posts. This increases the interaction on your page. Increased interactions mean increased engagement and more organic leads.
Did you find the information useful? You can read our blogs: Facebook Live Ideas For Real Estate Agents and What Should You Do on Social Media as a Real Estate Agent
Question or Feedback? Drop a comment below.