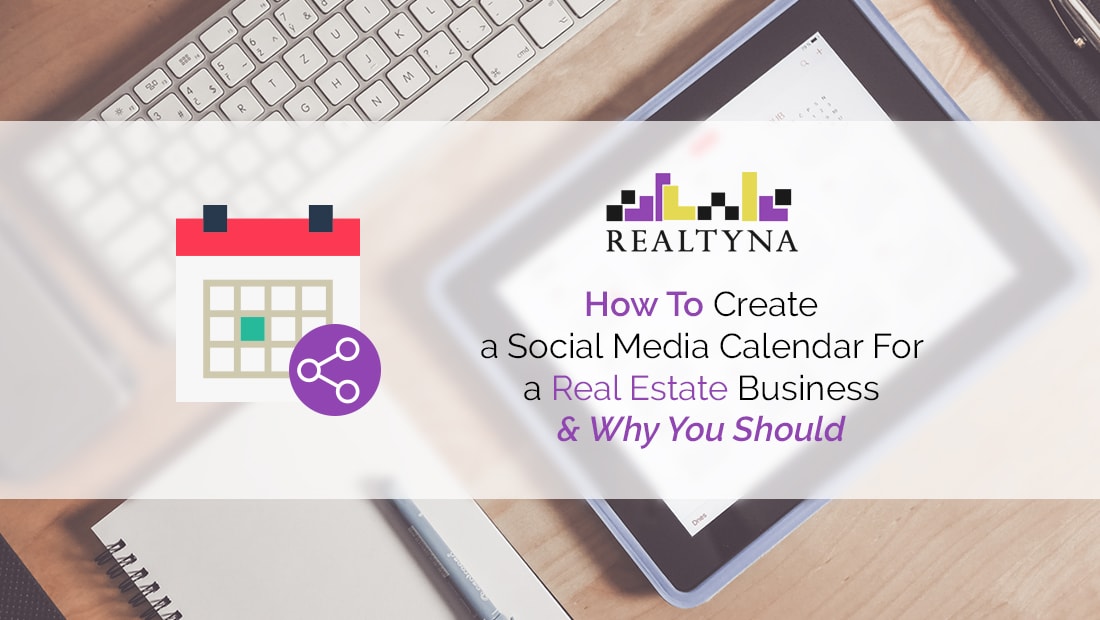 How To Create a Social Media Calendar For a Real Estate Business and Why It's Important

Posted at 09:33h
3 Comments
Producing content and posting to social media are essential for real estate marketing.
But they can be a lot to manage in a schedule that is already full.
You have showings, open houses, and client meetings. How are you supposed to remember to post regularly to Facebook?
This is why we recommend a social media calendar.
A social media calendar is guide to help you schedule your content and post it an ideal time.
A social media calendar will help hold you accountable for your social media. And it will help you maximize shares and follows.
Here are 5 tips to create a social media calendar for a real estate business.
CHOOSE WHERE TO POST
The first step in creating a social media calendar is deciding where to post content.
Think about where you are already active. If you are active on Facebook and Twitter, start with this.
There is no need to be a hero (at least at first). Start with the accounts you have already. If you want to be ambitious, you can add one more.
It's better to start small and grow. After all, a social media calendar is about being consistent with social media. You should not overwhelm yourself with it.
CHOOSE WHEN TO POST
Now that you have targeted a few social media platforms, you should choose when to post to them.
For this you should take peak usage into account.
Facebook users are genearlly not active at the same times as LinkedIn users. LinkedIn users are not active at the sames times as Pinterest users, etc.
There is a lot of information about peak usage available on the Internet. But most studies produce the following peak times (in EST):
Facebook – 1 p.m. to 4 p.m.
Twitter – 1 p.m. to 3 p.m.
LinkedIn – 7 a.m. to 9 a.m. or 5 p.m. to 6 p.m.
Google+ – 9 a.m. to 11 a.m.
Pinterest – 2 p.m. to 4 p.m. or 8 p.m. to 1 a.m.
These times are averages accross industries and businesses. So you may find peaks are different in your area. But you should start with them and make adjustments as necessary.
Don't forget to consider your work schedule too.
It won't make sense to schedule social media at a time when you often meet clients.
LUKE'S TIP: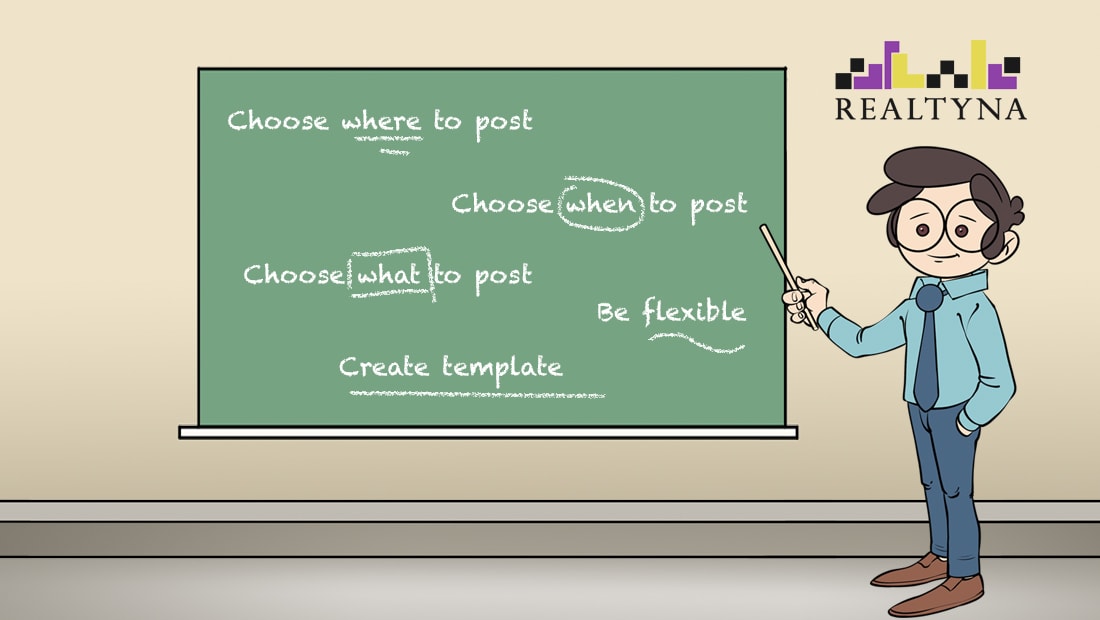 CHOOSE WHAT TO POST
You have platforms and you have times. Now you need to decided what to post.
The key to a strong social media presence is orginal, relevant content.
For real estate agents this means, hyper-local and neighborhood specific.
You are an expert in your community. Nobody knows the comings and goings like you.
You should leverage this knowledge in your social media.
Post facts, photos, and events in your community on a regular basis.
This information is relevant to your clients and it will help build credibility for your business.
We have list of content ideas here: What Should I Write About on my Real Estate Blog?
Don't be afraid to recycle older content.
If a post generates a lot of shares, do a part 2 a few weeks later.
Or at the end of the month, don't hesitate to republish your top posts for the month.
CREATE TEMPLATE
Now that you known where, when, and what to post, you should create your actual schedule.
This can be as simple as a spreadsheet.
Place the days of the week in the first column on the left.
Then place times and platforms across the top in the first row.
You can fill the cells below with the content you want to post where and when you want to post it.
You should update your calendar every week with the new content you plan to publish.
BE FLEXIBLE
You are ready to go with your social media calendar. And you will soon see it paying dividends.
Nothing invites an unfollow like an inactive or inconsistent social media account.
But don't forget to be flexible.
Social media is about you and your schedule. If posting at a certain time is not working for you, change it.
Social media should suppliment your real estate business, not dominate it.
For more on using social media in real estate, check out our blog.
Why Every Real Estate Agent Should Have Facebook
Why Every Real Estate Agent Should Use LinkedIn