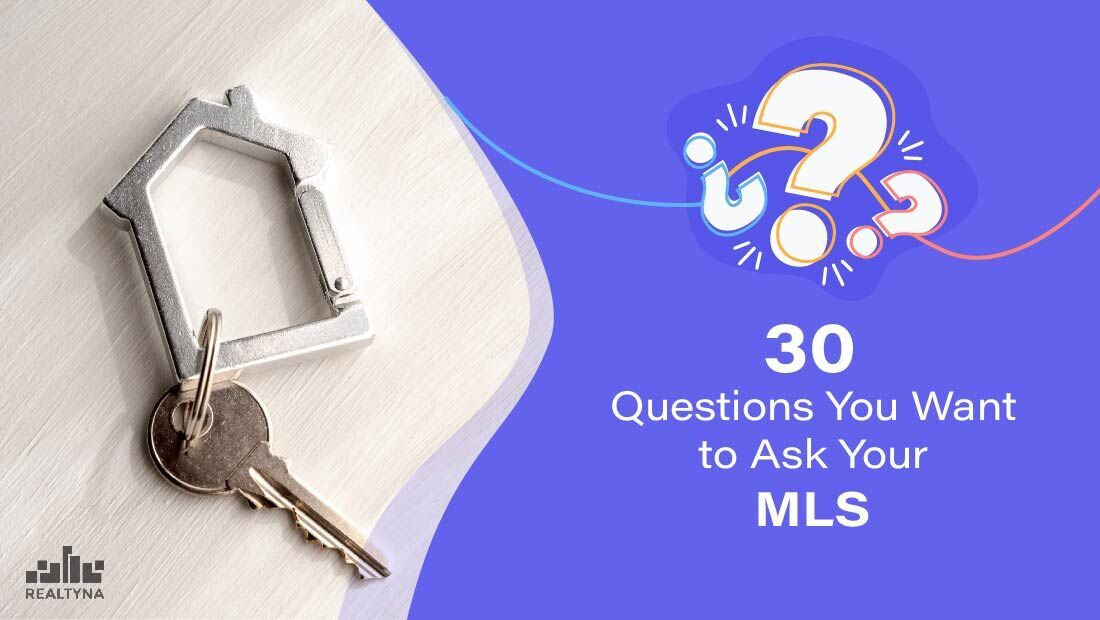 30 Questions You Want to Ask Your MLS
11 Apr 2020

Posted at 11:00h
0 Comments
In the United States of America, property listings are offered in a regionally unified system called the multiple listing service or MLS. There are currently over 500 MLS in the US, a number which fluctuates given the fact that new MLS are formed and some MLS merge. Check out a full list of MLS in the U.S. here.
MLS are basically technology companies whose job is to provide updated and accurate listings data to members. Members are licensed real estate agents who work under a brokerage. MLS are often managed by local associations of realtors. To learn more about MLS, check the following article:
Everything you need to know about MLS
MLS offer a wide range of services—from updated listings to continuing education and lockboxes. However, there is always more to that, depending on the location. Some MLS offer reciprocal services, for example, in which members can have access to listings to other MLS. MLS may provide free or paid service.
There are so many questions that real estate agents or brokers who want to join an MLS might have, both new and old members. Here, we will review some of the most frequently asked questions members have for their MLS:
1. What is the difference between MLS and AOR?
MLS is a technology company that is run by an association of realtors or independent members. An association of realtors is a trade organization that moderates the affairs of real estate professionals and their clients in a geographic area. Learn more here.
2. How can I join the MLS?
To join an MLS, you must be a licensed real estate agent who works under a managing brokerage in the MLS. You make a request through your broker. Learn how to become a real estate agent!
3. How long does it take to become a member?
It depends on the MLS but it usually takes 1-3 business days.
4. What is included in my membership?
Members of MLS will have several benefits ranging from technology to education and update listings. Once again, the range of features may vary from one MLS to another but the following are a list of common benefits:
Cloud CMA

Cloud MLX

Cloud Streams

MLS Charts

Area Locator

Assume Identity

IDX

Listing Book

ListHub

Find

New HomeSource Professional

RatePlug

CRS TAX

Disclosures.IO

Real Safe Agent

Real-Time MLS

Key Boom

Collaboration Center

Mobile Apps

Homesnap

HomeSpotter
And more. Contact your MLS for more information or visit our MLS coverage Page.
5. Are MLS Services Free
Yes and No. Some MLS come with a membership fee and a few offer services free of charge under special circumstances. Check out the following article to learn more about the major MLS and their fees.
6. Do open house comments appear on Zillow?
Yes, they normally do unless the MLS and Zillow have made other arrangements.
7. What external sites receive MLS data?
Brokers under the MLS will define what third party websites receive these listings. Usually, these external parties include the following:
Zillow

Trulia

Redfin

Listhub

realtors.com
8. How many photos can be uploaded?
Up to 40 photos can be uploaded, generally.
9. What is IDX?
IDX stands for Internet Data Exchange which is a set of rules and technologies that help you bring listings to a real estate website. For more information, please visit this blog:
10. To be in compliance with IDX, must an MLS provide both a downloadable data feed and frameable web site capability or just one or the other?
Generally, IDX does not require MLS to provide a website for public display of listings but NAR obliges MLS to provide downloadable listings if requested by a subscriber.
11. Does IDX conflict with the real estate licensing law or the NAR Code of Ethics?
According to the Bridge MLS Website: "Implementation of IDX is not inconsistent with state law. NAR's IDX policy statement is consistent with the Code of Ethics since no display of other Participants' listings can occur without their consent, and consent is assumed unless affirmatively withheld by the listing Participant."
12. Can MLS charge a fee for downloading listing information to participants and subscribers?
The answer is yes. NAR's policies do not limit associations or MLS from charging their members. The range of fees can be decided based on how much it costs to maintain MLS services.
13. Can all MLS members participate in IDX?
MLS has the freedom to include agents or brokers within a dedicated framework.
14. Can I authorize other members to display my listings under IDX or the other way around?
You can choose to display yours or others' listings but you should seek their approval. In case you prohibit someone's listings to be displayed, you cannot display theirs either.
15. Can sellers "opt-out" of displaying their property listings on IDX?
Yes.
16. Can the MLS refuse my listings if I do not permit other participants to display them on their web sites?
No. There are no obligations to consent for displaying other participant's listings.
17. What listing statuses are included in IDX?
Pending and sold are official IDX statuses. MLS might include others like withdraw, canceled, expired or etc.
18. What if I don't want to display sold listings?
Brokerages may choose to show or not to show these statuses because they are entitled to it, but not limited to. They often do this for marketing purposes.
19. Does IDX include confidential information that is available to the public?
This is a tricky question. NAR's requirement is that information intended for other realtors cannot be shared with the public. However, since this is not a mandate, local MLS can remove this requirement.
20. Does the MLS have to be listed as the source of the data and how often does the data have to be updated?
Yes and yes. The source of these data is the MLS and generally the data must be refreshed every 12 hours.
21. Why should we allow our listings to be displayed by competitors?
This is a mutual decision by all realtors which helps to provide better service for clients and the whole industry as a whole.
22. What can I put in the public remarks?
These are public information that affects the tenants or describes the property.
23. Can I load a listing for comparison purposes only?
Contact your MLS and check if it is possible.
24. Which lockbox is okay to use?
MLS use a variety of lockboxes or combinations of them. Consult with your MLS or brokerage to make a decision.
25. Do I have to upload a photo to my listings even though it is pending?
Yes, you must upload a photo of the exterior of the building in 3 days unless the seller opts out.
26. Can I advertise another Broker's listings on Craigslist or Facebook?
It is against the regulations to do so unless you have a written permission from them.
27. How long do I have to mark a listing sold on the MLS?
You should mark a sold property in less than 1 day from the escrow. Otherwise, you are violating terms.
28. I have a secretary that will be helping me with my listings. Does he/she need to become a member in order for his/her contact information to be on my listings?
Yes, they can and should join as an admin/secretary, for which there might be a membership fee by the association.
29. Can I state the commission is split 50/50 or subject to lender approval?
No. According to the MLS rules, you cannot state the commission. Read more here
30. Where Can I find more information?
Issues regarding the MLS can be discussed with your brokerage, local MLS or your association of realtors.
If you have questions about integrating MLS into your website, please continue to the next section.
Disclaimer: Most of the information has been obtained from MLS public outlets and those of the National Association of Realtors. Realtyna strongly recommends that readers check for the ultimate answer through their own MLS and brokerages.
What is Realtyna and How We Can Help You?
Realtyna is an online provider of real estate website solutions. It is an authorized vendor of RESO products and services and is proud to serve over 180,000 clients all over the world, especially in the US and Canada. With Realtyna, you can build a real estate/brokerage website from ground up, with lots of features and customization. Visit our products page for more information.
Our core product, WPL, is a robust WordPress plugin which allows you to create and customize an IDX website with ease. Check out the features of WPL here.
Our ultimate solution for the real estate business is our Organic MLS integration which will help you bring MLS listings to your website via RETS and RESO Web API. Learn more here.
To explore your options and receive a free consultation, please contact us at: