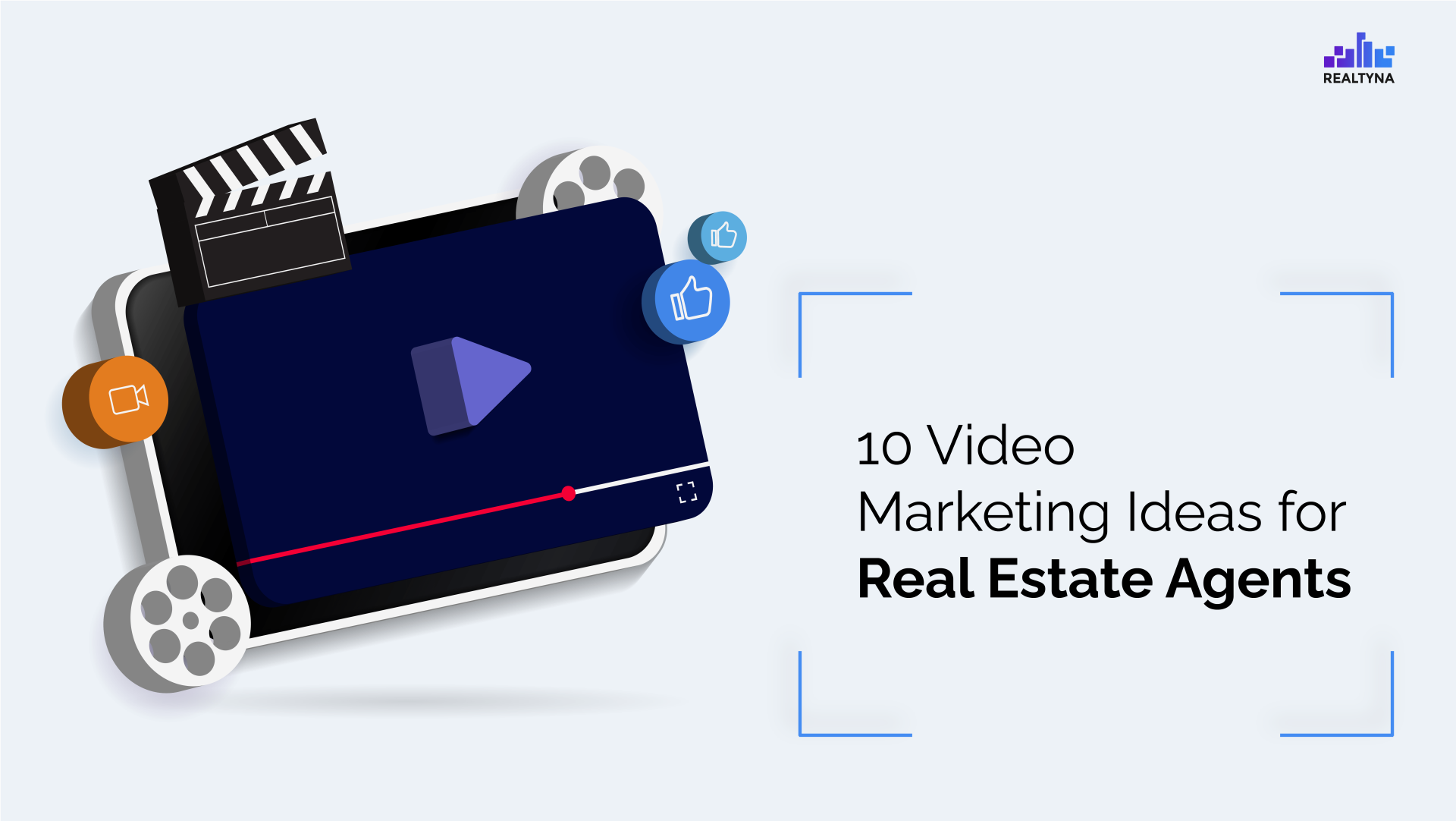 10 Video Marketing Ideas for Real Estate Agents
10 May 2022

Posted at 11:00h
0 Comments
While it appears that every Realtor is creating real estate videos these days, some of them don't seem to get more leads from them. There could be several reasons why—
Focus: Real estate professionals should ensure that the focus is on generating leads while making videos.

Video Quality: For marketing videos to be successful enough to generate leads, the quality should be good. Most viewers won't continue watching if the video quality is bad.
Video content has become more widely available and accessible thanks to the internet and cellphones. Also, more users can easily relate to and engage with the video content than any other content. Therefore, it is essential to create video content that engages your customers. In today's article, we will discuss effective video marketing ideas for real estate agents. Continue reading to learn more.
Top Video Marketing Ideas for Real Estate Agents
There are countless ways to make real estate marketing videos. Here are ten video ideas to connect with your audience:
About Me/Us Videos
An 'about me/us' video introduces the authentic side of your real estate brand to your clients and prospects. It gives them an insight into the people behind it and why you all do what you do. As a result, real estate agents can freely create brand awareness without copying or creating an awkward video.
An "about us" video is ideal for capturing your team's spirit and qualities authentically and honestly. Most importantly, it allows leads to relate to and like you easily.
FAQ Videos
FAQ videos are a common marketing strategy for conveying information in the form of questions and answers by an expert who has specialized knowledge in the subject matter. Make videos answering frequently asked real estate questions. By providing helpful answers to common real estate questions, you get an engaging audience and potential clients.
Community Event Videos
Another excellent video marketing idea for real estate professionals is community events videos. Make videos of community events such as street fairs, charity events, etc., to promote the local community. Inform people of the neighborhood's existence. This helps establish a solid local presence for your business, hence attracting a local customer base.
Property Tour Videos
The advantage of using videos for property tours is that you have complete control over what your consumers see and how they view the property. You can take advantage of this by focusing on the most outstanding qualities of the property. However, make sure not to mislead prospective purchasers, as this will come to light during an inspection of the property. Draw attention to the most impressive attributes in a subtle manner.
Videos of Virtual Tours
There's no denying that the world has adopted a more virtual lifestyle now than ever before. So real estate professionals use virtual tours for marketing their listings. This will give viewers an idea of your services while marketing the property.
Testimonials
Customer satisfaction is one of the most effective marketing tools at your disposal. Who better to market your product or service than a happy customer, right? By capturing their experiences, Realtors can design a highly effective and effortless tool. While you can write down client testimonials for use on your website or in marketing materials, a video testimonial is an even better option.
Video of Market Update
Sharing videos of the latest updates in the industry gives your audience the impression that you are a reliable source of information. Thus they will always check your content to see what's new. Post videos of the latest real estate technologies and news about the real estate industry.
Tips & Tricks Videos
While knowledge is undoubtedly powerful, it is exponentially more so when shared! Create videos sharing tips and tricks that can benefit your audience. For example, you can share videos on how to spot property repairs, educational content, and other valuable information for your audience.
Go Live on Facebook, Instagram, or Twitter
One of the most compelling aspects of social media live streaming is the ability to include more guests and respond to audience comments directly. So naturally, this increases the video's overall impact. In your live stream, you can answer frequently asked questions and even ask your viewers some questions, share real estate news updates, share information about your product or service, etc., creating a high level of trust with your viewers.
Day in the Life
It's a significant deal when a product improves your life, even in minor ways. However, it can be difficult to share those experiences and genuinely communicate how important you are in your customers' lives as a company. So, you can create a video of a day in the life of your customers, allowing them to share their stories, show off how they use your product or service, and brag about you and your business in their own words. As a marketer, you can use these stories to build stronger ties with your consumers and persuade prospects to become new clients.
Conclusion
With each new advancement in technology, our reliance on it grows, both professionally and emotionally. However, video has remained a reliable source of information and entertainment for most people. And, given recent requirements for virtual connectivity, along with an ongoing interest in "going viral," video marketing is likely to remain effective for an extended period of time.
​​Read More:
Four Effective Ways To Improve Your Real Estate Website
5 New Ways to Make Your Property Listings Stand Out!
Tips To Manage and Remarket An Overpriced Listing