Cool WordPress Tips for Your IDX Website
09 Mar 2021

Posted at 11:00h
0 Comments
In How to Add a Site Icon (Favicon) to Your WordPress Real Estate Website and 8 Secret WordPress Features to Help You Manage Your Real Estate Website, we discussed important WordPress tools that improved your website's performance. In this article, we present some important WordPress tips that are often overlooked.
Let's dive in.
Permalinks
So, what are permalinks? Simply put, permalinks are URLs to your posts and pages. They notify users what your content is about. Often, the user-friendliness of the permanent link is a paramount factor in your visitors' decision-making process. Links are how search engines link to your website and what your visitors type or paste in the search bar. So, you see, how clean, understandable permanent links are often make it or break it?
So, what is the right format and structure for the permalink? How can you make it SEO friendly as well as user-friendly? Let's dive in.
Before we dive into a comprehensive guide to permalinks, there is one thing we need to clarify.
Permalink Structure
There are different types of permalink:
Plain

– A plain permalink is one of the least favored permalinks out there. It includes a mark p, which stands for the post and ID number which indicates the number of the table rows this post is located in.

Day and Name/Month and Name

– This is pretty self explanatory. This kind of permalink indicates the post name as well as publishing time.

Numeric URL

– Numeric URL is very similar to the plain permalink with the only difference being an archive word being included in it.

Post Name

– This URL is structured to indicate the name of the post. The words are separated by hyphens and often include keywords. This URL structure is considered one of the best for blog pages.

Custom Structure

– The custom structure is heavily favored by SEO specialists. Often, content is arranged by categories.
As you see, post name, as well as the custom structure URL, is what you should consider. It is better for user-experience and SEO.
Install Google Analytics on Your Website
Google Analytics is one of the most important tools for everyone who conducts an online business; real estate agents are no exception. Google Analytics helps you track your conversion results, your visitors, even the browser your visitors are checking your website from.
So, how do you install Google Analytics? One of the ways is by using MonsterInsights. Check out this article to learn in detail how to install Google Analytics.
Another method is to add your Google Analytics code in the themes file, but as soon as you update the theme, this code will disappear. So, Monsterinsights might seem as a more stable option.
The Right Theme for Your Website
Arguably, one of the most important things is the theme of your website. It is a visual representation of how your website will look and what functionality it will have. For example, take a look at the Realtyna's Sesame Theme. It has 200 daily downloads and is distinctive because of its functionality. Sesame Theme incorporates:
MLS feeds

IDX

Google maps

Property portal searches

Listing displays

Neighborhood pages

Complex or building pages

CRM software

Blogs
Combined with great visuals, Sesame Theme is ideal for real estate agents who want to have it all on their IDX website.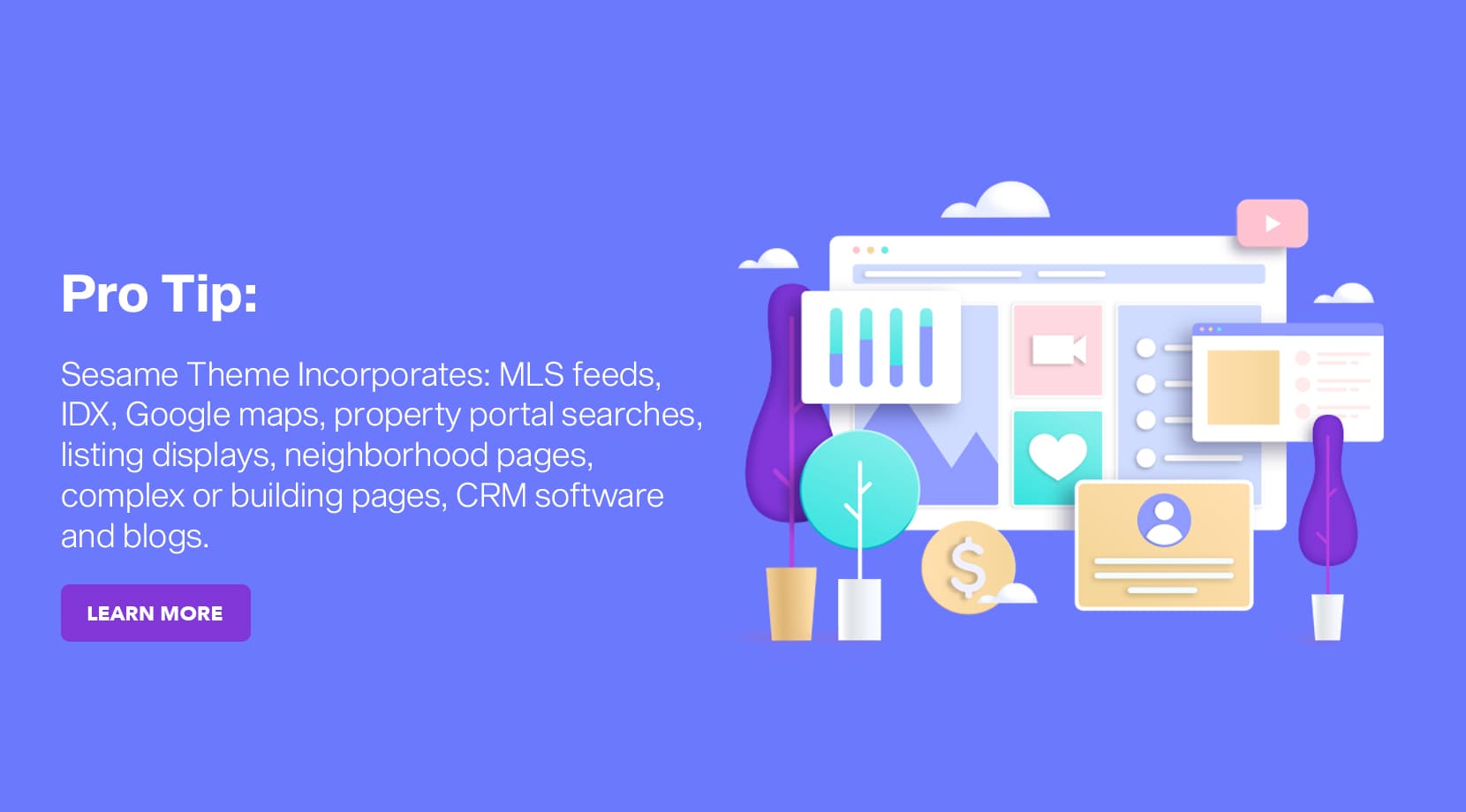 Optimize Your Images
Real estate websites are full of images. It's not surprising since, real estate listings are the bread and butter of real estate agents. But with great visual content comes another problem: the problem of speed. Everyone knows images take a lot of space, and unoptimized images paramountly affect page loading time.
So, what should you do to optimize your real estate images?
First things first, compress them. Compressing helps lower the size of the file, making it load faster. Other than that, it's important to use alt text. Alt-text is an alternative way for search engines to recognize the image in instances when browsers can't properly render them.
In this guide, we provide a comprehensive look at optimizing your real estate images and improving your SEO.
Have External Links Open in a New Window
As a rule of thumb, experts suggest to always have external links open in a new window and internal in the same one. How can you do it? While pasting the link in your blog on WordPress, right click it. It will showcase settings where you will be able to choose the open in a new window option. This is done so that your users can freely switch between tabs, and when they're done reading the external blog, they can go back to your page. This ensures that you won't lose them off your website.
P.S Want to know more about link building for real estate websites? Check out our blog Most Effective Link Building Strategies for Real Estate Websites in 2021