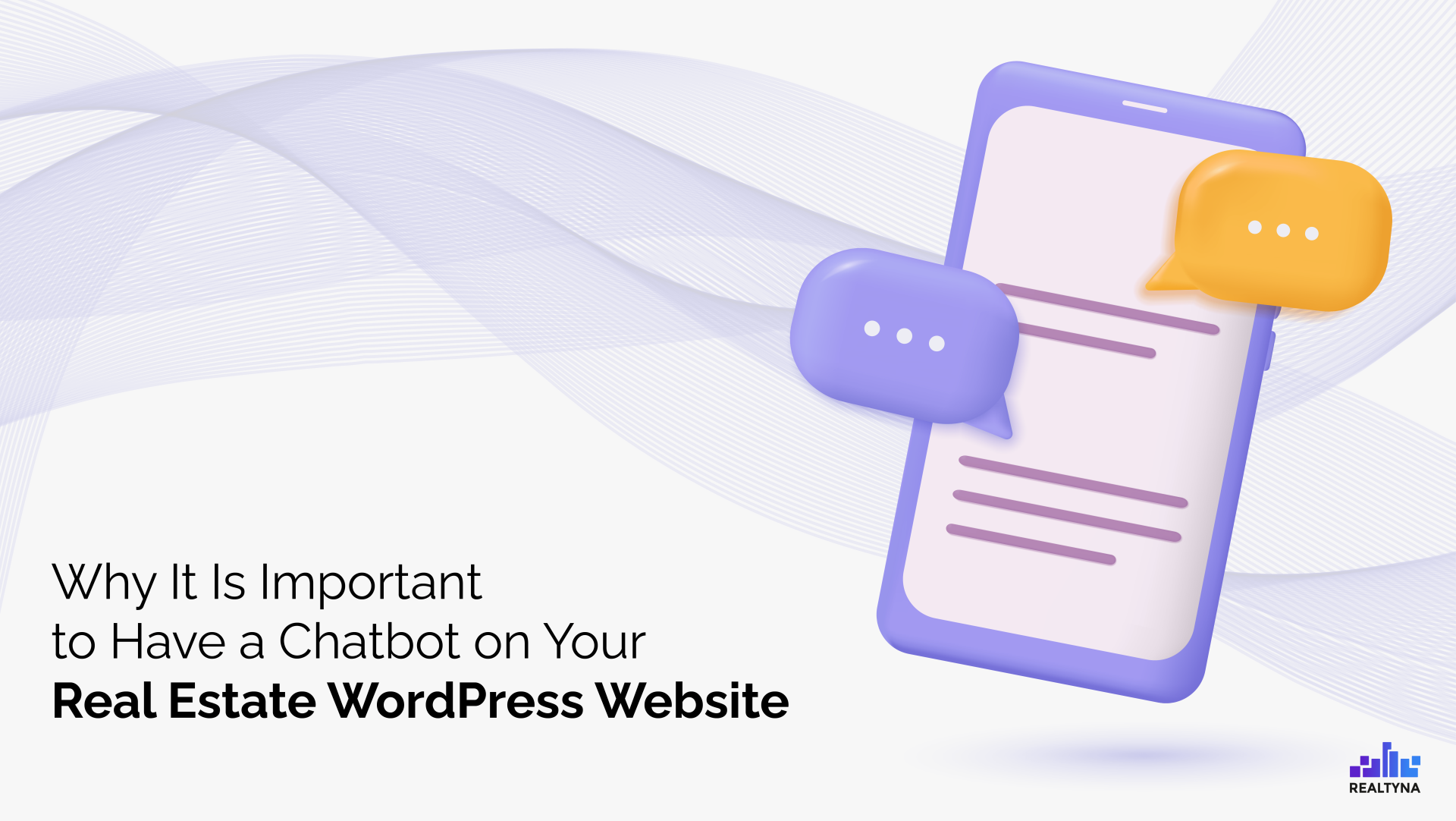 Why It Is Important to Have a Chatbot on Your Real Estate WordPress Website
27 May 2022

Posted at 11:00h
0 Comments
Visitors always have questions to ask, no matter how detailed your website is. And as a skilled real estate agent, responding to them on time is vital, mainly because website visitors quickly divert their attention to something else if they think you can't answer their questions on time. And this might increase your website's bounce rate. You don't want that.
Sometimes, corresponding with clients through email might not provide them with the immediate response they want. Thus to keep up with the communication demands of your clients, a more approachable form of communication through Artificial Intelligence (AI) such as chatbots can be handy.
What Is a Chatbot?
A chatbot is software designed to automatically engage website users to resolve their queries. It is built to replicate human speech and discussions. Sometimes referred to as virtual assistants, chatbots make live chats with clients or prospects more personalized, improving user experience and the overall performance of your real estate business.
Benefits of Using a Chatbot on Your Real Estate Website
One of the reasons most real estate professionals add chatbots to their websites is to improve the end user's experience. To succeed in a competitive market such as real estate, agents have to provide their clients with only the best products or services.
Fast response
Speed and convenience are two of the most valued assets in today's marketplace. The automated system with chatbots makes responding to clients almost immediate, resolving their queries and answering all their questions. This is a valuable tool, especially for businesses with less human resources.
Increase sales
Not only do chatbots help create excellent customer support, but they can also easily be used to increase sales. For example, Realtors can use information about the users' questions, interests, and preferences to provide recommendations, advice, and offer purchase suggestions.
Reduced Cost
While they won't replace human interaction, they can help reduce operational costs by being available all day at no additional charge. In addition, real estate professionals can automate frequently asked questions and conversations for easy access to users.
Lead generation
Chatbots are designed to identify potential customers, initiate their interest in your products or services, and cultivate a relationship with them. Through the marketing approach used by chatbots, they can collect vital user information while offering business or product information, thereby generating more leads.
24/7 Assistance
This point is pretty self-explanatory. Users visit your website at different hours of the day in various time zones. So, having ready support for them at any given time is essential. Which is what chatbots provide on your real estate website. 24/7 assistance offers accessibility and convenience to your customers, thereby reducing bounce rates.
Other benefits of using chatbots on your real estate website include:
Improved engagement

Increased user experience

Help reduce errors

Increase customer satisfaction

Improves service personalization

Versatility
Bottom Line
There are three main elements involved when using Chatbots. They are built to collect information, facilitate human interaction, and, in some cases, substitute human-to-human conversations. For more information on the importance of a chatbot on your real estate website, contact a Realtyna expert.
Related Articles:
How to Be Friendly, Yet Professional in Chats With Clients: Guide for Realtors
AI and Real Estate Business Management: How AI Is and Will Affect the Real Estate Industry. Part 2