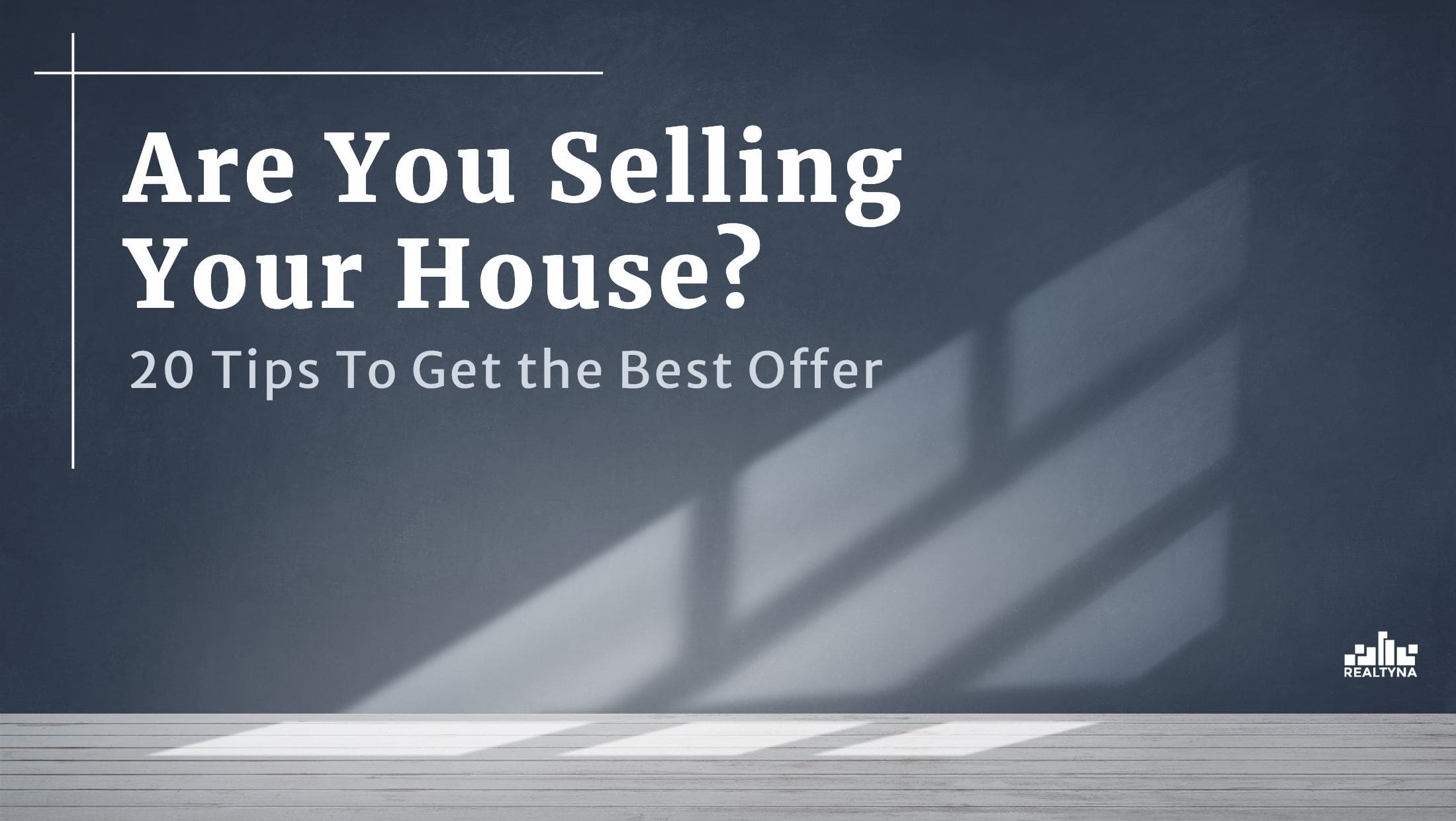 Are You Selling Your House? 20 Tips To Get the Best Offer
26 Aug 2021

Posted at 11:00h
0 Comments
Selling a home is challenging. The process can be complex and emotionally difficult. This is especially true for homeowners selling for the first time.
One of the most difficult parts is waiting for offers. At this point, you have put one of your most valuable assets on the market not knowing what you will get for it. You know how much your home is worth to you. But the money you get depends on the offers you receive.
Sadly, real estate is rife with cautionary tales.
To get the best price, you need a strategy to attract interested buyers with strong offers. To help, we've put together a list of 20 tips. Follow these tips to get the best offer on your home and win your property sale.
20 Tips To Get the Best Offer When Selling Your House
Be Ready to Let Go
Many people become quite attached to their homes. This is normal and valid. Afterall, it is where you live and grow. But when it comes time to sell, attachment becomes an impediment. To get the best offer, you need to think of your home as an asset and yourself as a trader. Your home should have no meaning other than the price it can fetch from buyers. When it's time, be ready to let go.
Give Yourself Enough Time
Selling a home is no small chore largely because no home is perfect. There will be fixes to be made, cleaning to be done, and showings to host. To get the best offer, these processes should not be rushed. Give yourself enough time so what needs to be done is done well.

Identify the Ideal Buyer
Many sellers take a generalist approach to marketing their home. They want to generate a lot of offers and hope for a bidding war. This may not be the best approach, however, because the quantity of offers is not as important as the quality. The best offers come when the ideal buyer is matched with the ideal home in a competitive market. Instead, we recommend that you identify the ideal buyer for your home and design your marketing uniquely around that buyer.
Declutter
Your goal as a seller is to present your home as a blank canvas. You can take positive steps by removing clutter. A decluttered home appears more spacious. It also helps buyers to visualize what it is like to live in your home and project their goals and dreams onto it. These are helpful when seeking strong offers.
Clean
It's one of the more tedious aspects of selling a home, but cleaning is absolutely essential. A clean home tells buyers about your commitment to maintenance and the type of owner you have been. This can help improve the offers you receive.
Get Inspection
When selling a home, surprises are the enemy. Surprises introduce uncertainty for the buyer. They make their purchase seem more risky and drag down their offer. To avoid any surprises during the selling process, get an inspection of your home before you put it on the market.
Handle Small Repairs
It is helpful to do some touch up work before showing your home. Attention to detail is important to buyers, considering the sums of money they may soon be investing. You can put buyers at ease and give them less to worry about by handling some small repairs. When buyers are confident, they are more likely to provide a strong offer. Here is some repair work you might consider for your home:
-Apply new paint
-Fix loose tiles
-Oil squeaky door
-Seal leaky faucet
-Fix pavement cracks
Make Small Upgrades
You probably don't want to jump into a major project unless your inspection shows it is necessary. But there are still a few small upgrades you might undertake before selling your home. These upgrades can make your home more competitive, more relatable to buyers, and help nudge up offers. Here's a list of upgrades, you might consider:
-New hardware in kitchen/bathroom
-New lighting
-New area rug
-Paint front door
Landscaping
First impressions count a lot in real estate. The first impression your buyers will have of your home will be the exterior. You can help improve the first impression and get the best offer by investing in some landscape work. Fresh plants and trees beautify and bring calm to your outside space.
Staging
Your decorating may be highly refined, but it's probably not for everyone. You can make your home more relevant with staging. Staging will help you get the best offer by allowing you to decorate based on the needs and tastes of your ideal buyer.
Professional Photographer
Your home may look great, but capturing its splendor in a still image is more difficult than it seems. A professional photographer can get the lighting right and maximize the impact your home photos will have on buyers.
Virtual Tour
Virtual tours help you market your home prior to the showing. They allow buyers to view your home virtually before coming to see it in person. They help you set the stage and guide your buyer leads toward a sale, especially if paired with good photos and a successful showing.
Drone Shots
Drone shots help capture the majesty of your property and the surrounding area. Sometimes, the home is just a formality. The real star of the listing is the property or the neighborhood. Drone shots help you showcase the true value in your listing and maximize your advantage in the market.
Sale Timing
When you put your home on the market can have a large impact on the quality of offers you receive. Market dynamics vary by region. In some areas, listing in the first two weeks of May is ideal. In some markets, the Fourth of July weekend is a good selling weekend. Study your market and time your sale to get the best offer on your home.
Showing Flexibility
Timing is important when selling your home. Sometimes reaching the optimal buyer or not is a matter of days or hours. To maximize the likelihood of getting the best offer, you should do your best to maintain flexibility in showing. You can't always control who will see your listing and be interested. But you can control how available you are to show the home when the time comes.
Hire Agent With Experience in Your Property Type
Agents have different experiences and expertises. If you do your research, you are almost certain to find someone who has successfully sold a home like yours. Past experience advertising to buyers like the ones you seek is important too. An agent with the right qualities for your property sale will help you get the best offer.
Ask Someone to Watch Pets
Pets are wonderful house companions, but they are not always helpful in a showing. They can be a distraction at a critical moment in the timeline of an offer. To help the showing go as predicted, you may consider leaving your pets with a friend or neighbor until the potential buyers leave.
Create Appearance of More Storage
Homebuyers have stuff, and they are often visualizing how their stuff will fit in your space. You can help them visualize by removing some of your own stuff. You can create the appearance of more storage by leaving your closets half empty. You also may consider removing an extra piece of furniture or some dishes from the cabinet. Put these extra items in storage while you sell your home.
Digital Maintenance History
Property transactions are complicated because of risk. Homebuyers are investing a lot of money into a property they know relatively little about. By limiting risk, you can make your home seem more like a sure thing and get the best offer. One of the best ways to do this is to provide a digital maintenance history of all the work on your home. This will help buyers see the repairs you have and haven't made on your home and view it with more certainty.
Name Drop Cool Neighbors
Home buyers care about the neighborhood. They care about who lives around them. You can help boost the value of your home and get the best offer by name dropping some of the interesting people you know and the time you spent with them. For example, if you talked to the mayor at a recent soirée, casually mention it. If the local TV reporter likes to host barbecues, casually mention it.
Last Several Words
Buying a home is an investment. Selling a home is an investment too. To get the best offer, it takes time, effort, and money. Now, you have some strategies to get started. Questions or feedback? Leave them in the comments. Or for more selling tips, check How to List a Home on the MLS and What Are the Taxes for Selling a Home?.