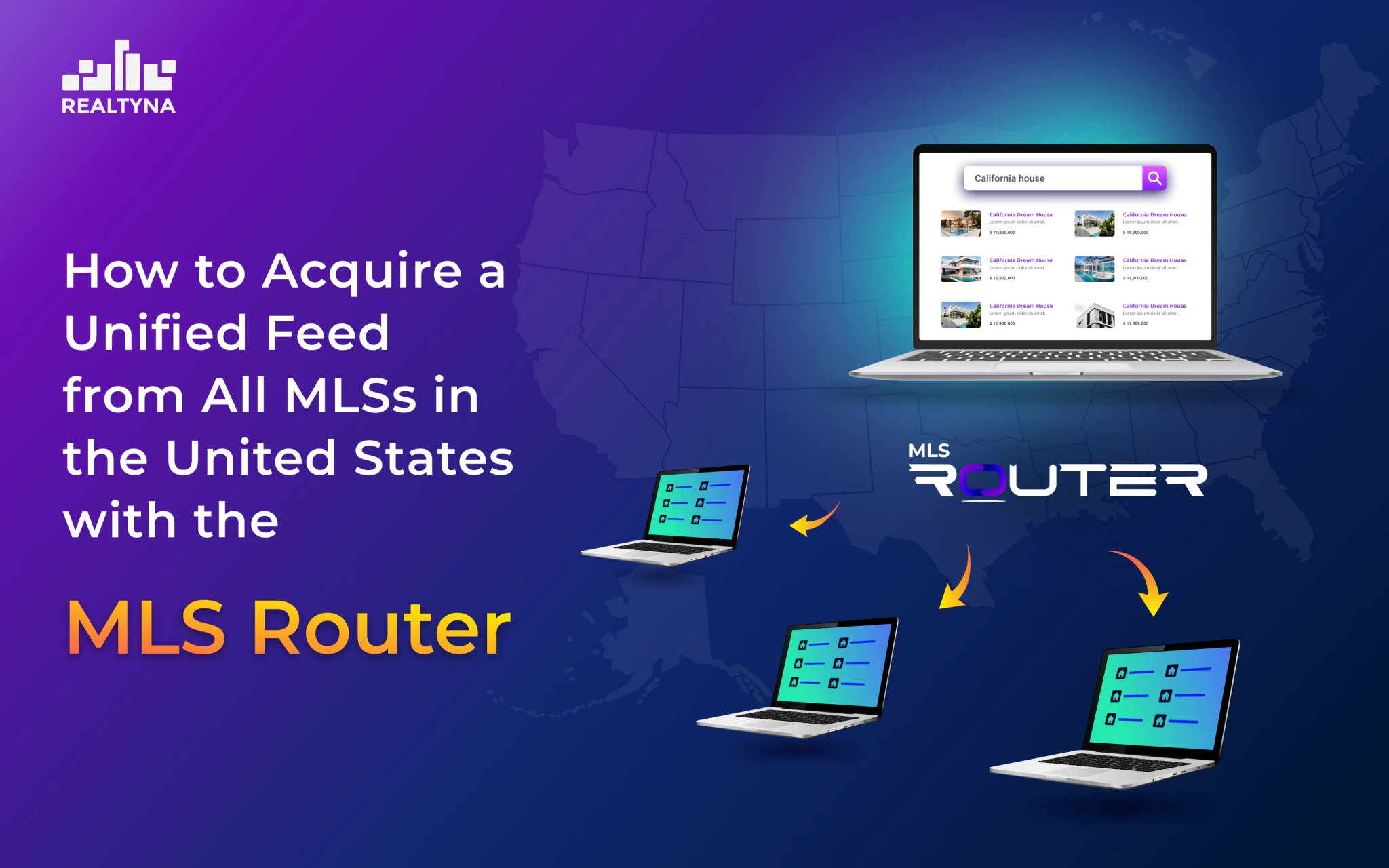 How to Acquire a Unified Feed from All MLSs in the United States with the MLS Router
04 Oct 2023

Posted at 10:00h
0 Comments
The world of real estate is dynamic, and for professionals in the industry, staying ahead of the competition means having access to the latest property listings and market data. Multiple Listing Services (MLSs) are crucial sources of real estate information, but managing data from various MLSs across the United States can be a daunting task. That's where the MLS Router™ comes in, offering a solution that simplifies the process and empowers real estate professionals to build fast, customizable websites with improved SEO and access comprehensive real estate data.
The MLS Router™ Advantage
Super Fast Real Estate Listings Content Delivery
Speed is of the essence in the real estate industry. The MLS Router™ API leverages the power of AWS (Amazon Web Services) to ensure super-fast delivery of real estate listings content. This means that you can provide your users with up-to-date property information without any delay, giving you a competitive edge.
Quality MLS Data from Major MLSs
The MLS Router™ API provides access to high-quality MLS data from most major MLSs in the USA and Canada. This ensures that the property listings you display on your website are accurate and reliable, helping you gain the trust of your audience.
Comprehensive Support and Documentation
Building applications with MLS data can be challenging, but with MLS Router™, you have a dedicated and experienced support team to assist you. Additionally, the comprehensive documentation provided makes integration seamless, even for developers with limited experience.
RESO Web API Platinum Certified and MLS Compliance
MLS Router™ is RESO Web API Platinum Certified, ensuring that it adheres to industry standards.
Beyond Basic MLS Data
MLS Router™ goes beyond basic MLS data. Upon approval of your MLS/Association, you gain access to a wide range of additional features and data sets:
– Market Stats: Access real-time market statistics to make informed decisions.
– Open Street Map: Incorporate detailed maps into your applications for enhanced user experiences.
– CRM Data Integration: Seamlessly integrate customer relationship management (CRM) data to streamline your workflow.
– CDN Service: Enjoy the benefits of Content Delivery Network (CDN) services for faster data retrieval.
– Demographic Data: Understand the demographics of the areas you're dealing with to target your audience effectively.
– Neighborhood Data: Provide valuable neighborhood information to prospective buyers.
– Saved Search Data: Help users save their searches for a more personalized experience.
– Open House Data: Keep users informed about upcoming open house events.
– Authentication Service (AWS Cognito): Ensure the security of your data with robust authentication.
– Tags and Notes: Organize your data efficiently with tags and notes.
Automate Your Workflow with MLS Router™
With MLS Router™, you can automate your workflow and enjoy a hub of diverse comprehensive data in one place. MLS Router™ empowers you to create powerful real estate applications that cater to the needs of your audience.
In conclusion
MLS Router™ is a game-changer for real estate professionals looking to acquire a unified feed from all MLSs in the United States. Its speed, security, and comprehensive data offerings make it a valuable tool in the ever-evolving real estate landscape. By leveraging this platform, you can provide top-notch services to your clients and stay ahead in the competitive real estate market.
For more information about MLS Router, you can read the following articles:
How to add MLS/IDX to Wix website with MLS Router™;
How Realtors Can Benefit from Seamless Access to MLS Data with MLS Router™ API: Headless Plugin.