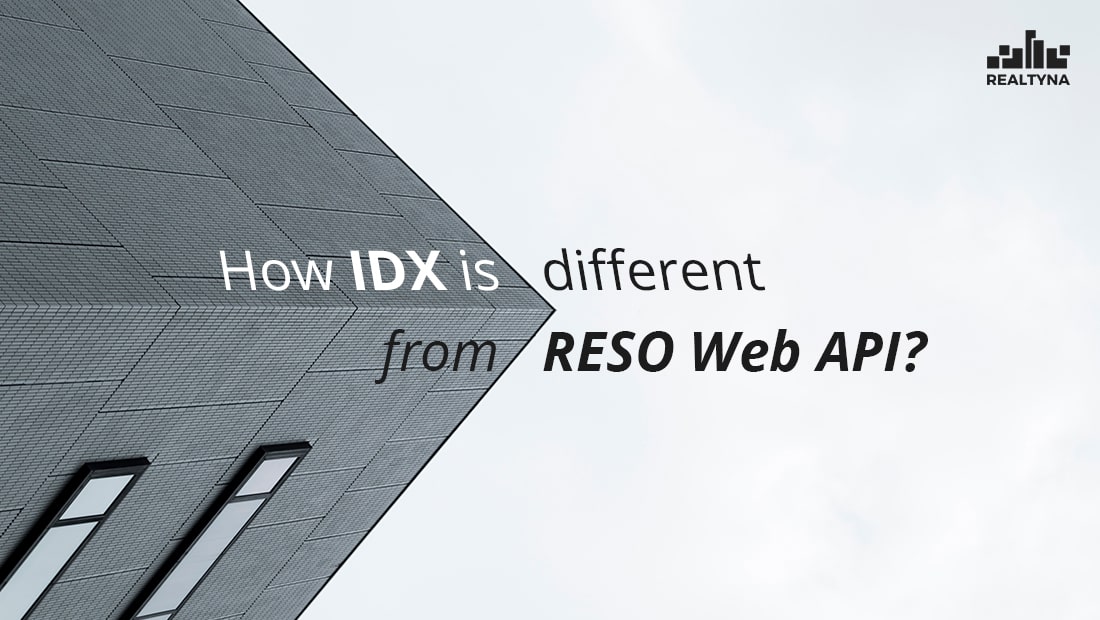 How Is IDX Different From RESO Web API?
26 Nov 2022

Posted at 11:00h
0 Comments
The real estate industry is constantly growing, and data consolidation has become a major focus for the Real Estate Standard Organization. That is why they provide new technologies to address this issue and others, such as hosting burdens and compatibility.
RESO Web API is the new player in this field. Now, most real estate professionals are interested to know how this technology is different from IDX and its mainstream technologies.
What Is IDX?
A real estate website is all about property listings. Accurate information about listings is provided by your Multiple Listing Service or MLS.
Now, IDX or Internet Data Exchange is a set of standards, rules and technologies that monitors such data as it moves from MLS to your website and then to your clients. IDX moderates how your website receives MLS data and how it is publicly displayed.
A real estate website may receive listings data through the following methods, which all contribute to the concept of IDX:
iFrame

. iFrames are embedded codes you receive from your MLS provider that run listings data on your website. iFrames are traditional and convenient, but they do not bring any

SEO value

to your website since such framed pages are not indexable by Google and other search engines.

FTP

. This is a protocol-based data transfer between two companies. Given the fact that FTP is hard to update and maintain, it is not a popular option among MLS.

RETS.

The Real Estate Transaction Standard or RETS has been the most popular form of listing feed in the real estate industry in the US. Real Estate Standard Organization has been working on the replacement for RETS with an eye on better flexibility and third-party integration. To learn how to get RETS, please continue

here

.

RESO Web API:RESO Web API is the latest data transfer standard by RESO. Let's find out more about it in the following:
What Is RESO Web API?
The year 2017 was when RESO recommended its new technology RESO Web API be adopted. Through this technology, MLS providers can feed their members with MLS data.
RESO API comes with a handful of advantages over its predecessor RETS. Naturally, every new technology brings fresh features to the industry.
Among these, you can enjoy:
Relatively lower maintenance costs in terms of hosting

More flexibility

Better compliance with third-party applications

More streamlined delivery of MLS data
RETS and RESO AP produce the same result but the latter does this through a more agile and streamlined manner and with a faster set up.
They are technically very different from one another. RETS uses XML feed while RESO Web API uses an Application Programming Interface to display listings on your website.
To learn more, please continue to Why Agents Should Switch to RESO API
What's the Difference Between IDX Technologies and RESO Web API?
RESO Web API has been introduced with promises as a more flexible and streamlined data feed. A look at the following table will break things down for you:
Technology

Security

Third-Party
Compliance

Hosting

Cost

SEO

Real-Time Data

Real-Time
Data

iFrames
Low
No
None
Low
None
No
Not applicable
FTP
Low
No
Required
Medium
Low
No
Applicable – Organic Data Integration
RETS
Medium
Optional
Required
Medium-high
High
Yes*
Organic RETS Integration
RESO Web API
High
Yes
Optional
Medium-high
High
Yes
Organic RESO API Integration
To learn more about how you can switch to RESO Web API, please continue here.
What Is Realtyna's Organic RESO Integration?
Realtyna is a certified provider of RESO products and services. Our Organic MLS Integration is a leading solution for bringing listings data to your real estate website using RESO Web API. Here is a list of benefits:
Display any or all of your MLS on your website

Fast set-up and integration

Frequent, on the fly updates

Increased security

Own the data. You can host it on your own web hosting servers or choose Realtyna's dedicated hosting.

Receive all the SEO value from owning data on your own servers.
To explore your options and receive a free consultation, contact our MLS integration team at:
Contact US