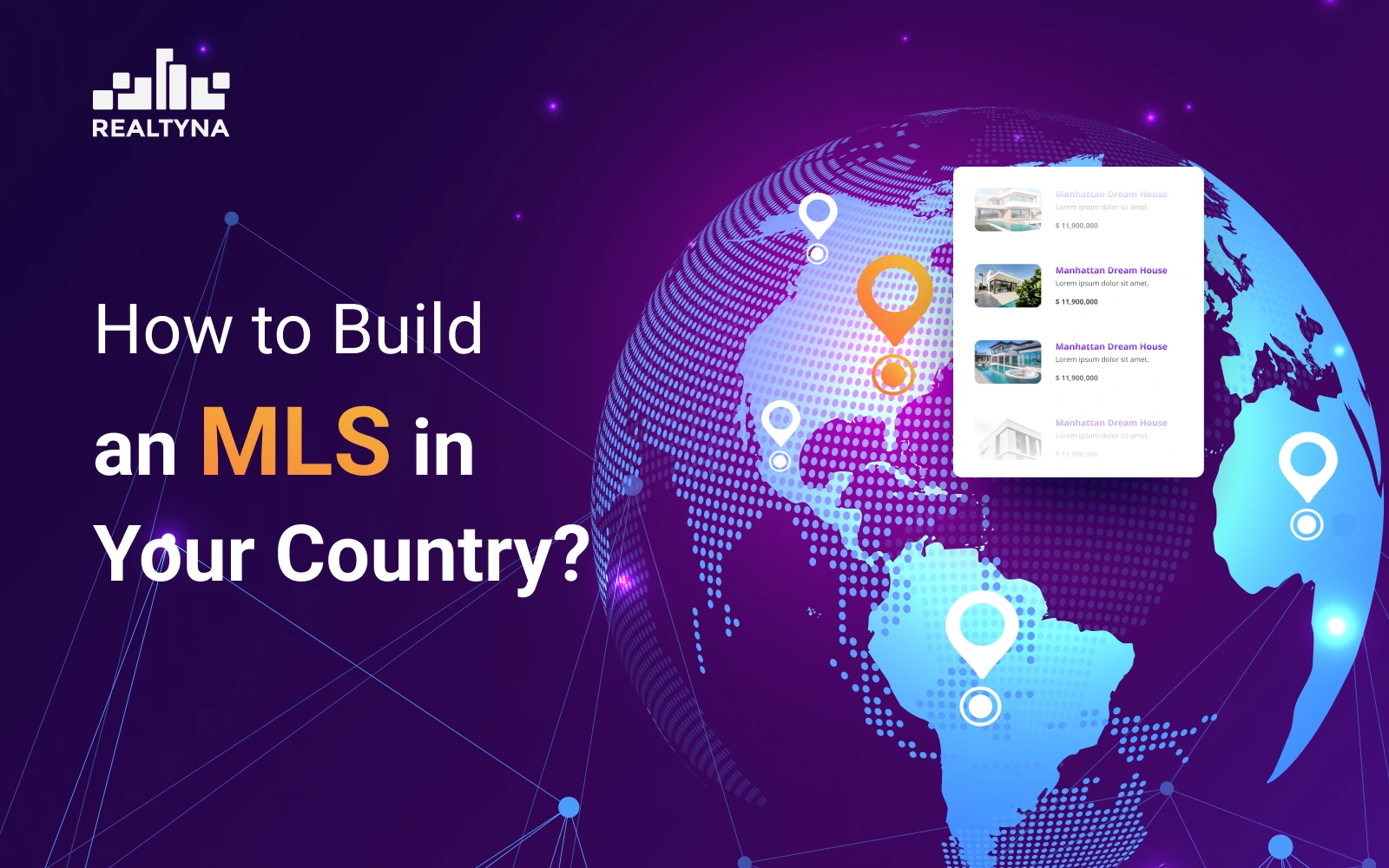 How to Build an MLS in Your Country?
11 Aug 2023

Posted at 10:00h
0 Comments
A guide for countries around the world
With Realtyna's MLS Cloud
The world of real estate technology is changing rapidly. Only those with the right set of tech stacks and tools can lead the way. Multiple listings service has been a successful ecosystem which has facilitated cooperation and transparency among real estate agents.
Canada and the United States have successfully implemented the MLS system and this has led to a unique, fair and a lucrative business model for real estate professionals in these countries. Following this success, a lot of countries around the world are attempting to build MLSs in their own countries.
What is an MLS?
MLS stands for "Multiple Listing Service." It is a database used by real estate agents and brokers to share information about properties they have listed for sale or lease. The primary purpose of an MLS is to provide a centralized and comprehensive platform where real estate professionals can collaborate and access detailed property information to assist their clients in buying, selling, or renting properties.
The MLS includes various details about properties, such as their location, size, features, amenities, price, and more. It often includes photographs and virtual tours to give potential buyers or tenants a better understanding of the property. This centralized system helps streamline the real estate process, making it easier for agents to find suitable properties for their clients and ensuring a broader exposure for the properties listed.
Real estate agents and brokers usually pay membership fees to access and use the MLS. It is essential to note that each region or area typically has its own MLS, so there might be several different MLS systems covering various geographical areas. However, efforts are often made to share data between MLS platforms to create broader networks and facilitate seamless property searches across different regions.
Why Do You Need an MLS in Your Country?
An MLS brings lots of advantages to both real estate professionals and their clients. Here is a list of of some of the most important benefits that come with a consolidated market:
Features
With MLS
Without MLS
Exposure
High Properties are widely marketed to a big database of agents and clients
Low

Limited exposures as a result of decentralized platforms and portals

Search
Convenient search experience with access to a reliable database and filters
Hard to search due to decentralized systems and databases
Accurate Information
MLS systems provide standard and verified listings data with accurate property details, sales history, and disclosures
The information about properties is inconsistent, unreliable and prone to fraud and misinformation
Market Analysis
Access to historical data and market analysis
Limited ability to analyze market trends
Cooperation & Compensation between agents
Enhanced cooperation between agents for faster and smoother transactions
Lack of information sharing between agents which leads to delays and inefficiencies
Transparency
Buyers and sellers have fair access to information about market trends, comps, and history
Lack of access to property information and history for everyone. Difficult to make informed decisions.
Professional Standards
MLSs have high standards in place for business and ethical practices
Lack of standardized business models and prone to unethical behavior and discrimination
Technology
Enhanced and up-to-date tech available to members as part of their membership
The technology available to certain brokerages or companies
Steps To Build an MLS in Your Country?
Realtyna's MLS Cloud is a complete package of tools for you and your agents to get setup. It includes:
A Web Stack, including agents dashboard, search portals, etc.
Content and guides, including a rollout package for your new members
Multi-language Support
Realtyna is one of the first providers of multi language support for MLSs based on RESO Web API. One of the key features that sets this MLS apart is Realtyna's multilingual support for the RESO Web API. Being one of the few providers in the world to offer this capability, Realtyna ensures that real estate agents and clients can access and navigate the MLS platform in their preferred language. This feature enhances user experience and opens up new opportunities for international collaboration in the real estate market.
MLSs and Associations are able to view, add or edit MLS fields based on their local language. This will help smooth delivery of RESO Web API standards to markets where local language has been a major impediment to the implementation of international open standards.
Why RESO Web API?
Let's take a look at some of the most of significant reasons why you should use open standards like the RESO Web API:
RESO Web API Standards
No Standard
Interoperability:

RESO Web API standards provide a common framework and data format for real estate applications, enabling seamless integration and communication between different systems and platforms.

Interoperability:

Without a standard, real estate applications may use different data formats and protocols, leading to compatibility issues and limited integration capabilities.

Data Consistency:

RESO standards define consistent data fields, structures, and validation rules, ensuring that information exchanged between systems is accurate and reliable.

Data Inconsistency:

In the absence of a standard, data fields, structures, and validation rules can vary, resulting in inconsistent and unreliable information across different applications and platforms.

Efficiency:

RESO Web API standards streamline data exchange processes by providing predefined endpoints, query parameters, and authentication mechanisms, reducing development time and effort.

Development Complexity:

Without a standard, developers need to invest additional time and effort in designing custom data exchange mechanisms, leading to increased complexity and potential development errors.

Scalability:

RESO standards are designed to handle large-scale data operations efficiently, ensuring optimal performance even with a high volume of real estate transactions and listings.

Limited Scalability:

Without a standard, scaling real estate systems can become challenging due to the lack of optimized data handling mechanisms, potentially leading to performance issues and bottlenecks.

Industry-wide Adoption:

RESO standards are widely recognized and adopted within the real estate industry, fostering collaboration and cooperation among stakeholders and encouraging innovation and market growth.

Fragmented Industry:

In the absence of a standard, the real estate industry can become fragmented, with different players using proprietary formats and systems, hindering collaboration and hindering the potential for industry-wide innovation.

Data Security:

RESO Web API standards include provisions for data security and privacy, ensuring that sensitive real estate information is protected during exchange and storage.

Increased Security Risks:

Without a standard, data security measures may vary across applications, increasing the risk of breaches, unauthorized access, and potential privacy concerns.
Examples of MLSs Around the World with Multi-language Support
From Canada to Türkiye and South America, emerging MLSs are changing the trajectory of the MLS around the world.
Here are some successful examples of MLSs around the world based on Realtyna's MLS Cloud solution:
Ecuador MLS (first MLS to be RESO certified outside of North America)
How to Get Started
If you are looking to build a multiple listing service, our international MLS team is ready to help get set up. Contact us today for a free consultation call.