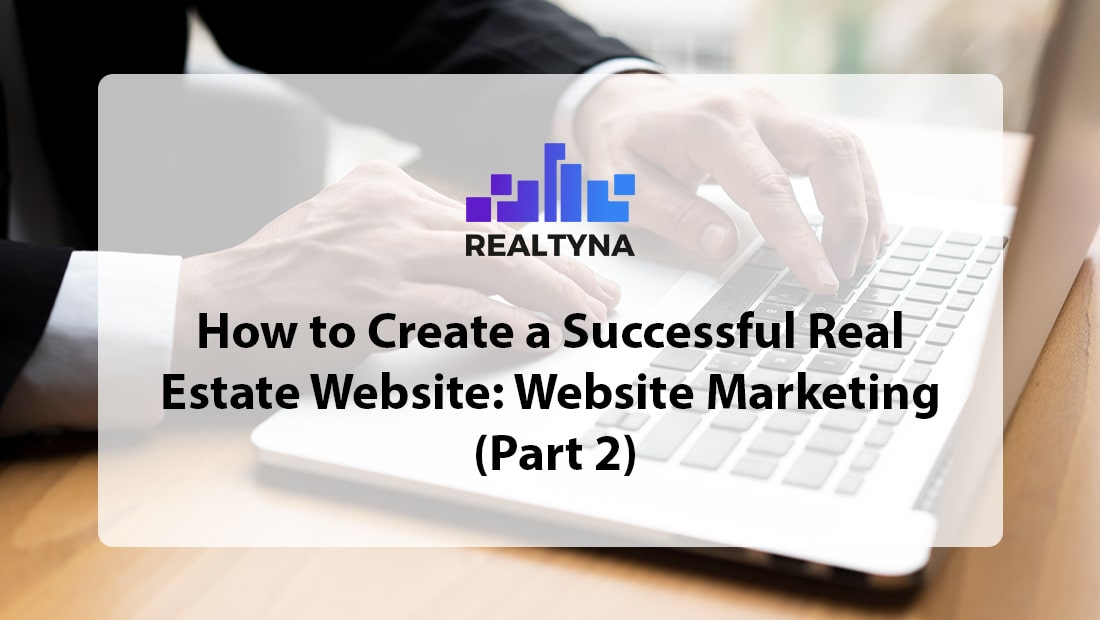 How to Create a Successful Real Estate Website: Website Marketing (Part 2)
27 Dec 2019

Posted at 11:00h
2 Comments
In part one about website creation, we discussed how to plan your website, how to choose features, what your website design should be like, etc.
Now that you have a general idea about your real estate website and the functions on It, you should think about lead generating strategies.
In this blog, we will discuss marketing strategies for your real estate website.
Prepare Website Content
Before you start preparing website content, think who is your target audience? This is the most important question driving the content on your website. Define who your target is and what kind of content they need. Research market tendencies and statistics about your target audience.
Then, start thinking about the content on your website.
Here are some guidelines you should always consider while developing your site content.
About Us

– The about us section is an extremely important part of your website. Tell your users and potential clients who you are and what you do. Give them a general idea about your work and tell them why they should choose you.

Also, tell your audience about your team. Who they are, what they are doing and try to demonstrate their skills and personal characteristics.
Product-

Your website exists to sell your products. So, make sure they are displayed prominently. When users log into your website, they must directly see what you are offering them. Promote your products in an effective way. It's the most important thing in website marketing.

Blogs-

Use blogs on your website. Blogs are a very effective way to market your products and add value for users. You can explain why your offers are stronger in the real estate market than others. Show buyers how your expertise can help them. Give them useful information about neighborhoods and market conditions in different places.

Reviews-

Think about some of your recent online purchases. How do you decide what to buy when you don't know the product or the seller? Of course reviews. Reviews serve the same function on your site. With your clients' testimonials, you can show how and why people trust you.

Include CTA-

One of your main aims is to keep your audience engaged on your website. Of course, there are different ways to do that, but one of the most important is by including a Call To Action. You can ask for a submission on your webpage, use a "read more" button at the end of your blogs, or include "more information" buttons on your product images.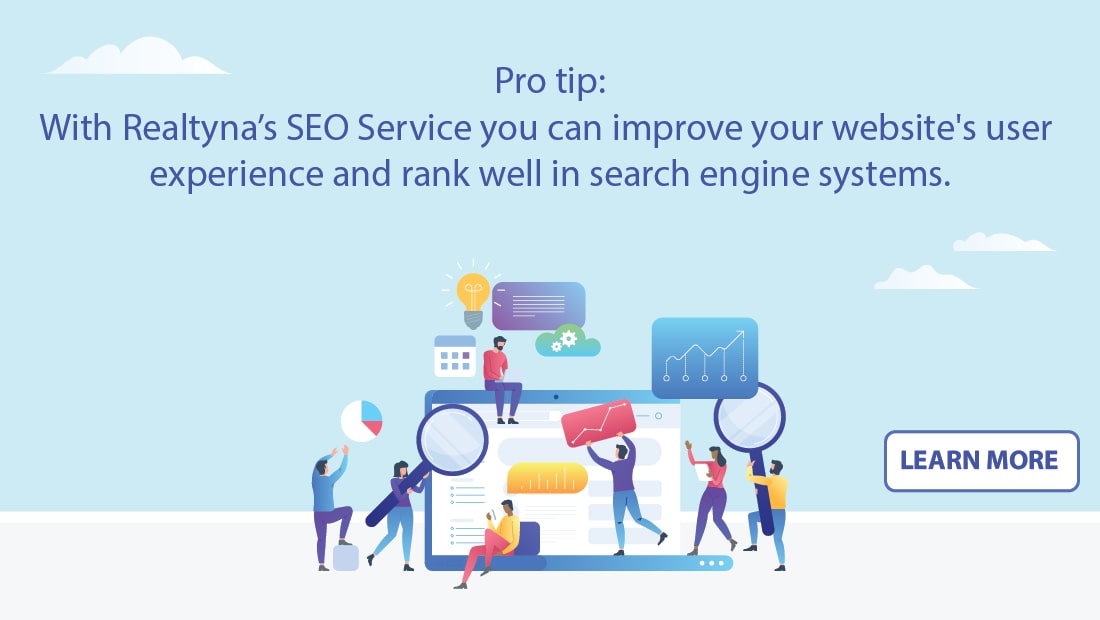 Check SEO for Your Website
In order for your website to rank well on Google, you have to take care of your website SEO. SEO plays an important role in the lead generation process. It's important to help search engines know that your website is valuable. You can consider different steps while building your website SEO.
Optimize Your Content

-Content is king. We all agree. So, try to make your website content as attractive as possible for Google. Google prefers simple sentences. You should avoid using the passive voice too. Try to use keywords, naturally. If you have long blogs, you can divide them with subheadings.

Focus on Your

Web Page URL

– Google recognizes what is on your web page through your URL. Use keywords at the beginning of the URL and try not to make it too long.

Use Internal Links-

Internal links are important for your real estate website. AS a real estate agent, you already know how important it is to decrease the

bounce rate

on your website and to increase the time people spend on your site. Internal links can help clients find other useful content and increase engagement on your website.

Integrate Social Media–

Integrate

social media on your real estate website

. Social media is one of the most powerful marketing tools nowadays. Connect your website with different social media platforms and include social media icons there.
Page Speed
As Google Research shows, 33% of smartphone users in each market have a negative view of a brand if the mobile experience is slow.
So, if your website speed is too slow, users will leave your site. This will increase the bounce rate on your website and have a negative affect on your real estate business. This is why you should work on website speed.
One way to do it is with Realtyna's CDN (Content Delivery Network). CDN is a geographically distributed group of servers that provide faster delivery of real estate content for Realtyna's system. With CDN large data loads will process quickly and the speed of your website will increase.
Also, Realtyna's server optimization service helps you to create a fast property portal, improve load time and generate more leads.
Is Your Website Mobile Responsive?
More and more buyers are using mobiles devices for property searches nowadays. That's why your real estate website should respond to users demands. When the users log into your website with new device, they shouldn't have to zoom in or zoom out.. Your website should fit to their devices automatically.
Responsive design responds to the screen size of the device. It's layout which adjusts according to the screen size of any kind of device.
With Realtyna you can build your website and be sure that it looks perfect with any device, as Realtyna's sites are 100% mobile responsive.
Few Final Words
In this blog, we discussed website marketing strategies. What should you do next? You should monitor the results using different analytical tools. This will help you have an idea about how your website marketing strategies work.
So, in the next blog, we will discuss the best practice to monitor your website using the most powerful analytical tools.
If you want to know more about online marketing, check the following blog: 10 Online Real Estate Marketing Mistakes You Do Not Want To Make
Question or Feedback? Drop us a comment below.