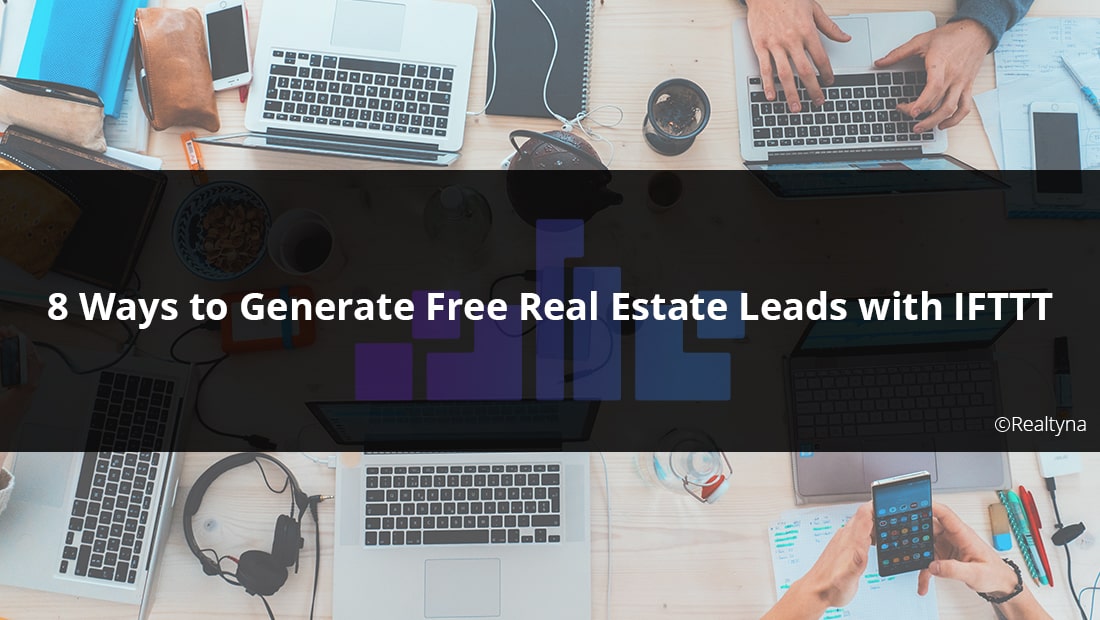 8 Ways to Generate Free Real Estate Leads with IFTTT
21 May 2019

Posted at 10:00h
0 Comments
IFTTT (or If This Then That) is a free Internet tool to get unrelated apps and websites to talk to one another. IFT745TT works by connecting two apps and designating triggers. Whenever an event occurs in one app, a second event automatically occurs in another.
It's a fantastic service that has led to an explosion of productivity across the web.
As real estate professionals, there is a lot we can do with IFTTT. We can save time by setting our blog to automatically post to Facebook. We can be more responsive to clients by setting up email reminders for a missed call. We can be more organized by synching our phone contacts to a Google Sheet.
IFTTT offers hundreds of options to improve your real estate business.
But did you know it can help you expand your business too?
IFTTT works with applets. Applets are tasks you set up to automatically trigger when an event of your choosing occurs.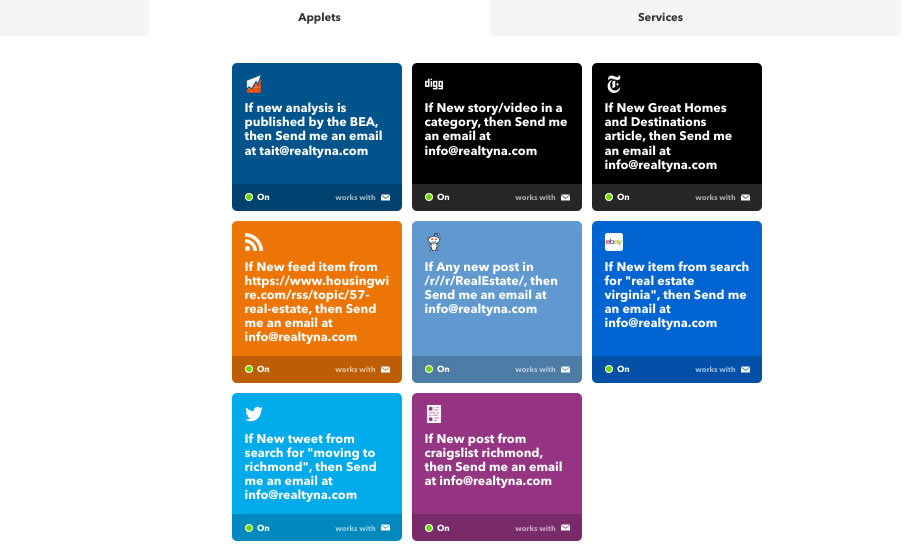 To set up a new applet, simply log into IFTTT and select New Applet. In the first step, you will select the event you expect to occur.
In the second step, you will select the action you want to trigger on that event.
Super simple, right? Here are 8 applets we've created to help you generate real estate leads for free.
1) Twitter Search to Email
In this applet, you will receive an email whenever a new tweet matches a predefined search. It works in the same way as a saved search function on an IDX website. By defining useful search terms you can get free Twitter leads in your inbox daily.
In this example we've set our search term as "moving to Richmond." Anytime someone tweets with these keywords we will be notified by email with their Twitter profile and a link to their tweet.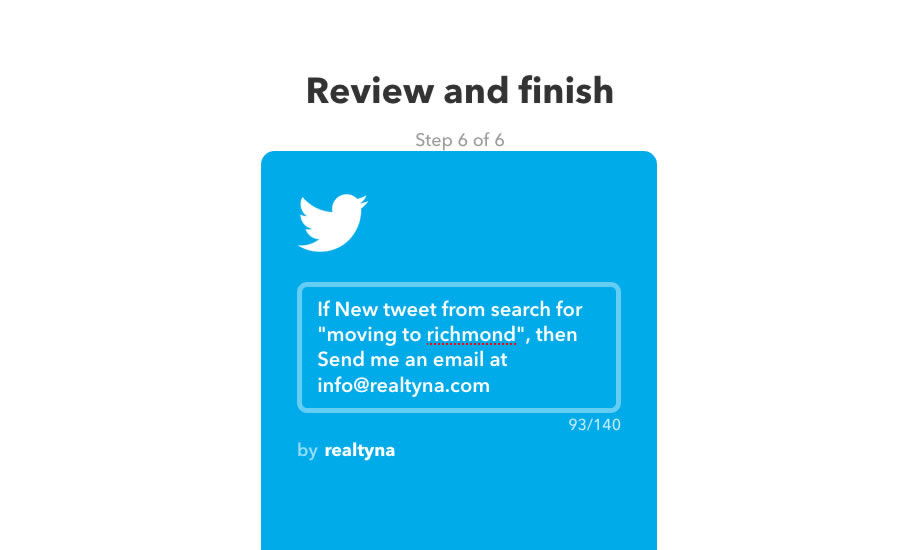 2) Craigslist FSBO to Email
Craigslist is a prolific site for For Sale By Owner Listings. A real estate agent looking to market to FSBO sellers could use IFTTT to monitor Craigslist for new leads.
In this applet, we set up a search on the Richmond, VA real estate tab on Craigslist. Then, we configure the trigger to email us whenever there is a new post. IFTTT supports a number of similar classified services, such as Kijiji and Geebo.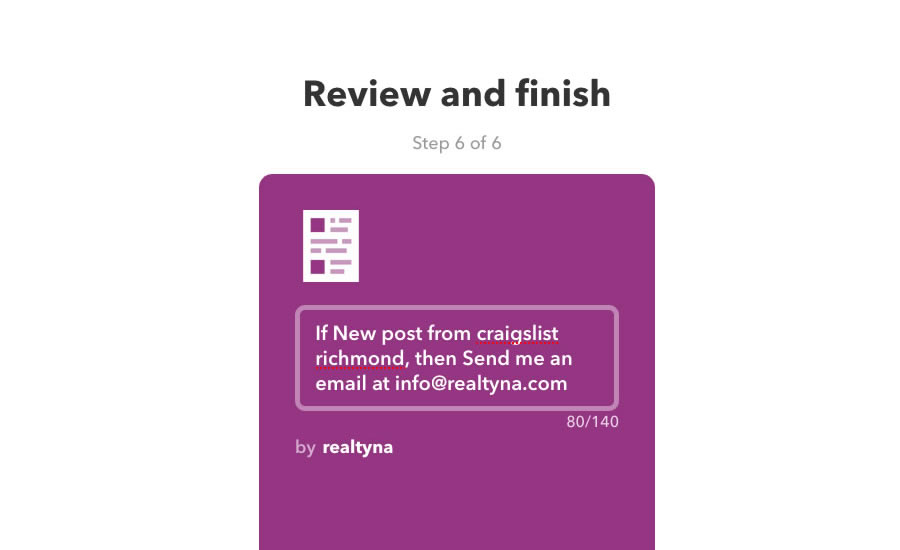 3) ebay FSBO to Email
While not as popular as Craigslist, ebay can be good for the occasional FSBO lead. Here we define the search term "real estate virginia" for ebay auctions and set up an email for notification whenever a new listing matches it.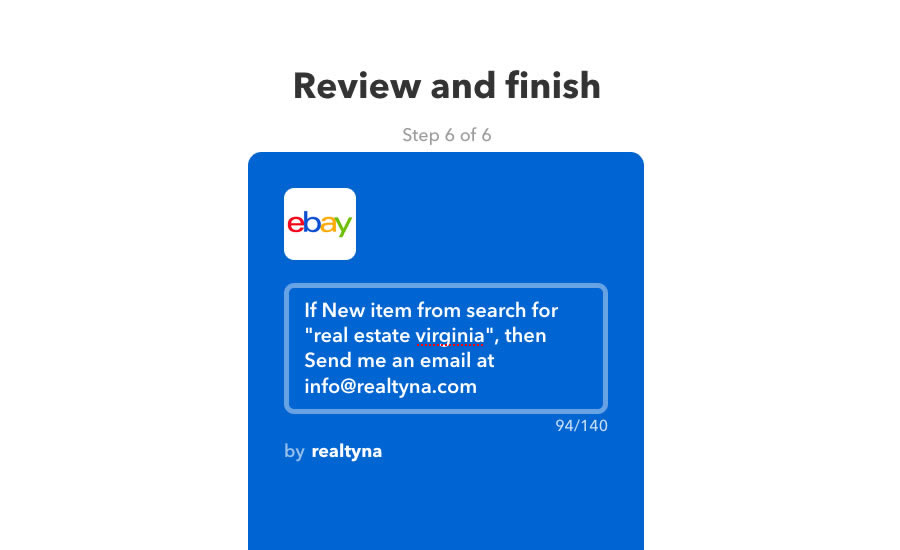 4) Reddit to Email
Reddit is an underutilized site for real estate lead generation. There are dozens of real estate-related subreddits where users discuss and seek advice on home buying and investing.
These forums are the perfect place for a knowledgeable real estate agent to demonstrate an expertise, build a niche and generate leads. In this applet, we define the subreddit r/real-estate, and set an email notification for each new post.
Like the Twitter and ebay applets, you can also define search terms and receive notification whenever there is a new result.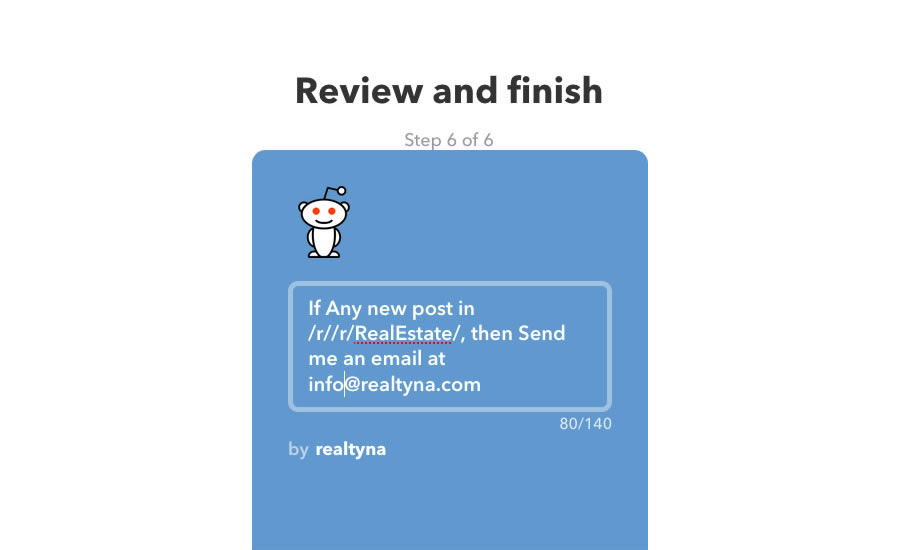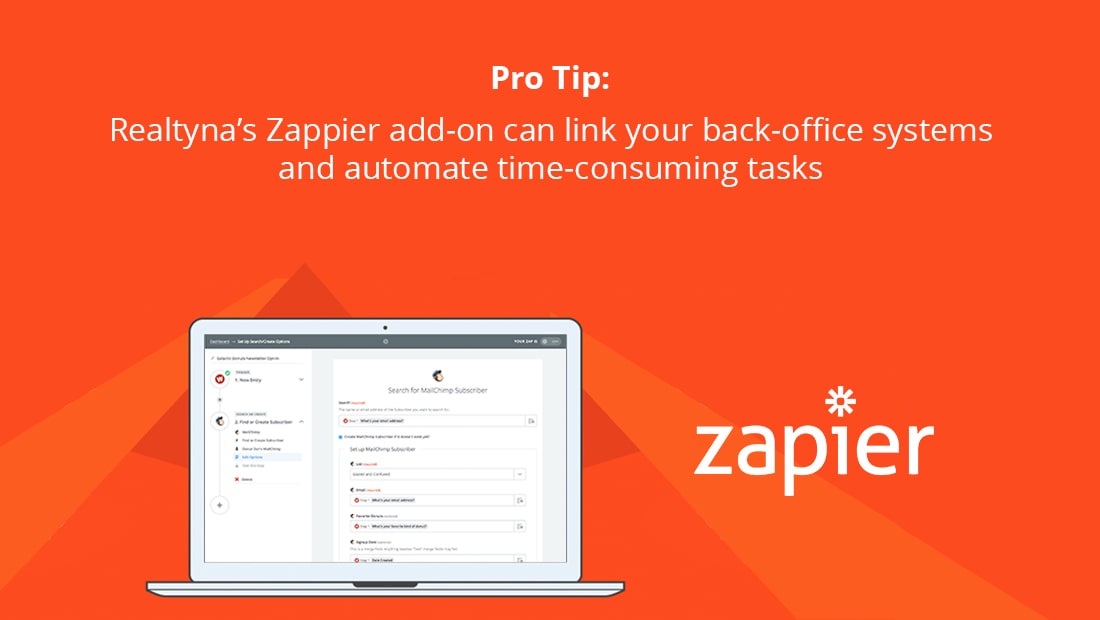 5) RSS to Email
There is a lot you can do with rss triggers on IFTTT. If your marketing involves generating back links from other blogs, you can set an rss to each of these blogs and receive an email when there is new content. If your marketing involves contributing to Q&A sites and building expertise, you can set an rss to Quora and Stack Exchange and receive an email when there is new content.
Virtually any website can be turned into an rss feed with freely available tools. Then you can hook up this feed to IFTTT and set up triggers.
In our example applet, we set up an rss feed from HousingWire, a website for mortgage and housing news.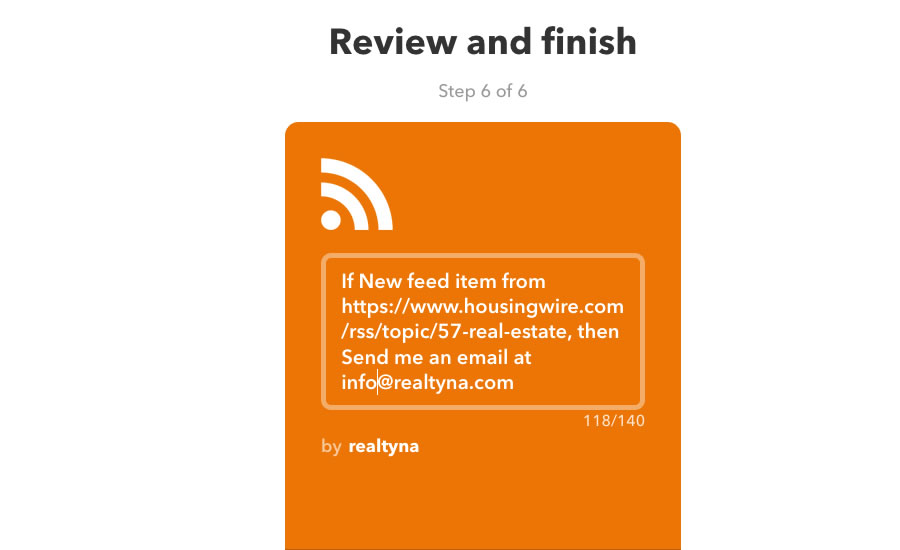 6) News to Email
A number of news sites allow direct connections to IFTT. Fox News, Time, the New York Times, SF Gate, Digg and more can be used to create applets. For example, we created an applet to notify us when there is new story in the Great Homes and Destination section of the New York Times.
If you have a strategy for commenting on relevant news stories you could do something similar with your preferred site.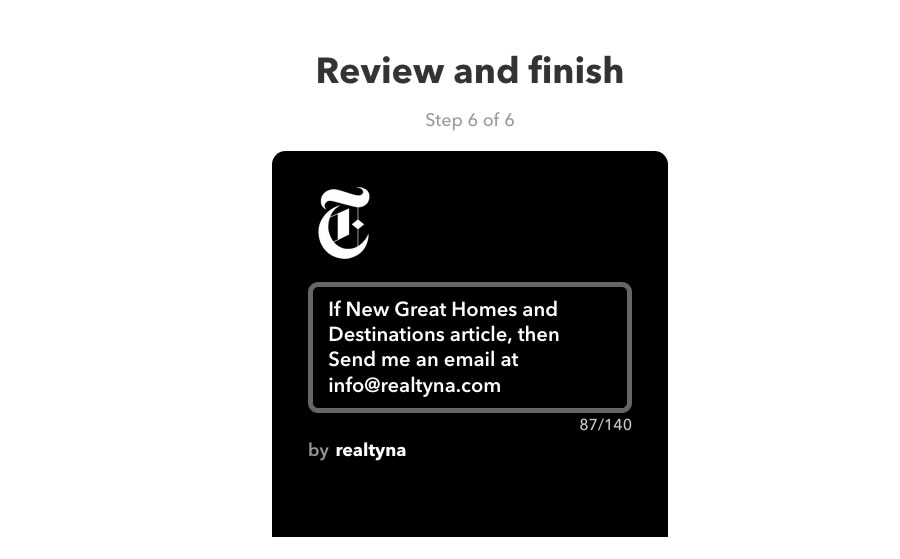 7) Data Release to Email
Some real estate agents generate leads through market reports and economic expertise. IFTTT offers a number of useful applets for them. You can set you notifications for new releases from the Bureau of Economic Analysis, the Department of Labor, and other government agencies. Then can use the information to supplement your reports to leads.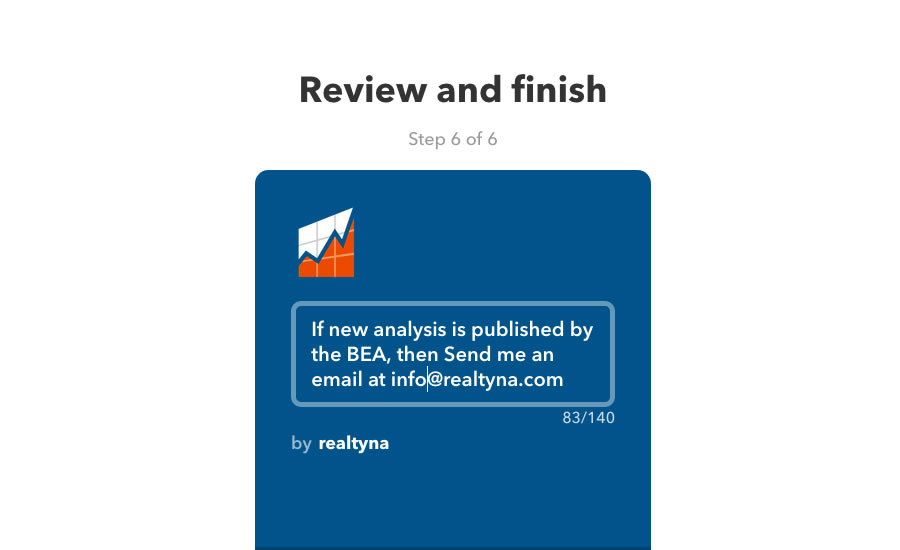 8) MailChimp to Email
In this applet, we establish a connection with MailChimp and receive notification whenever someone new signs up. You can monitor your newsletter and market to subscribers individually.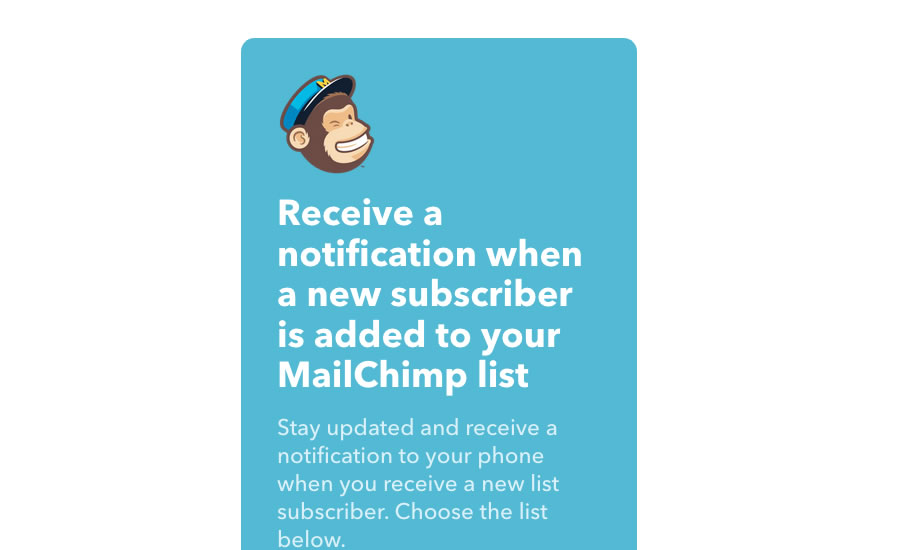 IFTTT is a super tool for workplace productivity. Now you know how to use it to generate real estate leads. Questions or feedback? Leave them in the comments. Or for more real estate tech content, check out How to Create a WordPress Website That Sends IDX Listings to Facebook