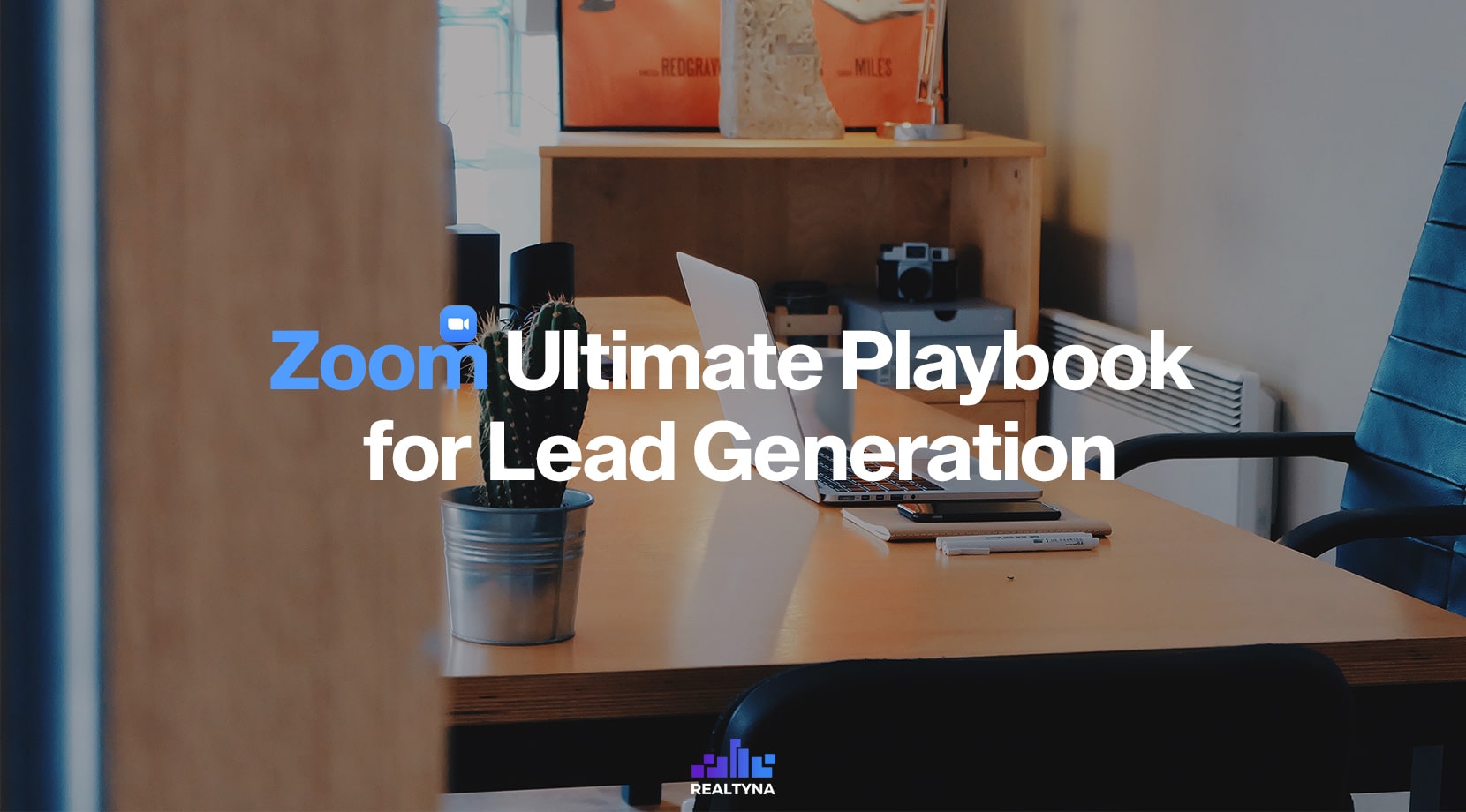 Zoom Ultimate Playbook for Lead Generation
03 Sep 2020

Posted at 11:00h
0 Comments
Doing business online has been a growing trend in the real estate business for years. However, the year 2020 brought new opportunities for online business. The circumstances have forced many realtors to move fully or party to an online environment.
Zoom meetings have been a very useful tool for doing real estate tasks on the web. We should know however that there is more to Zoom than just video conferencing.
What Is Zoom?
Zoom is a video-conferencing application that allows multiple users to conduct meetings and webinars online. Thanks to its wide range of features and the fact that it comes with a free version, Zoom is now the most popular virtual meeting software around the world.
It has become a solid part of everyone's life, and we often hear people use the verb "zoom" to refer to their online meetings.
That brings us to 2020 and the rise of the pandemic. For realtors, a tool like Zoom matters the most. There are a lot of meetings and negotiations involved in a real estate deal, and tools like Zoom allowed realtors to continue serving the community despite the health restrictions.
How Can I Use Zoom for My Real Estate Business?
Essentially, Zoom meetings help real estate professionals to hold relatively convenient meetings online, especially when both parties are sheltered in place. In addition to this, the Zoom platform offers the following:
Hold live webinars to promote your brand and services

Video conference between buyers and sellers

Record meetings and share them later

Record webinars and share them later

Conduct live open-house tours

Conduct multiple meetings with a different group in one session

Schedule meetings and webinars

Conduct meetings without the need for participants to sign in or install anything

Hold meetings and webinars on multiple devices
Note: Not all the features are available in the basic version.

Boost Your Lead Generation With Zoom?
We all use Zoom one way or another in our daily lives. Here are a few ways you can generate more leads using Zoom:
Buyers' meetings have been a common real estate practice for years. Agents, brokers, appraisers, developers, and other people involved can be invited to discuss the process of buying a property. This could also be a good opportunity to learn more about the needs of your clients.
Include Your Seller in Virtual Open Houses
These days, open house showings on Zoom are a common activity, and for some, it is the only alternative. One creative idea is to have the owner of the house co-host the meeting so they can personally introduce the house and tell buyers what it feels like to live there.
Use Zoom Settings to Qualify Leads
When you invite clients to a webinar or a group meeting, you can use a few questions in Zoom registration to filter them. Ask them questions and find out what they need.
Use Zoom Settings to Help Your CRM
With Zoom, you can export contacts' information to a sheet, and then use it in your CRM for better lead management.
To do this, head out to your Zoom settings and use the report feature.
One way to give credit and formality to Zoom meetings is to send a pre-meeting video email. In this short video, you can:
Say what the meeting is going to be about

Remind the recipient of the time and date of the meeting

Explain they can expect from the meeting

Tell them if they need to prepare anything for the meeting

Use the Virtual Background Feature
The virtual background in Zoom meetings is an excellent opportunity to showcase some of your top deals and services. Also, it is a unique way to make things more personalized and improve the customer experience in every meeting.
We all know how important networking referrals are for realtors. With conferences and conventions called off due to the pandemic, realtors can use Zoom meetings to hold their networking events.
It can be for a good cause. You can host a meeting and invite local business owners. Everyone can have a minute or two introducing their products and services. What you gain here is exposure to a larger pool of audience members since all of these businesses will invite their clientele to these online events.
What Is Next?
Zoom and other applications can help you maintain your successful real estate business online. If you know how to use them properly, you can also stay ahead of others and generate more leads.
In times like this, most folks are dealing with uncertainty and the hope that things will go back to the way it used to be. In the real estate business, you don't need to worry about rewriting history. You can seize the opportunities that technology offers and become much more successful.
Building an all-around IDX website is probably the key ingredient here. If you don't have a website or you are unhappy with the way your current website works, check out the following article and find out how Realtyna can help you:
How to Create a Successful Real Estate Website: Website Creation