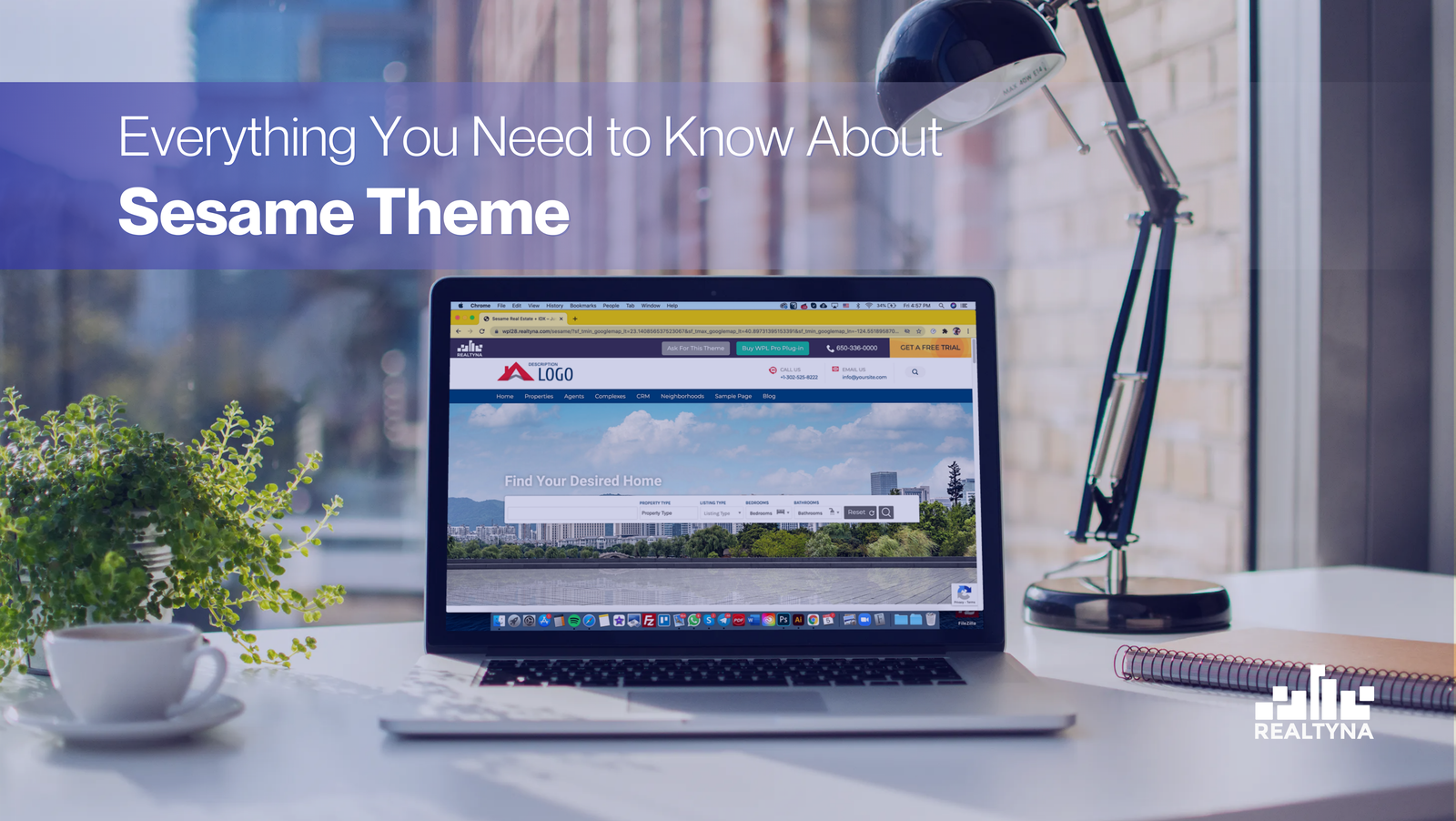 Everything You Need to Know About Sesame Theme
05 Mar 2021

Posted at 11:00h
0 Comments
Introduction
Being in the real estate industry is a huge responsibility, especially when it comes to running your own real estate website. You need to know everything about the structure of a website before making one.
Agents, brokers and everyone interested in real estate or property management are using real estate websites for their needs. For them, this is a co-working platform. For visitors, real estate websites seem to be the best option for them to choose the properties they want.
From the first glance, the visitors of a website should see that you really care about them. This means that the structure of real estate websites is a very important aspect on the road of success.
Themes are very important for your real estate website. With the help of a theme, you can have a well-structured and good real estate website, which will help your content rank higher.
Sesame Theme in the Nutshell
Sesame Theme is a free WordPress theme for your real estate website. This theme perfectly matches desktop or mobile devices. This theme was designed according to the latest WordPress standards, which means that it is compliant with the WordPress latest version.
Sesame Theme is one of the best WordPress themes for your real estate website. It can be used by everyone interested in the real estate industry: brokers, agents, Realtors and visitors. The theme allows agents and homeowners to submit properties for sale or rent. Everything on Sesame is kept simple and original, so you don't need to do any coding.
Because Sesame Theme is flexible and does not require any coding, it can incorporate all the useful features for your real estate website, such as MLS feeds, IDX, Google Maps, property portal searches, listing displays, neighborhood pages, complex or building pages, CRM software, and blogs.

How It Works
Sesame is fully compatible with Elementor, which is a very popular page builder currently. You can easily create multiple pages using drag and drop technology and the live, on-page editor.
Sesame Theme allows you to use a picture of the property as a beautiful background. Visitors can search the properties based on location, property type, property listing, bedrooms and bathrooms.
WPL is a WordPress plugin for real estate websites. WPL is a feature-rich plugin that enables you to manage your properties easily. WPL also includes a powerful home search widget which helps your users to search through your properties.
To see how this real estate website theme works, the best option is to have a look at our demo. Within the dedicated demo website, you will definitely have the general idea not only about the website's structure, but also about how it really works.
Few Final Words
On our website, we offer the best 10 real estate themes, where you can find a demo website for each. You can see the actual pictures of these real estate website themes and choose the best option for you.
We already have a blog about real estate themes, where you can easily find information about Sesame Theme or how it differs from Theme 28.
Liked our blog?
Feel free to comment below what you think about the Sesame Theme and whether this blog was helpful for you.