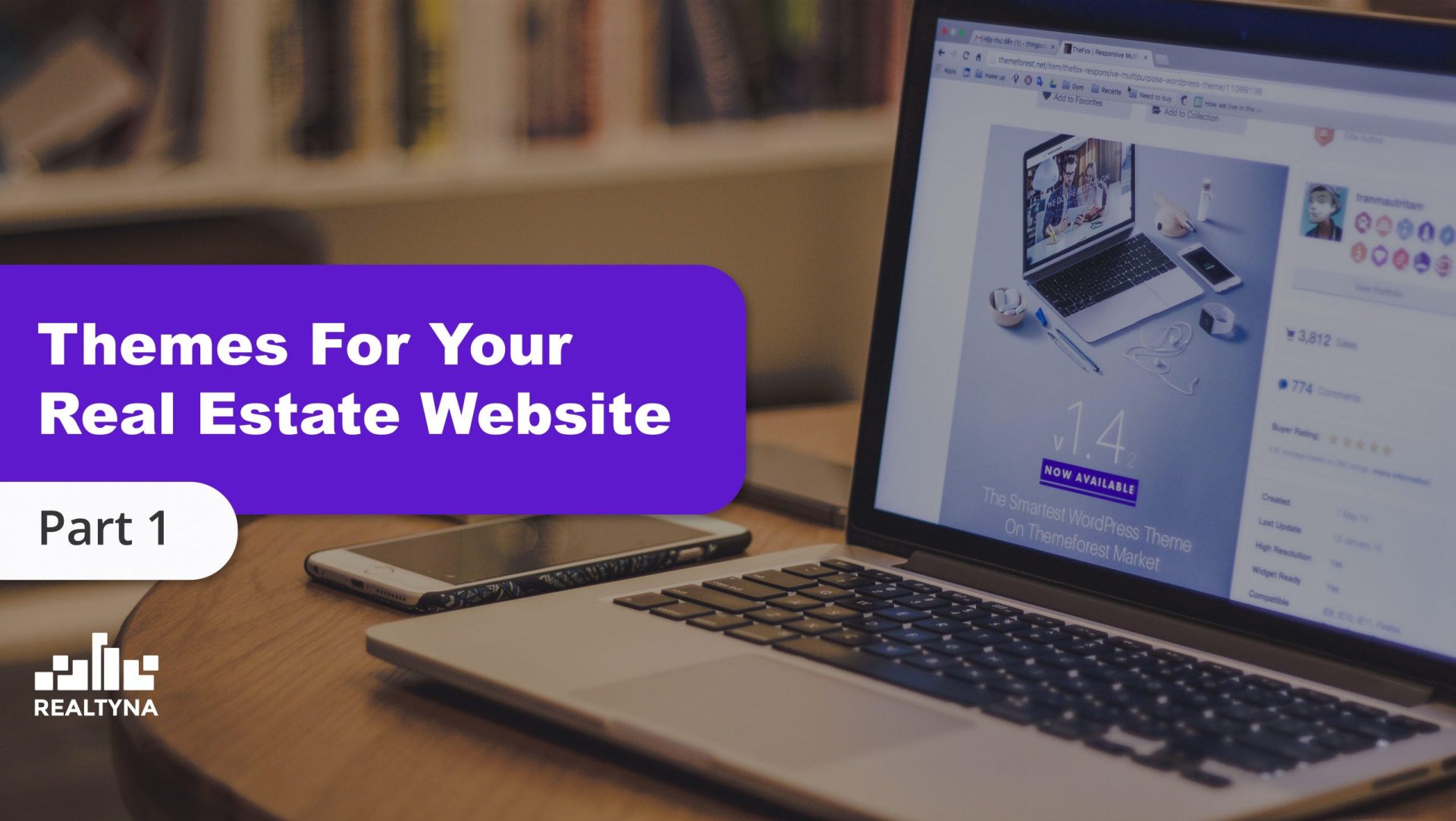 Themes For Your Real Estate Website (Part 1)
19 Feb 2021

Posted at 11:00h
0 Comments
Introduction
The real estate industry is a huge topic in general. There are many things you should consider if you want to have a place in this industry. While running a real estate website, there are several things you need to know. Speaking about websites, the first thing you should analyze is the theme. Simply put, you definitely need a theme for your website, especially when it comes to real estate websites.
We already spoke about themes in our previous blog. Choosing a real estate website's theme is very important. You should consider what features you're going to have on your website and how you want to attract visitors and others. After that, you will have an idea about what theme you need for your website.
Today, we are going to discuss two main themes from what Realtyna offers for real estate websites. The themes are Theme 28 and Sesame Theme. These themes are similar to each other because they are only for real estate websites, but they also have some different features. We will discuss each theme and analyze which option is best for your real estate website.

Theme 28
Theme 28 is something we definitely use to make a robust real estate website. It's quite simple, but it's a very useful one. I will explain step by step what you can see on Theme 28.
While being on Theme 28, the first thing that you can see from the starting point is:
Properties
Agents
Features
Complexes
Commercial
Neighborhood
Property Inquiry (CRM)
Blog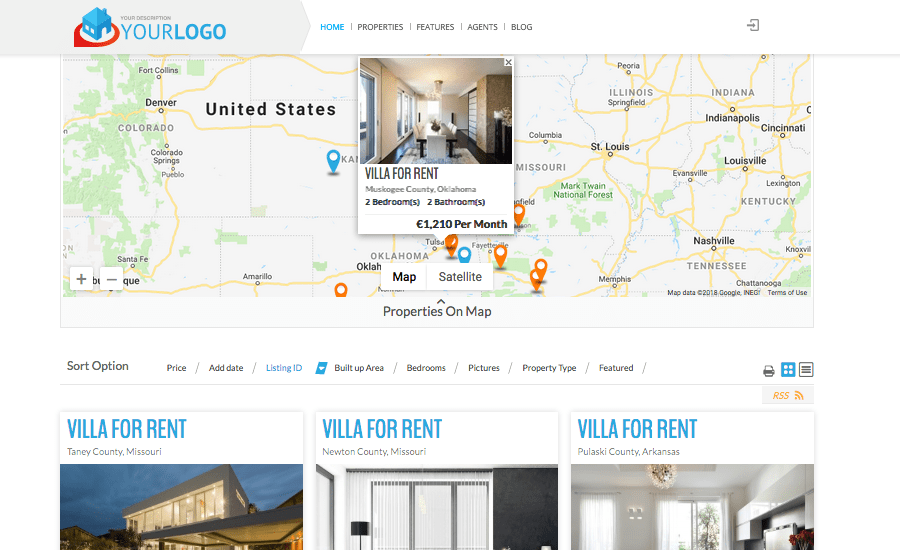 For theme 28, it's very important to have your own blog, to have the neighborhood Add-on and so forth. Theme 28 is compatible with all of our add-ons, so you can have all the features you need to have on your real estate website. Here, you can design your real estate website easily, just with a few clicks. You can actually change the color of your template whenever you wish.
You can see one actually big nice picture before the listings appear. While looking for properties, you have several options to choose from:
Zip Code, Country
Listing Type
Property type
Currency
Price
Bedrooms
Bathrooms
Then, there is an actual listing with pictures and prices, and if you scroll down, you will see featured properties as well.
From everything above, we can conclude that Theme 28 is a great option to have all the features for your real estate website, especially if you work in the American or Canadian real estate industry.
# 2 Sesame Real Estate Theme
Sesame theme not only includes more theme options, but it also has a different main page, whereas some features are changed. Let's start with what it actually includes and how this theme is managed.
Sesame real estate theme's main page starts with these choices:
Home
Properties
Agents
Complexes
CRM
Neighborhood
Sample Page
Blog
Of course, you can add any page you want to your site and update the navigation pane accordingly. Unlike Theme 28, the Sesame theme does not only include a huge picture of the property, but it also allows you to search for properties and here, the picture is used as a beautiful background.
These are the features that help you to find your property:
Enter address
Property type
Listing types
Bedroom
Bathrooms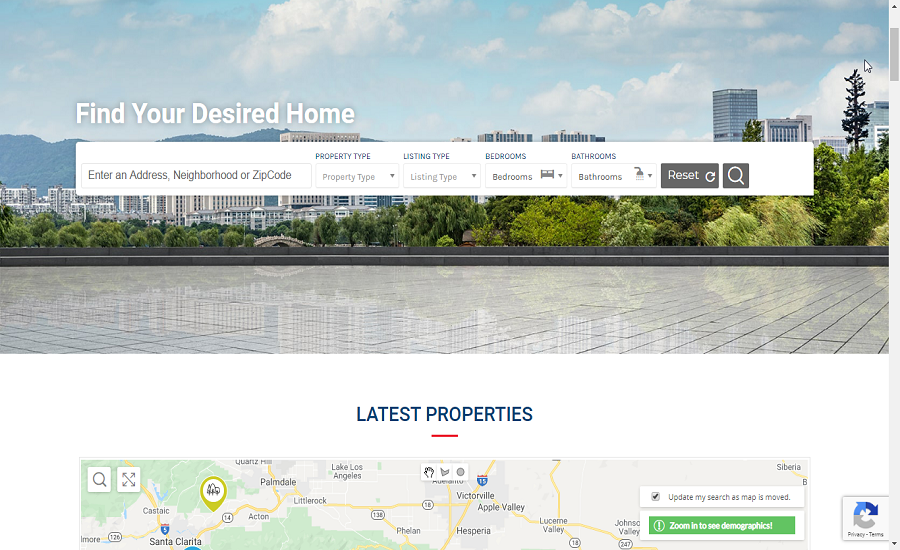 After the search bar, this theme allows you to search the latest properties on the map. After that, of course there is a listing where you can see properties that are for rent or for sale.
Your visitors can also see information about your real estate website and company by clicking on "who we are?"
There is also a listing where you can see the featured properties.
Also, you have an opportunity to see small information about the latest from the blog.
The last but not least part of this theme is our agents, with pictures on them. On the agents info, you can see the following information:
Names
Email
Links
Phone numbers.
Leads and visitors also have an opportunity to send an email to your brokerage by completing the information:
Name
Email
Subject
Your phone number
And the message body
As we have already seen, this theme not only allows you to see the agents on the main page, but you also have the opportunity to see their information and you can just text them with several clicks. Sesame theme allows you to have all the information on the main page, which allows the customers to see everything just by one click.
Last Few Words
While searching for real estate website themes, you can simply choose what theme fits your needs best. There are many more themes introduced here, and you can check them out on Realtyna.
If you are interested in our themes or demos, you can check this article here.
Liked our blog? Feel free to comment on how you chose your real estate website theme. And if you don't have one, please let us know whether this blog was helpful or not.