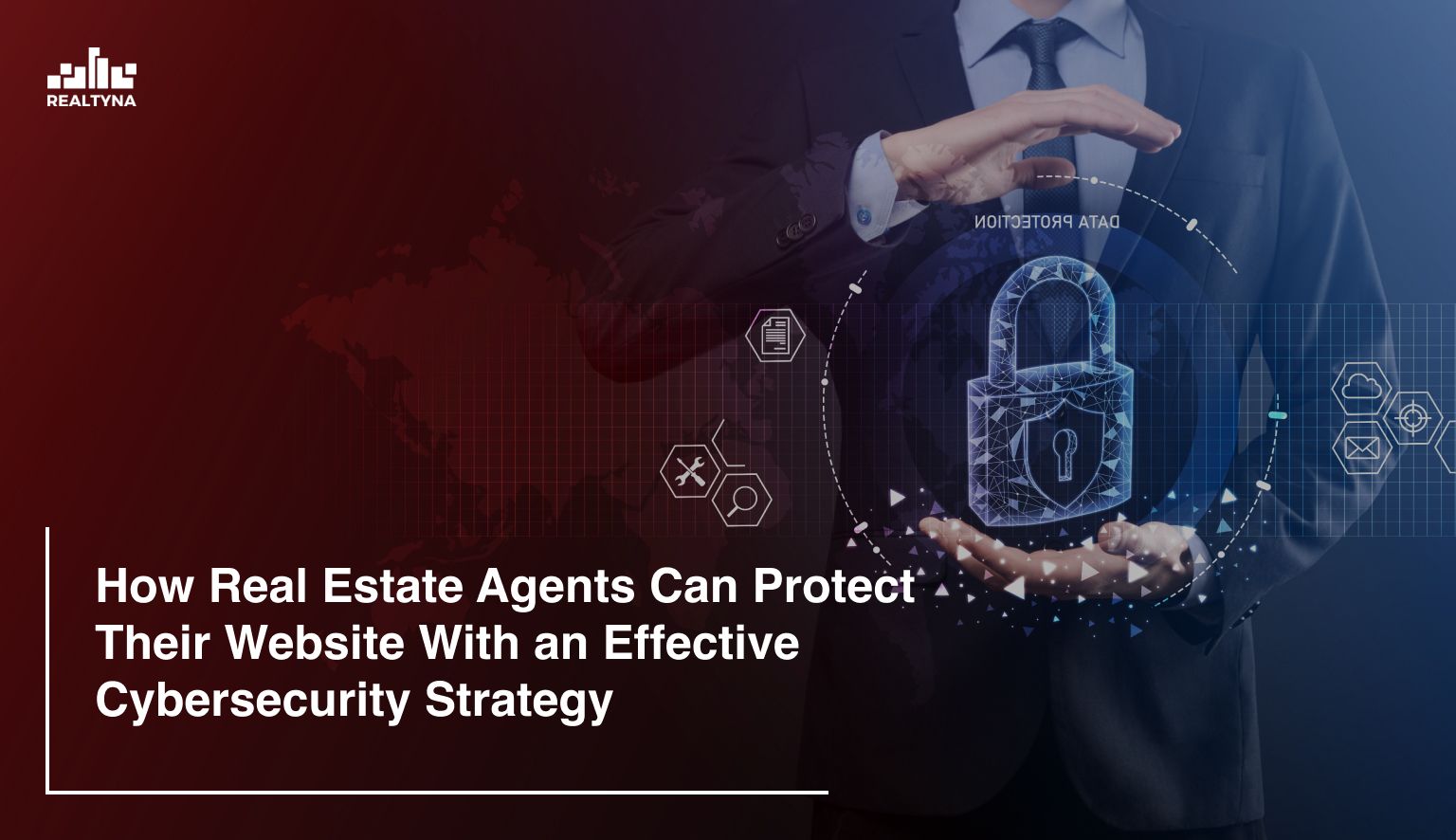 How Real Estate Agents Can Protect Their Website With an Effective Cybersecurity Strategy
11 Jul 2021

Posted at 11:00h
0 Comments
Even though the influence of a growing number of remote employees on real estate markets has been widely discussed, there is little information available about the impact that remote workers have on real estate firms themselves, although this impact has been significant. Like with other sectors, most of the influence has been good. However, there have also been some negative consequences. It is known as cybercrime, and If you are not vigilant, it will find its way into your real estate business. Cybercrime may be highly damaging to real estate agents and their clients.
In recent years, real estate investment trusts (REIT), brokerages, and other real estate businesses have experienced increased cyber attacks, ranging from phishing to email-compromised cyberattacks to data breaches. While cyberattacks are becoming more advanced, you can still apply efficient measures to safeguard your real estate business, and the process begins with developing a comprehensive cybersecurity strategy. Taking the threats that cybersecurity poses to the real estate sector, it is clear that a solid investment in cybersecurity is the only way to ensure data protection and consumer safety. Read on to get information about a basic cybersecurity strategy you can use for your real estate business.
Why Do Real Estate Practitioners Need Cybersecurity?
Real Estate Transactions Routinely Involve Large Sums of Money: Since the real estate sector frequently deals with and transfers enormous amounts of money, real estate companies are on the radar of every cybercriminal. Thus, it is not just real estate experts and investors that profit from the real estate market. Cybercriminals can also profit from the real estate market. It has been estimated that one-third of small businesses, including real estate companies, have been a cyberattack target in the past two years, according to CNBC.
Personally Identifiable and Financially Sensitive Data: Real estate companies also make attractive targets for hackers due to the large volumes of financially sensitive and personally identifiable data they manage, such as social security numbers, bank credentials, and credit card information.
Cybercriminals and Hackers Use Advanced Tools and Techniques: To launch their attacks, cybercriminals and hackers have access to all of the tools, skills, and tactics they have. Business email compromises (BECs), for example, are one of the most common attack methods used today. A business email compromise occurs when an attacker impersonates a firm to persuade another business to move cash to a fake account. It is common for the hacker to send the email using a fictitious account that appears to be associated with a legit company. Compromised landing pages, ransomware, malicious attachments, trojans, and attacks on cloud-based services are all significant threats to real estate firms.
Cybersecurity Tips: 5 Ways for Real Estate Agents To Avoid Getting Hacked
Mobile Data Encryption
More people are using smartphones and laptops today than ever before. Artificial intelligence and cybersecurity solutions can prevent hackers from gaining access to your communication networks. When building a robust mobile system, the mobile data and the chat and message data are critical. Most hackers have exploited the agent's operating system to get access to their data. They can even read the third-party buyer/agency correspondence.
Data encryption software is the most effective AI program available when it comes to protecting your data from hackers. It makes your data secure and protects sensitive data safe from hackers.
Effective Email and Password Hygiene
Resisting assaults and keeping organizations secure are very easy yet have strong effects. Here are a few tips from the National Association of Realtors (NAR) to prevent being hacked.
Use two-factor authentication.

Avoid using public or unsecured WIFI.

Use a different password for multiple accounts.

It is recommended that you use a password manager.

Long passwords with combinations of letters, numbers, and symbols should be used.

Never open files received from unknown sources. These may contain malware.

Secure access to email and confidential information used in transactions.

To communicate sensitive information, use a transaction management platform, encrypted email, or file-sharing software.

Clean your email account regularly and save copies of essential correspondence in a safe place for future reference.
Make Use of Reliable Antivirus Protection
A built-in antivirus protection system is included in our PC to mobile software. Because it takes a short time for updates to be applied, most consumers ignore the process of upgrading their antivirus system. However, when it comes to cybersecurity, the most common solutions are antivirus software and protection.
A paid antivirus system guards your system against cybercriminals and hackers more effectively. The paid versions involve the updating of antivirus software on a regular or basis. Every operating system is vulnerable to attack from hackers. Hence, do not ignore the antivirus updating your software.
Always Check URLs
Usually, real estate professionals will submit all of their legal paperwork over the internet rather than in person. The submission of information over the internet is only a small portion of the rapid processing method. However, before uploading the papers, double-check that the URL is authentic. If you come across a website that begins with simply HTTP, avoid visiting that website. If the final "s" is not there, then the website is highly unsafe. Antivirus software prevents these websites from opening or displaying high-risk websites.
Insurance Considerations, Law, and Policy
Working with your attorney, establish a written disclosure alerting clients of the risk of cybercrime. The NAR has prepared a wire fraud email notice template that your counsel may use and customize. Keep track of the state legislation linked to personal information, creating and maintaining data security policies, and other security-related company practices.
Final Words
In recent years, cybersecurity has become a major headache, and real estate brokers are increasingly confronted with cybersecurity-related challenges in their businesses. Like you would encourage clients not to relocate to unsafe districts, you must follow the same advice regarding your own business and ensure that your business operates in a secure digital area. A smart cybersecurity strategy that complies with the cybersecurity procedures outlined above is one of the most beneficial real estate investments you can make today.
For more real estate business tips, read Do I Need IDX Integration for My Real Estate Website? and 3 Ways To Add a Video Background to Your WordPress Real Estate Website.