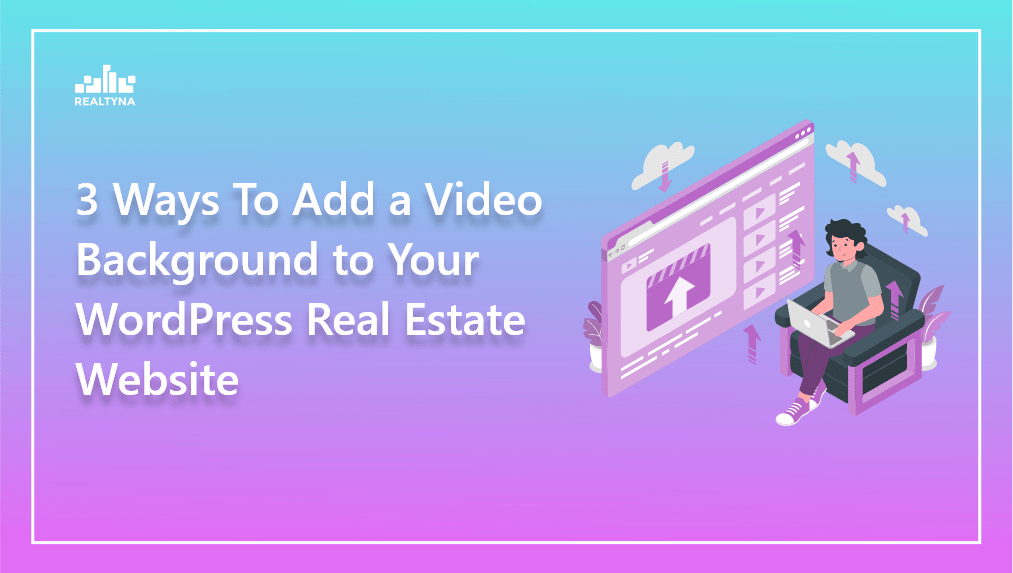 3 Ways To Add a Video Background to Your WordPress Real Estate Website
22 Jun 2021

Posted at 11:00h
0 Comments
Big graphics on the homepage of a WordPress real estate website appear impressive. It changes the look of a webpage. However, such an impact is just partial. Visitors are only briefly focused. There are various techniques required to keep users longer on your website.
Video backgrounds have recently become trendy. They have a distinct visual impression on web visitors and are great for increasing the appeal of a WordPress website. It gets the visitor engaged and helps convey the content of the sites.
It's simple to add a video background to a WordPress website. Read on to learn 3 ways to add a video background to your real estate website.
3 Ways To Add a Video Background to Your WordPress Real Estate Website
A video background is a digital reflection of your business identity and culture. It has the ability to improve or even establish the brand's image. Your website will have a more contemporary and artistic appearance with a video background. Without requiring any skills in programming, WordPress enables you to use various easy ways to add a video background to your real estate website.
There are three primary approaches to integrating a video background on a website:
Manually add the code

Video background plugin

Using a template or theme
HTML5, CSS and JavaScript
If used correctly, HTML5, CSS, and JS are lightweight coding languages. What makes them very effective is their versatility and responsiveness. The code is functional in a variety of browsers. If a browser does not support the video background, an alternative image can be used. While some WordPress themes provide native support for video backgrounds, some do not and can be resolved by adding the appropriate code.
The video will load when all required codes are completed.
WordPress Video Background Plugins
Using code to design a website takes time and requires programming knowledge. Video background plugins are a better option to go with if you have no time and coding knowledge. Video backgrounds can be tricky to work with, but video plugins make adding a video to your WordPress real estate website much easier. They provide excellent background integration. Adding a video to your website has no drawbacks. The benefits of using videos on your real estate website are unmatched. This is because the chances of your real estate page ranking first on Google with videos are very high.
WordPress Themes or WordPress Templates
Another method for adding a video background to your WordPress real estate website is via WordPress templates or WordPress themes. Several premium themes are available with a video background that real estate professionals can use to make their websites more appealing to visitors. The real estate agent/broker is simply required to enter the video URL to add the video. Realtyna's wide variety of real estate themes and templates offer modern-looking designs for real estate practitioners to add video backgrounds to their real estate websites.
Conclusion
A video background will improve a website's traffic and distinguish your real estate website from the competition while capturing and maintaining the viewer's interest. As mentioned above, there are three distinct approaches for adding a video background to a real estate website.
However, as compared to coding, WordPress video background plugins are a cost-effective, fast, and simple way to add a video backdrop to a real estate website.