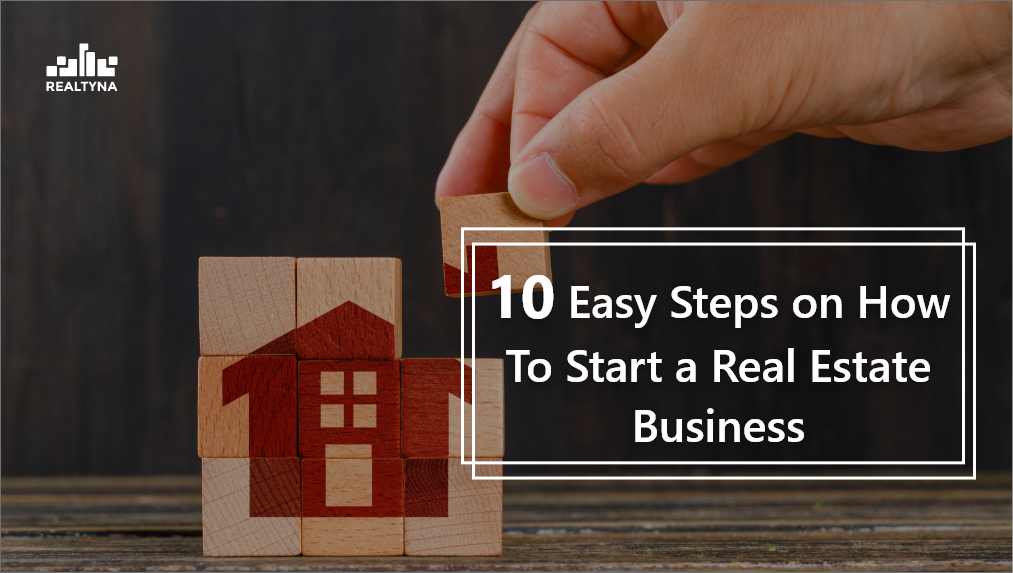 10 Easy Steps on How To Start a Real Estate Business
14 Jul 2021

Posted at 11:00h
0 Comments
If you want to establish a business to build a reputation for yourself, real estate is a wonderful alternative. However, those interested in learning how to set up a real estate business should know that it is not a simple task. Like any other sector, entrepreneurs should devote substantial time carrying out research and crafting a detailed business plan before launching their business.
To be successful in real estate, it is crucial to have both an entrepreneurial mindset and an eye for aesthetics. Building a real estate business from scratch is hard but attainable. Let's look in-depth at what it takes.
Tips on How to Start a Real Estate Business From Scratch
Create a Business Plan
It is necessary to plan for success before jumping headfirst into real estate or any other venture. Real estate, like all other industries, has different components. A business plan should define every step of your plan to know exactly where you are headed. The planning will give you the confidence to proceed with caution. For example, suppose you know how much money you'll need to get your business off the ground. In that case, you'll design your office space and buy office furniture, equipment, and other necessities accordingly.
The goal of a real estate business plan is to establish objectives and a course of action. However, you might use the plan as a document to seek financial backing from investors or lenders. Planning is also the most effective technique to get you personally involved in real estate projects.
Conduct Thorough Research
The first step in developing a good business plan is to do in-depth research on the industry. Once you have a general understanding of the sector, select a specific niche, market area, and prospective competitors. Market research is crucial to determining if your business plan will be successful and identifying in which niche you will do well in the real estate market.
Following that, your research should concentrate on a particular sector that is most compatible with your investing niche. Consider looking at house prices and rental rates in your neighborhood and also neighborhood amenities. Most importantly, never be scared to look beyond your local area, do online research, and attend networking events. Even enlisting a mentor's assistance may all help in this stage of the process.
Get Your Finances Together
There are various ways to start a real estate business without putting any money down, but that doesn't mean you shouldn't assess your overall financial situation. When you contact a lender, they will almost certainly want to know about your financial past.
Before getting asked questions, take a glance. Request a copy of your credit report and study any existing accounts or assets you have. There are ways to get into the real estate market even with limited finances.
Draft a Business Strategy
After conducting adequate research, you should start coming up with ideas to help your business grow in the industry. Create a business strategy that contains information on the resources and tools you want to leverage.
Social media platforms, websites, blogs, and videos all play a vital role in delivering the information we need daily. They will be equally critical in assisting you in communicating with prospective clients and consumers.
Establish a Real Estate LLC
A limited liability company (LLC) is a corporate structure designed to secure an investor's funds from corporate expenses. The legal entity enables individuals to acquire and own real estate without exposing themselves to personal liability. Each state has its own set of costs and rules for establishing an LLC, but the general process is the same. This is one of the most important tips on how to start a real estate business from scratch.
Following the formation of your LLC, you may need to get additional permits before you can effectively open for business. Confirm them with your state, and you'll be well on your way to sealing your first deal.
Draft Your Business Marketing Strategy
A successful real estate firm requires a good marketing plan. What distinguishes your business model? Providing an answer to this question can assist you in developing a brand for your firm and future marketing activities. This is an excellent opportunity to define your goals, design your logo, and define your core values. This component will help you connect with consumers and provide a baseline for your marketing campaigns. After you've laid the groundwork for your real estate business, start your first campaign using direct mail, email campaigns, social media, networking, and bandit signs.
Establish a Website
Online presence is crucial in today's digital world. Ensuring your website is ready before promoting your business is critical. Realtyna has a wide variety of website-building options like WordPress and more for real estate professionals to set up their remote offices without any knowledge in coding.
Invest in Technology
Technology is the cornerstone of today's business world, and as real estate agents trying to set up a business, it is vital to invest in the latest tech for your real estate business. Some real estate firms have rebranded themselves as technology firms. This is because the technology that powers huge property search engines, customer relationship management (CRM) systems, and even blockchain technology quickly becomes a cutting-edge aspect of real estate transactions and offers a wealth of potential for distinction and innovation.
Launch Campaigns
Maintain consistency throughout your marketing platforms, whether social media, e-mail, snail mail, or traditional marketing. Make sure to effectively promote your real estate business and plan follow-ups for each of the campaigns you send.
Build a Support Network
When it comes to beginning a real estate investment company, no one is an island, as cliché as it may sound. Many real estate leads and deals will come straight from your network. Invest time in establishing these essential connections, whether with clients, coworkers, mentors, or even competitors.
Bottom Line
The real estate business can be challenging, but you don't have to go through all the trouble if you follow the above guidelines and learn about the answers to frequently asked questions. Plan out your goals, conduct an assessment of your finances, and grow your network by every means possible. With the right tools, you can eventually reach your business goals and be financially secure.