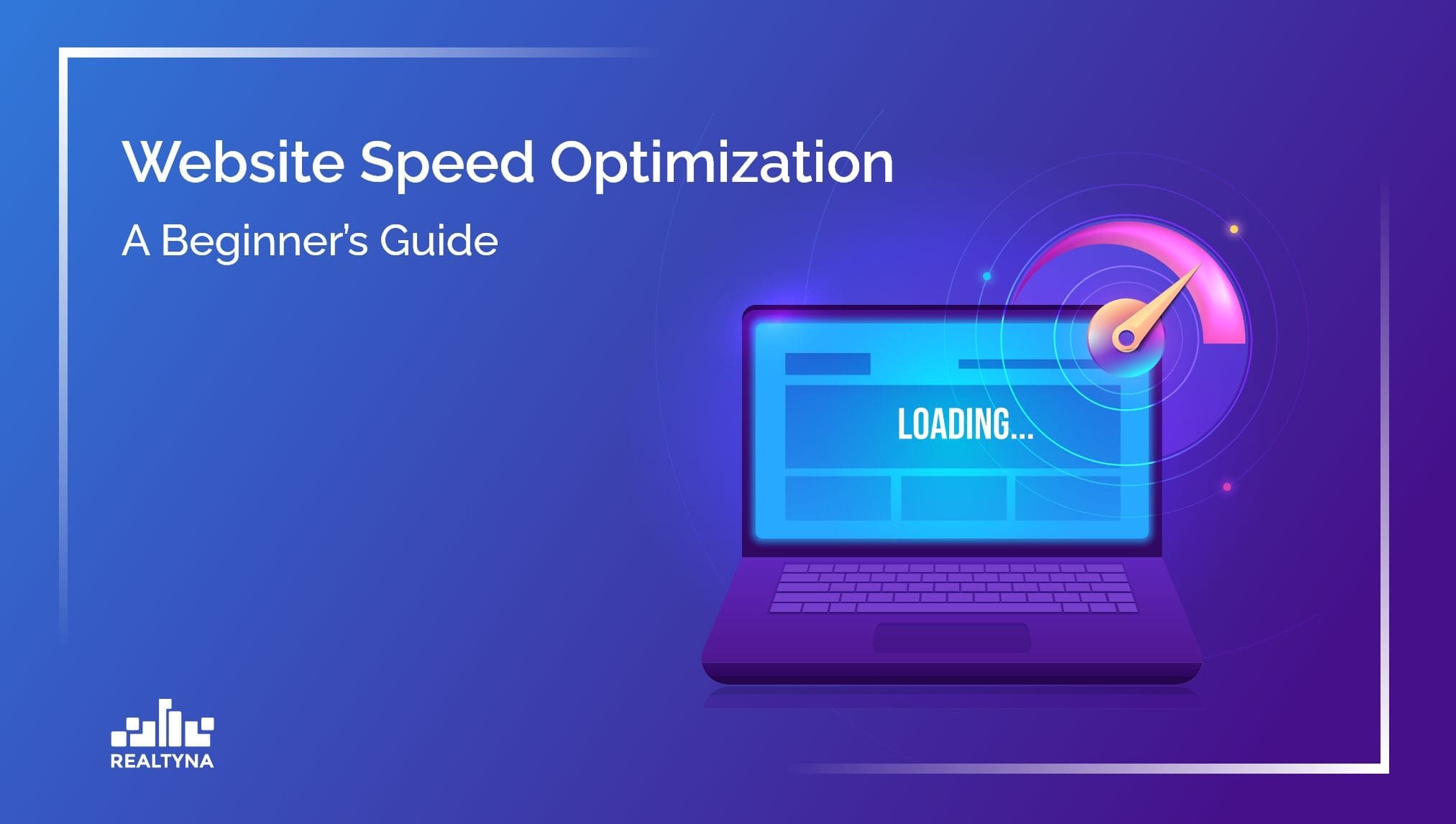 Website Speed Optimization: A Beginner's Guide
01 Dec 2021

Posted at 11:00h
0 Comments
There is a lot of material available on improving our marketing channels, developing better social content, and writing better emails. But, as you already know, all of that directs to one place—your website. And for many companies, maintaining a healthy website performance can be very challenging. Today's real estate businesses, especially those with an online presence, rely on website speed optimization as a critical component of technologically advanced web designs.
Having a real estate web page that takes too long to load increases visitors' bounce rate and less likelihood of conversion, leading to low search engine ranking. As a business owner, you want to ensure that your website is user-friendly, loads fast, and is search engine optimized to reduce bounce rates and improve conversion. In this guide, you will learn about website speed optimization, the various areas that most definitely affect website performance, and a few tips to improve it.
A Beginner's Guide to Website Speed Optimization
Before diving into the nitty-gritty of website speed optimization, let's shed some light on the meaning of website speed or page speed.
What is Website Speed?
The page speed of a website is a measurement of how quickly pages on the site load. When a website visitor visits a given page, this speed impacts how long it takes to show the content of that page.
What to Consider When Optimizing Website Speed
Identify the problem using PageSpeed Insights

Execute requests in a safe and timely manner

Reduce the number of requests you serve at a time

Deliver queries properly

Reduce Request Size

Bundle several requests together

Reduce the load on your server
How to Optimize Your Website Speed
What do you do when your real estate website speed does not meet expectations? How do you properly optimize your website speed to rank better on search engines while improving your website conversion rates? Read on for more information!
1. Choose a Suitable Web Host
There are two major types of hosting options—shared hosting and dedicated hosting.
Hosting dozens of websites on a single server is the most common and least expensive hosting option known as "shared hosting". However, with this hosting option, your website is prone to reduced uptime and low processing power which can significantly affect your site's loading performance.
On the other hand, there is dedicated hosting which is faster and more efficient, and gives you full control over your website. Regardless of the amount of traffic your website receives, it provides the highest possible online performance and loading times.
In contrast to shared hosting, dedicated hosting is more expensive. However, security, speed, support, as well as improved conversion rates are guaranteed. That it is recommended for real estate professionals to invest in an effective hosting plan.
2. Optimize Images
It is essential to have high-quality images to represent your business and maintain a professional image. However, if images are not optimized or overused, they might be the primary cause of a slow-loading page. It is not necessary to avoid using images to solve this problem. Rather, resize the image, use proper image format and compression.
3. Use Browser Caching
After a visitor visits your site for the first time, browser caching saves the site's static files and data on their device. This makes it easy for them to access most of the JS, CSS, and image files stored each time they visit your website. Thereby reducing load time and improving user experience.
4. Install Less Plugins
In order for plugins to function properly, a significant amount of back-end processing is required. By loading additional files and sending too many queries, they will also slow down your website.
While certain plugins are necessary for the operation of your site, the majority of them aren't necessarily beneficial to your site. Consequently, it is preferable to stick with the essentials and uninstall any plugins that are not absolutely necessary for the operation of your website.
Final Words
It is not news that the future of search engine optimization will be based on website performance. As a result, businesses have started paying more attention to page speed and are working hard to enhance their performance.
We hope this guide was helpful.
For more information on improving your website speed and design to get more conversion, contact us here.
People also search:
Why Server Optimization Will Help Your IDX Website
Effective Ways to Improve Your Real Estate Website Performance
Ways To Increase Your Website Traffic – Real Estate Edition