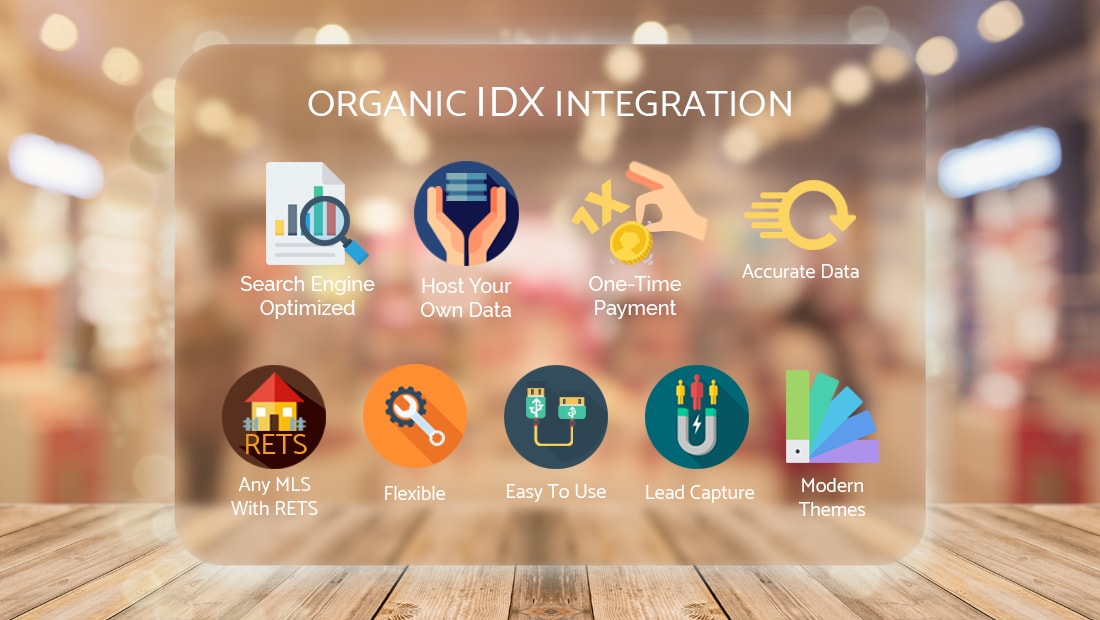 9 Reasons you should do Organic IDX integration
04 Oct 2017
Posted at 13:27h
0 Comments
Are you a real estate professional with a WordPress website?
You have several options for developing your IDX display.
You could go with an IDX frame with a low upfront cost. But that comes with several drawbacks, as we detail here: https://realtyna.com/blog/what-is-idx-framing/
We've built our business over 10+ years by providing alternatives to IDX framing.
Our signature product is Organic MLS Integration.
It is a data migration model that connects your website to your MLS via RETS and creates a searchable property database on your WordPress website.
Here are the top nine reasons why you should use Organic MLS Integration:
1) Search Engine Optimized
Organic MLS Integration provides you with the strongest possible SEO capabilities, which can help you launch up the search engine results list with some configurations based on your business model and location.
SEO features include:
– Indexable Listing Pages
– Custom URL Patterns
– Metadata and Keywords
– No Subdomains
We have more details on the SEO juice behind Organic MLS Integration here: https://realtyna.com/blog/best-wordpress-idx-for-seo/
2) Host Your Own Data
Every listing in your MLS database will be imported via RETS to the hosting area of your choosing. This affords you more control than IDX framing. For example, if sold properties are made available by your MLS we can set up your data feed to include these listings.
3) One-Time Payment
We sell all of our software under a one-time payment. This means if you have RETS access already or your MLS does not charge for it, we can set up your RETS connection with no monthly data access fees. Contact us to find out if your MLS is monthly-fee free.
4) Accurate Data
Your RETS connection is personal to you and direct to the MLS database, providing you with the most accurate and timely property listings. In addition our software can support updates as fast as every 15 minutes (depending on your server and MLS).
5) Any MLS With RETS
Organic MLS Integration is available with any MLS using RETS, and it has been used to connect to over 100 MLS in the United States and Canada. You can see a list of some compatible MLS providers here: https://realtyna.com/mls-coverage/
6) Flexible
Your search bar is customizable, allowing you to add and remove fields in the form of a checkbox, dropdown, text, etc. In addition, you may use short code to control where various features appear on your website.
7) Easy to Use
You are able to configure your website directly from your WordPress back-end. In addition Realtyna products are compatible with a number of WordPress page-builders, providing you drag-and-drop functionality.
8) Lead Capture
Out-of-the box, Organic MLS integration includes a number of lead capture tools including: request a viewing, contact agent, and favorites. Realtyna also offers a number of optional advanced lead capture features including: saved search, forced registration, and CRM.
9) Modern Themes
Organic MLS Integration is useable with most WordPress themes. We've also developed compatible views to match styles with Bridge, Divi, Avada, and a number of other popular themes. You can see those here: http://wpl28.realtyna.com/
These nine reasons are why Realtyna's Organic MLS Integration has become the web's most loveable real estate platform for WordPress.
Contact us today for a free demo.