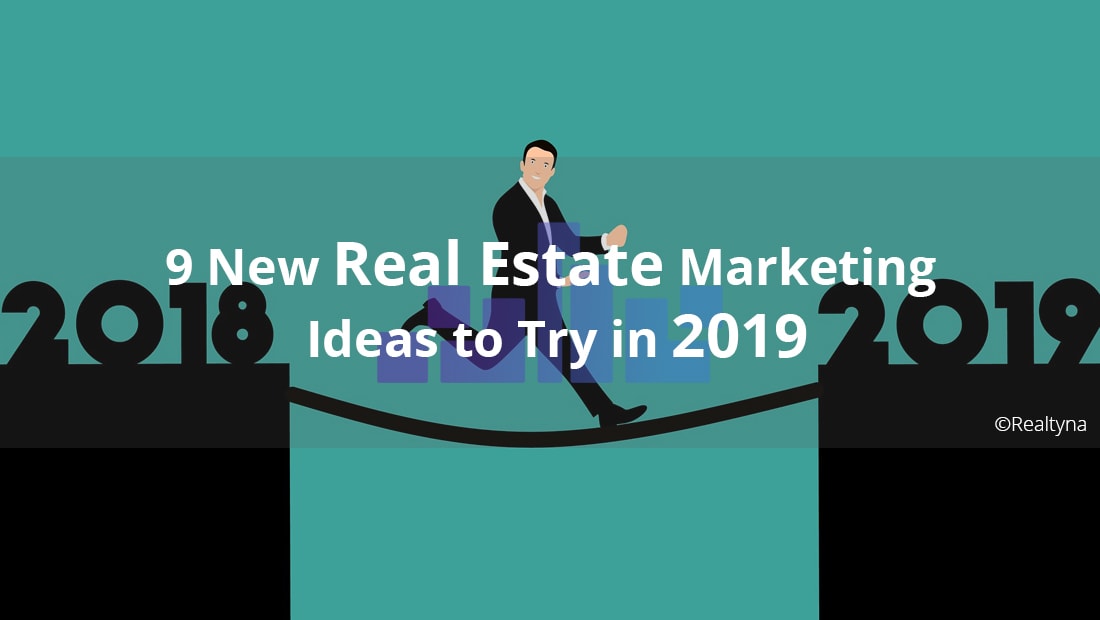 9 New Real Estate Marketing Ideas to Try in 2019
03 Jan 2019

Posted at 10:00h
9 Comments
When it comes to real estate marketing, most agents rely on the same few tried and tested strategies. These work, no question. But how can you stand out from the pack if you are doing the same thing as everyone else?
We are about to enter a new year. Why not step up your marketing game? Here are 9 new real estate marketing ideas that can help take your business to new heights in 2019.
Develop Quizzes About Your Community
If you've ever used Sporcle you know how long people can spend online doing quizzes. Why not let your leads test their local knowledge with quizzes about your community and its neighborhoods? There are plenty of online quiz makers out there. Choose one and create a quiz based on your local expertise. Then post it to your website. A good quiz will help you attract new visitors to your site and keep your leads browsing longer.
LUKE'S TIP:

Drone Flights Over the Neighborhood
Drone flights can create a lot of intrigue about a house. But drone flights for a neighborhood can go further. Whether it is urban neighborhood or a rural community, drone videos provide some of the most beautiful content on the web. These videos can be highly valuable for agents in an age when buyers want more and more information about the area immediately surrounding the home.
Hand Out Branded Beer Koozies
Agents have long handed out marketing materials. Why not hand out something people actually use? And if you can make it something people use when they are having fun, all the better. Beer koozies fit these conditions, and they are not expensive to produce. Give it a try in 2019, and you'll have a way to make sure your brand has a presence at every party in your community.
Build a Following With a Great Newsletter
From Wall Street to politics, a lot of media personalities have made their business through newsletters. As a real estate agent, you too have specialized expertise. If you can package your intimate knowledge of the housing market into a weekly or monthly newsletter, you can build a following that will help your sales and lead to more opportunities.
Film a Day in the Life Video
As a real estate agent, your life is interesting. It is fast-paced, dynamic, dramatic, and luxurious. Why do you think there are so many shows and films about real estate agents? The barrier to entry for film is so low now that you can do it with your smartphone. You should try filming a day in the life video because it is guaranteed not to be boring.
Send an Arrangement
This year my family lost a pet. We called our pet food company to return some items. The company issued a refund, and then sent a flower arrangement to our home. We were shocked.
For 2+ weeks everyone who entered our home noticed the flowers and asked who sent them. And that's when I understood their power.
An arrangement provides a touching gesture that people will associate with your business. So if the moment arises in 2019, send flowers.
Post on Reddit
The Reddit community is strong. And there is plenty of real estate discussion. There are subReddits for real estate, homeowners and investors, real estate technology and more. All of these provide a place for agents to demonstrate an expertise and build a following. But for whatever reason these are largely ignored.
Ask Clients to Do a Video Testimonial
Client testimonials are massive in real estate. As a primary form of social proof, they reassure leads that you are a competent, dedicated agent. But there is something psychological about getting the information directly from the client via video rather than reading it on a website. So ask you some of your clients to do video testimonials. If you do well enough with the sale, they will be happy to contribute.
Create an Interactive Neighborhood Map
You surely know a lot about the neighborhoods you cover. Consider displaying this information in an interactive map on your website. Such a feature would help buyers know more about the area surrounding their potential home. And it would serve a resource for your community at large, which can help you generate new leads.
The new year is about new beginnings. So ditch those stale real estate marketing techniques and try these 9 new ideas in 2019.
For more marketing tips, check out 7 Steps To Use LinkedIn Correctly and Generate More Real Estate Leads and How To Use Real Estate Market Statistics to Attract Sellers and Win Listings.