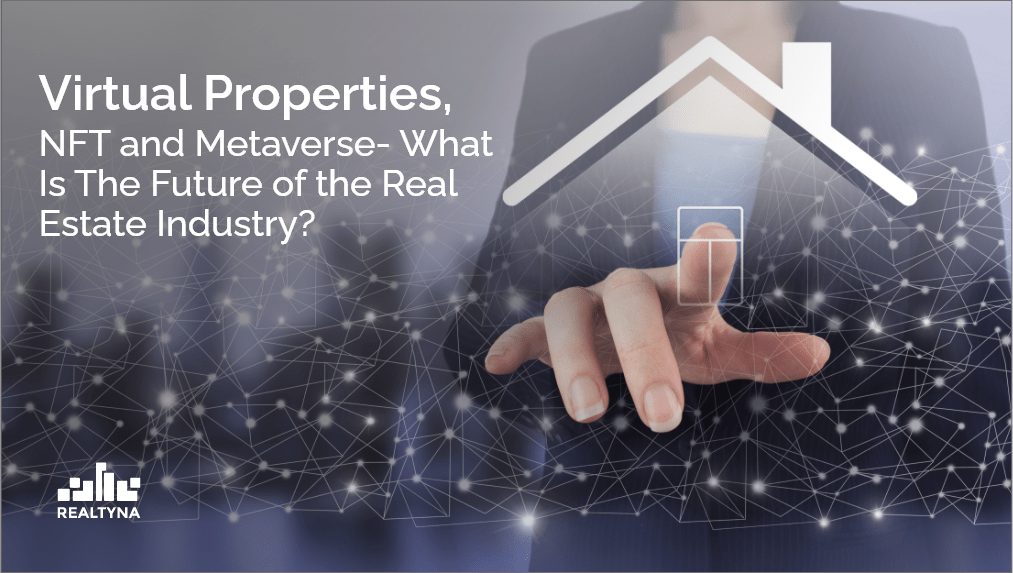 Virtual Properties, NFT and Metaverse- What Is The Future of the Real Estate Industry?
17 Nov 2021

Posted at 11:00h
0 Comments
The real estate market has certainly had its fair share of changes over the last couple of years. Starting from technological shift- real estate professionals embracing what the digital world has to offer, to the unstable real estate markets due to the pandemic.
All of these raised some important questions- what is the future of the real estate industry?
With the rise of AI and more and more automated solutions available for buyers and sellers, and prices of the real estate market being all-time high- real estate agents wonder, how will the real estate industry transform, and what is the next shift?
In this article, we will talk about one of those possibilities. The possibility that doesn't seem so far-fetched and already has some foundation.
Let's dive in.
A New Real Estate Niche Emerging?
In this article, we talked about the most lucrative and profitable real estate niches. What if I tell you, there is another niche on its way to steal the top spot- virtual real estate.
Virtual property deals are surging right now and attracting high investment.
Just in February of this year, a piece of virtual land around 9 adjacent blocks was sold for 888.5 ether, roughly equal to 1.5 million dollars. It was one of the first huge deals of that kind, the person who purchased it, explained his decision via Twitter:
"… We're witnessing a historic moment; the rise of digital nations with their own systems of clearly delineated, irrevocable property rights. Axie land has entertainment value, social value, and economic value in the form of future resource flows."
This deal marked the largest digital land sale in the history of NFT.
The digital land sellings that seem far-fetched and so far from the real estate industry, are slowly spilling into the real world real estate industry. Take, for example, Republic Real Estate- a company that is purchasing real-world distressed condos, now is planning to launch an invite-only fund to seek investors that are interested in buying virtual lands. The plans go as far as to purchase several lands across different metaverse and develop them into virtual hotels, stores, etc.
Real estate agents are also participating in the digital selling of metaverse lands. Shane Dulgeroff for example put the real world property and its digital replica alongside up for sale. He was asking for 1.4 million worth of the cryptocurrency Ethereum. Even though Dulgerof got a 1.1 million worth offer, he decided to wait out for a better deal.
Already, one of the first virtual real estate firms- Metaverse Real Estate was established by Canadian cryptocurrency entrepreneurs Michael Gord and Jason Cassidy. Metaverse real estate focuses exclusively on selling, renting, and investing in virtual real estate.
As we see more and more, the line between the virtual and physical world is already blurring.
Some call it a new land rush. A new Wild West. The promise of one day owning a prime digital real estate, when the whole world will go fully virtual, seems alluring to many consumers. No real guarantee that people will be able to access digital real estate lands, doesn't stop digital enthusiasts from purchasing virtual lands.

So, Who Are Key Players in the Digital Real Estate Market?
Decentraland

Axie Infinity

Earth2

Sandbox

Somnium
And many more.
Key Terms
NFT– aka non fungible token, is a piece of digital content, not is described as unique and not-interchangeable. Yes, everyone agrees it's a confusing term. NFT can be a unique digital piece of content, that nobody else has but also you can buy an NFT tweet, or YouTube videos, that are literally available online. So, what's the catch here? Why are people spending a crazy amount of money on NFTs? Well, some can say the allure is just participation in a new trend. Others think this is the future of art collecting. But look at it from a different angle, even though there are hundreds of different copies of Mona Lisa, once you buy a Mona Lisa, you're the actual owner. With NFTs you're doing the same, you're buying the rights to own a certain piece of digital content, and no amount or reproducing of this content changes that you own it. In the case of digital real estate, your NFT will be a piece of virtual land.
Metaverse– As Zuckerberg said in the Connect keynote "…the best way to understand the metaverse is to experience it yourself, but it's a little tough because it doesn't fully exist yet." Metaverse promises a more immersive experience of the Internet. Metaverse will become a shared space, where people can do anything and everything.
But unlike the Internet, Metaverse isn't actually infinite, and that's why people are so keen on buying virtual properties now. Imagine owning land that in the future can become the next Paris or Manhattan.
So, Is There a Future for Real Estate Agents?
That is a one-million-dollar question. Our answer is yes, maybe in the future the Ready Player One world will become a reality. But that won't change the need for professionals to help customers, purchase or sell the property efficiently. The question is what kind of properties will the real estate agents be helping out to purchase/ sell.