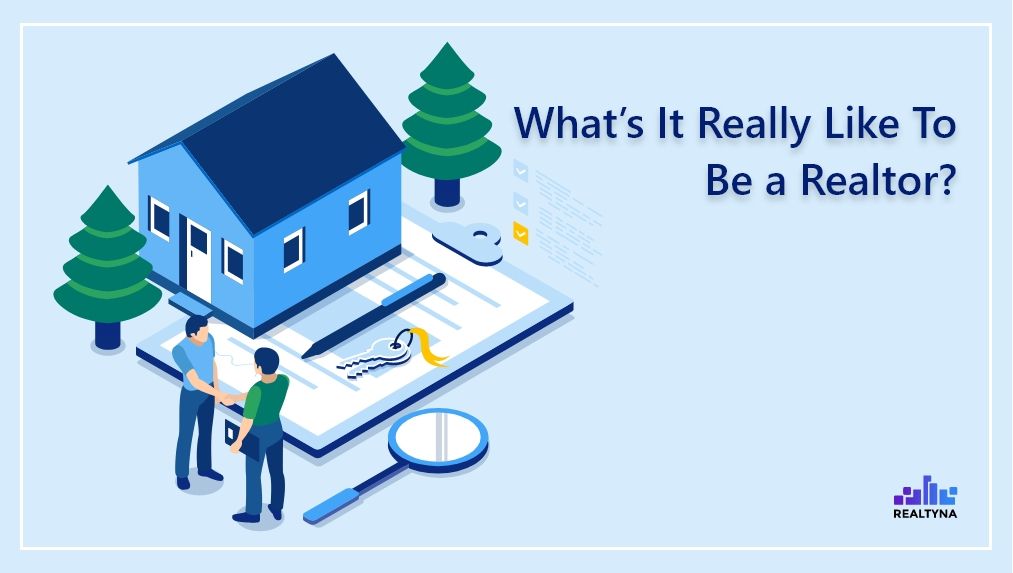 What's It Really Like To Be a Realtor?
25 Aug 2021

Posted at 11:00h
0 Comments
Are you a real estate agent who wishes to be a Realtor? Are you curious as to what a Realtor's day-to-day life is really like? Well, then you're in the right place. Today I will list everything that goes into a Realtor's occupation and will help you decide whether it is the right fit for you.
What is a Realtor?
To get started first we must have an accurate definition of what a Realtor actually is.
A Realtor is a real estate professional that belongs to the NAR (National Association of Realtors). A real estate agent or a broker can be a Realtor. However, not all agents and brokers are Realtors. The reason for that is that not all agents and brokers are part of the NAR. Brokers often run a real estate agency and have hired agents working for them.
What Does a Realtor Do?
Some duties that go into the everyday tasks of a Realtor are to assist their client with finding the best-fitted property for them at the best price. They must also make sure that they are providing high-quality service and meeting their client's needs.
What Certifications Are Needed to Become a Realtor?
Generally, to become a Realtor you must be at least 18 years of age, have completed all the necessary courses for real estate, and passed the required examinations. Requirements differ from state to state. However, below is a list of general requirements:
Possess a valid and active real estate license

Be actively involved in the real estate business and keep up with the latest news and trends on the marketplace

Have no records of criminal behavior

Have no recent background of involvement in bankruptcy.
First, you must get a real estate license, then you can join your local Realtor's association, pay a one-time application fee, and start paying your annual membership dues. For more in-depth information make sure to read our blog on How to Become a Realtor.
Typical Day in a Realtor's Life
Now that you have learned the basic list of requirements needed for the Realtor recruitment process, let's get more personal. Even though each Realtor's typical day differs from one another, there is a list of tasks that go into each Realtor's job.
Reaching Out to Their Prospective Clients:
A typical morning for a Realtor starts with them reaching out to their prospective clients. The reason they are called prospective is because they are not technically clients but rather those who are interested in selling and buying a home in the future. Realtors often send out emails or make phone calls to become acquainted with their prospective client's current situation so that in the future they can possibly market themselves towards them.
Meeting With the Sellers and Discussing the Home Selling Process:
Typically, during the afternoon, Realtors often meet up with sellers and discuss the home selling process. Their discussions usually involve listings, sales, and the best time for them to put the home on the market and host an open house.
Promoting Their Company and Image On Social Media:
By the end of the working day, Realtors often spend time promoting themselves on social media. They often update their profile, website, or blog posts. A large number of prospective clients that a Realtor gets are often from social media platforms. That is why it is so important for Realtors to promote themselves online and have a pristine image as it significantly improves their marketing reach and attracts more potential customers.
Benefits Of Becoming a Realtor
There are a lot of benefits that come with being a Realtor. For instance, a Realtor has the advantage of having a flexible schedule meaning that they can plan their own working hours by picking the most convenient time for them and aligning it with their personal life, which provides them with a great work-life balance. Another benefit is that they have the potential for business growth. Since Realtors often run their own real estate agencies they can hire agents and people to assist them with their work, the more time is put in the development of the business the better potential it has for its future growth.
So what do you think? Is being a Realtor the right fit for you?
Leave a comment down below and make sure to check out more of our blog posts!
Lead Generation Guide for Remote-Working Realtors
What Do You Wish You Had Known Before Becoming a Realtor?