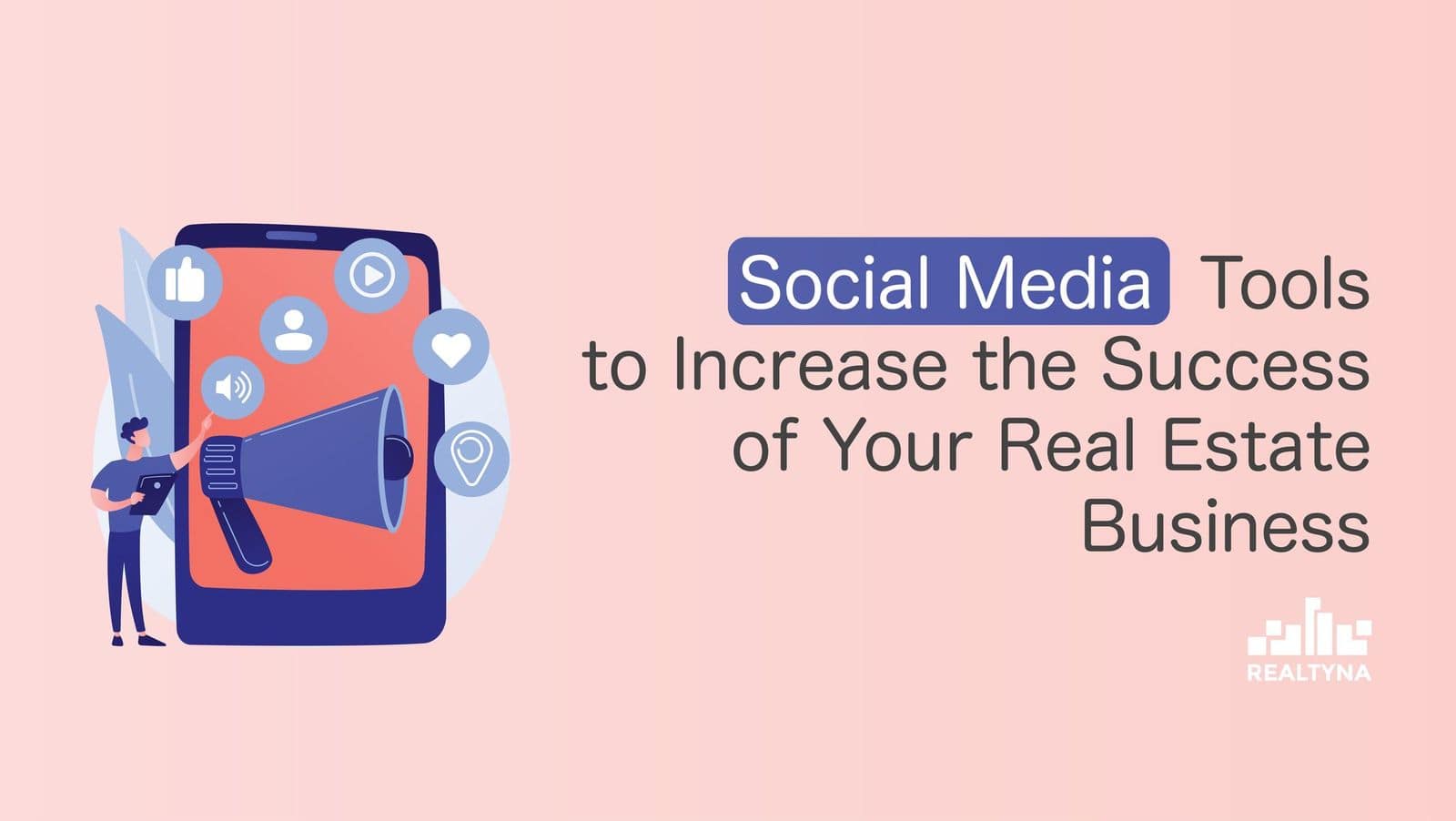 Social Media Tools to Increase the Success of Your Real Estate Business
24 Dec 2020

Posted at 13:27h
0 Comments
In the modern world, our lives are unimaginable without the internet. The 21st century is even called the information age, in which social media is considered to be the most important activity that helps to gain more experience and achieve more success online.
In a competitive real estate industry, in addition to personal meetings and negotiations, the proper management of social media plays an important role in the success of your real estate business. Undoubtedly, social media is the best, fastest and most effective way to build public opinion, awareness, trust and loyalty in all areas of public activity.
How to properly manage social media to increase the success of your real estate business? In this article we will answer this question and talk about the most important social media tools to increase the success and productivity of your real estate business.
Define Your Audience
Properly defining the audience is the key factor for your real estate business success. This will help you accurately define your real estate social media plans, goals and objectives. You need to spend some time looking at your audience personas. This will help you to analyze who is interacting with you online, to understand their interests, challenges and needs. By identifying your real estate audience, you will post the right content on your social media. Consequently, you will be able to create customer-focused products and offer them. This competitive analysis of audience will help you to manage your real estate social media correctly and create the right content that sets your real estate social media apart from all the others.
Set SMART Goals
SMART goals are very important to your real estate social media presence today. It helps you avoid posting inappropriate information and make the right, result-oriented decisions when managing social media. Considering these goals will allow you to identify your real estate social media needs via the following characteristic:
Specific – Specific social media goals are easy to understand. It helps for your real estate goals to be more detailed and clear for each member of your audience.
Measurable – Measurable social media goals will help you to track your progress and stay motivated. They will give you an opportunity to identify what you need to improve to achieve more success in your real estate business.
Achievable – Your social media goals need to be attainable and realistic to be successful. If you set an achievable social media goal, you will make right and objective decisions.
Relevant – You have to be ensured that your real estate social media goal matters to you. If you are planning any changes in your social media, you need to make sure that they are relevant to the purpose of your real estate business.
Time bound – One of the most important things to manage your real estate social media platforms successfully is to set a date for your goals. You need a target date, a deadline that helps you to prioritize and focus on a specific issue.
Be Active
For the success of your real estate social network, it is essential to manage actively. Activity involves intensive posting of news and interesting information. It's important to have active and open communication with your audience and to respond to each of their questions in a timely and exhaustive manner. You need to take care of creating content that will interest and attract more people. To achieve these goals, you have to be creative. You must have a strategy and plan for actively engaging with your audience. Constant monitoring of your social media will increase even more your real estate business success.
Focus on Quality
To achieve your real estate goals successfully, it's better to create a few key social networks with quality content, rather than being in each one and managing ineffectively. Be sure that your social media posts are valuable for your audience. Never forget, social marketing is focused on building relationships. Be an honest and real person when communicating with your audience. This will increase the number of your loyal followers. If you focus more on quality than quantity, it will definitely increase the productivity of your social media and the success of your real estate business.
I hope you enjoyed reading this article. For any questions, please, contact our team. We are always ready to share our experience and make your real estate business more successful.
If you want to know more about social media, check our blogs: Social Media Trends You Should be Aware of and What Message Should You Spread on Social Media Right Now?