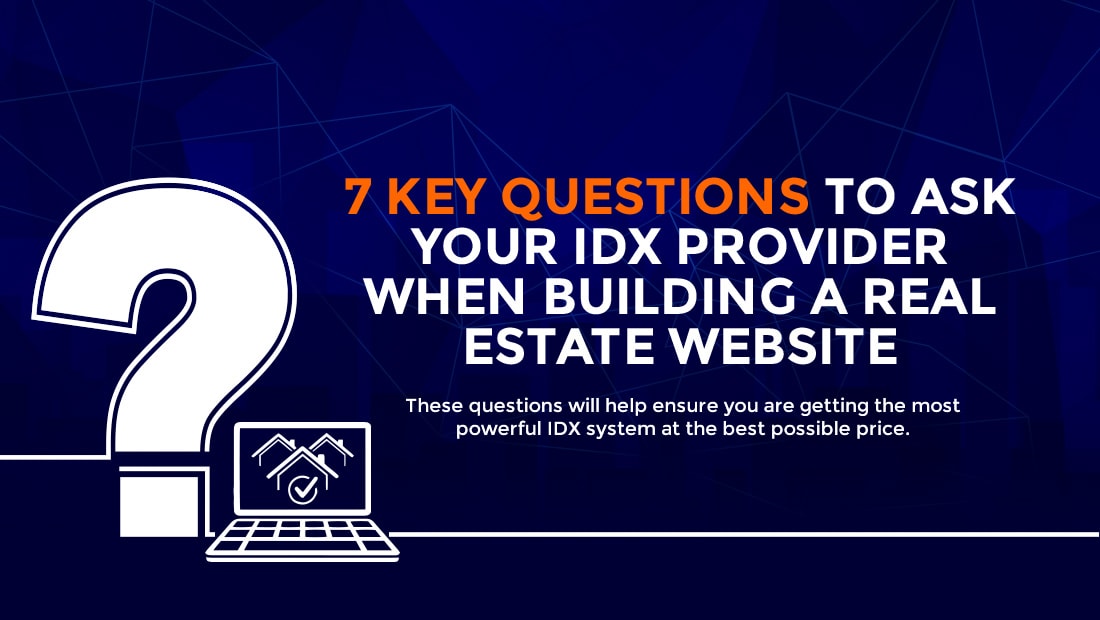 7 Key Questions to Ask your IDX Provider When Building A Real Estate Website
Posted at 15:13h
0 Comments
7 Key Questions to Ask your IDX Provider When Building A Real Estate Website
Building a real estate website and choosing an IDX provider can be a daunting task. There are technologies to sort out, fee structures to understand, contracts to sign, etc.
Add this to your already lengthy list of responsibilities selling homes, and you might soon find yourself overwhelmed.
To ease the process, we developed this list of key questions for your IDX provider. These questions will help ensure you are getting the most powerful IDX system at the best possible price. Check out more tips for building a real estate website here: https://realtyna.com/blog/tips-to-build-a-user-friendly-real-estate-site-with-idx-integration/
1) IS MY IDX ORGANIC?
You should know by now that not all IDX is equal. For the maximum impact on your business you should be looking at Organic systems. Organic MLS systems provide integrated listings that can be indexed or "seen" by search engines, boosting your search engine visibility. IDX framing providers can't say the same thing: https://realtyna.com/blog/why-should-i-integrate-rets-instead-of-idx/
2) AM I ABLE TO CO-MINGLE LISTINGS?
If you are a member of multiple MLS, your website should include all listings in a single database. This will allow users to search all available properties at once. Unfortunately, not all IDX providers offer this capability. To find out you should as if you are able to co-mingle listings.
3) AM I ABLE TO HOST MY OWN LISTINGS?
For maximum control over your IDX system, you should host your own data. This will allow your website and listing database to remain live even if there is an interruption in your feed. Also, by not hosting your own data you may lock yourself into some tricky contract situations under which your data is deleted if you leave your contract early or switch providers.
<h3<4) DO YOU OFFER ONE-TIME PAYMENT?
The simplest payment method is one-time. Under a one-time payment, you own your IDX software, meaning you can use it to connect to any MLS needed. In addition, if you are looking to keep your IDX system for a year or more, you will find that an up-front payment is cheaper in the long run: https://realtyna.com/mls-integration-for-wpl/
5) IS YOUR SOFTWARE COMPATIBLE WITH THIRD-PARTY THEMES?
You obviously want your real estate website to look good. There are a number of sleek, modern themes and template available on the web. Your IDX provider should be compatible with as many as possible. This will leave you the flexibility to change themes in the future if you decide to rebrand or update your online presence.
6) WHAT FEATURES CAN I ADD A LA CARTE?
A lot of IDX providers will try to upsell you on a bundle of features. You might see these as "Broker Package" or "Platinum Package." But these bundles may include features you don't need. To avoid overpaying for software you don't use, you should find out if your IDX provider provides add-ons a la carte.
For more information about real estate website technologies, including mobile and SMS, check out this blog post: https://realtyna.com/blog/6-reasons-why-you-should-use-mobile-apps-and-sms-for-your-real-estate-website/
Or contact us for a free consult about your real estate website needs.