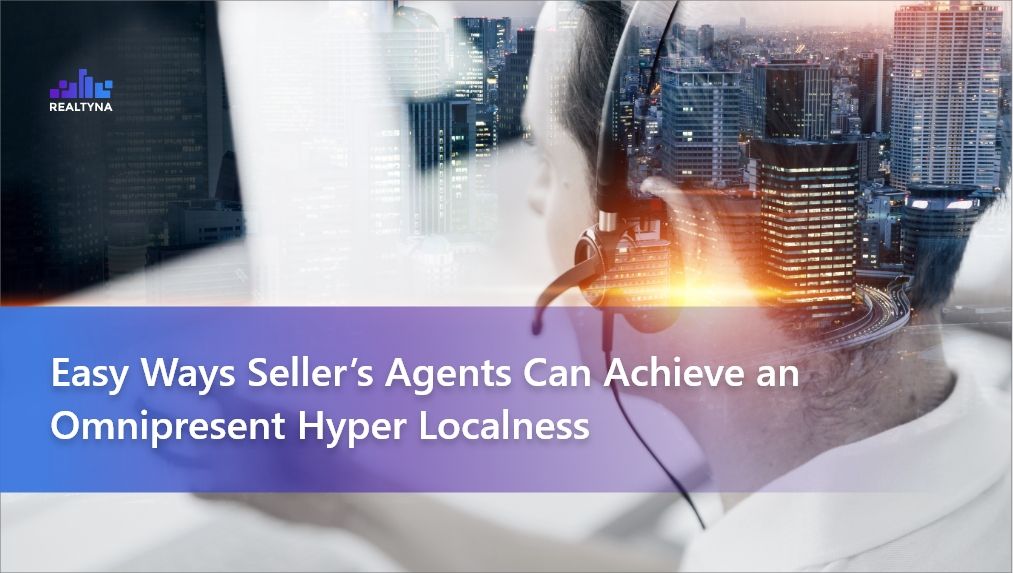 Easy Ways Seller's Agents Can Achieve an Omnipresent Hyper Localness
04 Sep 2021

Posted at 11:00h
0 Comments
We've all heard about the importance of the hyper local presence, especially for the real estate agents. It might seem like a corporate buzzword, like a real estate niche, without any real meaning behind it, but that's far from the truth. Even though it's sometimes an overused term, it has an overwhelming benefit for real estate professionals.
What you won't see in this article:
A needless discussion about the importance of hyper localness; we all know the deal
What you should expect from this blog:
A thorough discussion of some very important key points to achieve a prodigious hyper localness and how we can help you with that
Let's dive in.
IDX Website
As much as you can argue that the real estate industry is not about fancy digital marketing, the reality shows otherwise. Even though some real estate agents are slow on adapting new technologies, it's undeniable the importance of having your personal website, especially in the new reality.
On one hand you have a worldwide pandemic, on the other hand a real estate industry becoming more and more monopolistic. Having your personal website that solely is in your ownership is a matter of competitiveness.
So, you decided to have your personal website. Then what? There are many great companies that provide IDX services, including creating a real estate website.
The tricky part lies in the next thing. Not many people know it, but with some real estate developer companies you don't get to own your website fully. To set the record straight in real estate terms, it looks more like renting instead of owning your personal website.
If you ever want to move onto another real estate tech developer, this will literally mean picking up and starting from scratch. And if you're an established company with a very strong online presence, that might be a huge problem.
Realtyna offers you a complete ownership of your real estate website for a one time fee. And if you're a seller's agent wanting to expand your lead generation menu, take a look at Realtyna's new service- Own Your Data- Lead Generation for Real Estate Seller's Agents. We offer different plans tailored for lead generation in a convenient discount package.
Blogging
Some might say blogging is an outdated strategy of content marketing. The future is video. Is it even working now?
Yes, apparently, blogging is still a king. People are reading and reading actively online. Blogging still brings a lot of traffic to your website. So what can you offer as a real estate agent to your potential clients?
Information about neighborhoods

Real estate stats

Information about businesses located in the specific neighborhood

Tips that your leads can use to simplify the selling/buying process

And much more
. This article will help you to determine the type of content to share with your clients.
If you want to get into blogging and general content marketing but don't know where to start, take a look at the Local Targeting Package that we offer. It's specifically designed to help you achieve hyper localness through the right content marketing strategy.

Video Marketing
Video marketing is truly a strategy real estate agents need to incorporate into their marketing plan as soon as possible. The pandemic showcased how important it is, and virtual tours are just one example of that. Agents need to showcase the property in a dynamic way.
Check out our article to learn creative video marketing strategies for real estate agents.
Facebook Groups
Facebook groups not only provide you with a huge pool of like-minded professionals. They also serve as a catalyst for meeting new clients and generating high ROI. Research Facebook groups you can join. Preferably, they should be local, so you can claim your niche.
Remember this group most probably will be private, so don't be spammy. Choose wisely the content you want to share with the group members. Think of the golden rule of marketing. provide 70 percent of helpful information, and the rest can be promotional.
Google My Business Profile
You've probably seen Google My Business profiles all over the Internet. Just type in a local cafe near me and you see a row of Google My Business profiles that showcase local cafes, based on their rating.
Google My Business is an incredibly useful tool for a hyper local ranking. It specifically focuses on local businesses. This means you can generate hyper local leads and increase your exposure in a niche real estate market.
We wrote a full guide on Google My Business Profile — how to create and optimize it and how agents can leverage it for niche marketing.
Google Local Service Ads and Facebook Ads
Google Local Service ads are specifically tailored to reach people in our own neighborhoods. What is even more important is that Google Local Service ads provide you a Google guaranteed badge, which showcases your credibility and verification from Google.
As for Facebook Ads, they're still very efficient, even without the opportunity to target people by demographics. There is still an option to target people by certain geographic areas.
Be Present on Yelp
Yelp pages are the leading sources of local SERPs. As many experts say, your website won't be ranked directly, but your listing placed on Yelp might appear on Google and rank. This will help you to increase your visibility on the local market.
Offline Hyper Local Real Estate Marketing
Many real estate professionals are traditional people who most of the time prefer face-to-face interactions. But recent events have showcased that sometimes it is safer to stick with digital communication.
If your state is going back to normal and you want to try some offline hyper local real estate marketing strategies, we have some tips for you:
Sponsor or attend community events

Donate money for important causes

Join clubs, associations and other groups to meet and network with other professionals in your area.
P.S. Want to know more about email marketing? Check out our blog Undisputable Advantages of Email Marketing for Real Estate Agents.