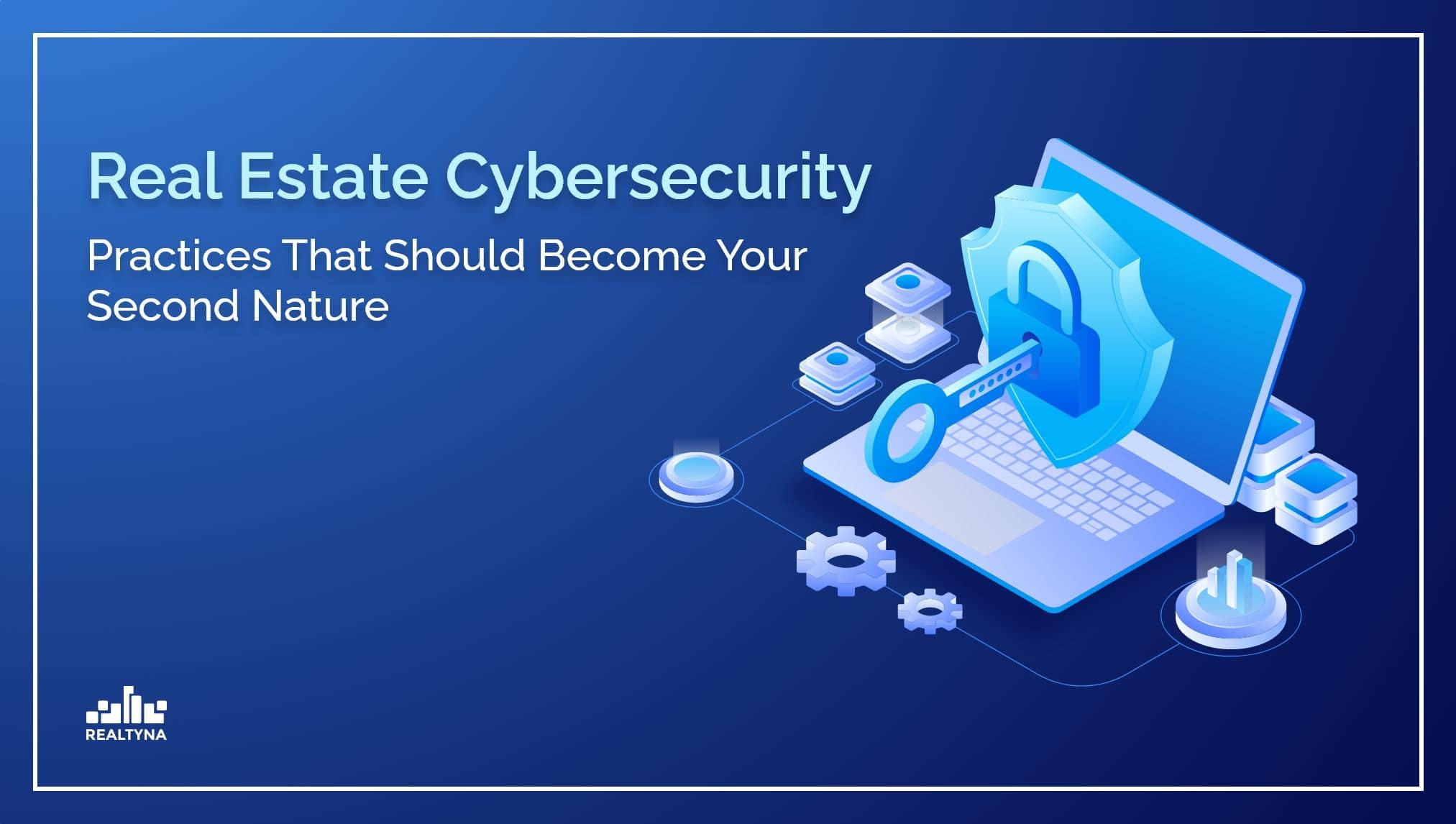 Real Estate Cybersecurity Practices That Should Become Your Second Nature
06 Oct 2021

Posted at 11:00h
0 Comments
The real estate industry can't function without sensitive information. The amount of personally identifiable information floating through real estate networks makes it a primary target for cybercriminals. Cyberattacks can result in disruption of business, financial loss and damage to reputation.
Today we are going to speak about the real estate cybersecurity practices that should become your second nature.
Real estate agents are responsible for keeping their clients' information safe. Unfortunately, the real estate industry doesn't have regulations in place for real estate professionals and companies to adopt cybersecurity practices. So, the responsibility falls to individual agents.
Remember, cyberattacks often are human behavior oriented. And by being aware and proactively monitoring our daily habits, we can significantly reduce the risk of the cybersecurity breach.
So, what daily practices should real estate agents be aware of?
Passwords
This seems like an obvious answer, but you would be surprised how many people forget to update passwords or fail to use strong passwords. Weak or obvious passwords make the job of a cybercriminal easier.
The best practice for keeping your clients' information safe is to keep your passwords completely random. No identifiable pattern means a whole lot of work for cybercriminals.
If you want to have a secure password but also remember it, use a passphrase that is familiar to you only.
Do not share your passwords with anyone. And always activate two-factor authentication for every account possible personal or business.
USB
According to the Cyber Readiness Institute (CRI) USB is one of the major problems when it comes to cybersecurity breaches. It's easy to bring malware into your computer with a USB drive. That can significantly endanger your clients personally identifiable information.
USB devices present a classic situation known as the Good, the Bad and the Ugly. The good is that USB is an extremely popular, easy to use, and inexpensive method to store and transfer files. Unfortunately, USB drives are often lost, or they simply stop working. This is the bad. And the ugly side of USB is definitely the ease of it getting infected and infecting your computer with malware. Instead of using USBs we urge you to explore safer alternatives.
Phishing
Phishing emails are a very widespread phenomenon lately. They look like an official email, but that's just a disguise to scam you. The totally legit appearance doesn't make you question the validity of it, and you might enter your personally identifiable information or click on malicious links.
That's why it's so important to be aware of phishing. So, what should you pay attention to?
First of all, read your email carefully, and watch out if:
The email is urging you to take action

The email is inconsistent

The email contains grammatical errors

The email contains attachments and hyperlinks
Software Updates
Software updates is one the core four issues that make cybersecurity a liability. Software updates contain important security patches that keep your devices safe. Not updating your softwares might endanger your and your clients' personal information.
Little Tips and Tricks You Shouldn't Forget About
Don't forget to lock up your computer screen. If you're an agent on the run and you're constantly moving, there is a chance you might lose your laptop. Locking your screen will at least prevent cybercriminals from accessing your personal data.

If you're still using USBs, use encrypted and high quality USBs, and don't plug it in untrusted devices
P.S. Want to know more about cybersecurity in the real estate industry? Check out our blog Cybersecurity Guidelines for Real Estate Agents