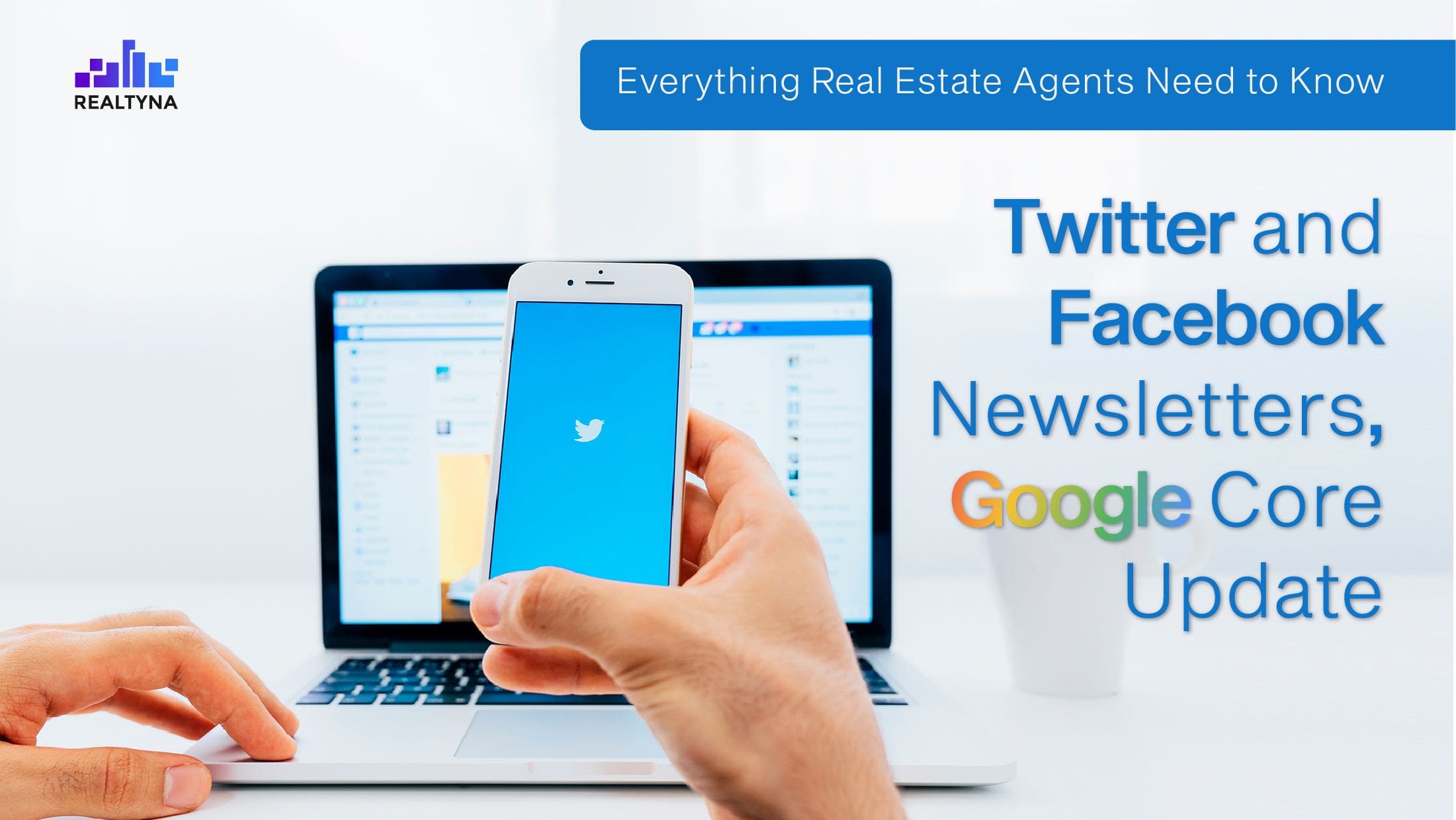 Twitter and Facebook Newsletters, Google Core Update – Everything Real Estate Agents Need to Know
21 Jul 2021

Posted at 11:00h
0 Comments
The year 2021 is rich on updates. Many new features and updates rolled out this year, including Twitter and Facebook newsletters and a Google core update.
Twitter Newsletter for Real Estate Agents
Creating a Twitter Newsletter is possible with the Revue platform. This Netherlands-based company was acquired by Twitter in 2021. If you're interested in email marketing, this is the news you definitely need to check out. With the Revue platform you can:
Compose and schedule newsletters – What is good with Revue scheduling is you can incorporate other social media links, for example Facebook or Medium. This will help you get more visibility for other social media channels with just one newsletter.

Create your own newsletter template – You can create your own design, choose the color scheme and the layout of your content. This feature is available in The Design tab under your Account settings.

Email Lists – Aside from having the option to grow your email list with just native Twitter subscribers, you also have an option to import any email list you have acquired over these years. You own the rights to this list despite it being uploaded on the Revue platform.

Analytics – Twitter Newsletter also gives you an opportunity to evaluate how your newsletters perform, by providing you with the insights data. You'll be able to check average open and click-through rates, unique opens, subscriber growth, as well as engagement and much more.
How to Access Twitter Newsletter Function?
To access this function you just need to do a few things.
Sign up for a Revue account. You can sign up with both your Twitter and email account.

Give Revue permission to access your Twitter.

The next step requires you to create a profile URL to add a title of your newsletter, and to choose your country of residence.
Twitter will provide you with the steps you need to follow.
Note that for now Twitter newsletter is visible only through a mobile browser and not with the mobile app version.
Paid and Free Newsletters
Twitter Newsletter has a free and paid newsletter option. If you decide to have a free newsletter, in this case Twitter won't take any cut from you. In case of the paid newsletters, Twitter will take a 5% cut from the money generated through Twitter paid newsletters.
Facebook Newsletter for Real Estate Professionals
Email marketing is on a roll this year. Yet another platform, Facebook, added a newsletter function. Bulletin is what the new newsletter is called, and it was created for people to find their audience, maximize their reach and monetize the content. What is cool about the new service is that Facebook doesn't get a cut from the money you accumulate through Facebook newsletter. So, if you're a real estate coach, or just a real estate agent trying to find an appropriate platform for your content, Facebook Bulletin is worth checking out.
Aside from having an option for posting blog content, there is also an option for podcasts. And visitors don't have to log into Facebook to access this content.
For now, Bulletin isn't launched worldwide and the number of content creators who can apply to Facebook Bulletin, is limited.
To learn more about Facebook Bulletin, check out their official website.
Google Core Update
As an owner of an IDX real estate website, the Google core update is directly impacting you as well. Recently, you might've noticed a spike or downfall in traffic. This might be caused by the new Google core update that is rolling out these past few months. What does the Google core update target?
First and foremost spam websites – Google is becoming more and more oriented on a safe and secure experience for users, therefore websites that can't provide that are going to see a huge downfall in traffic.

IDX website

speed and load time – A positive experience is what matters now, and no positive online experience can be achieved without a good page loading time. Check out our article on

page load time

, and learn more about what you can do to improve it.