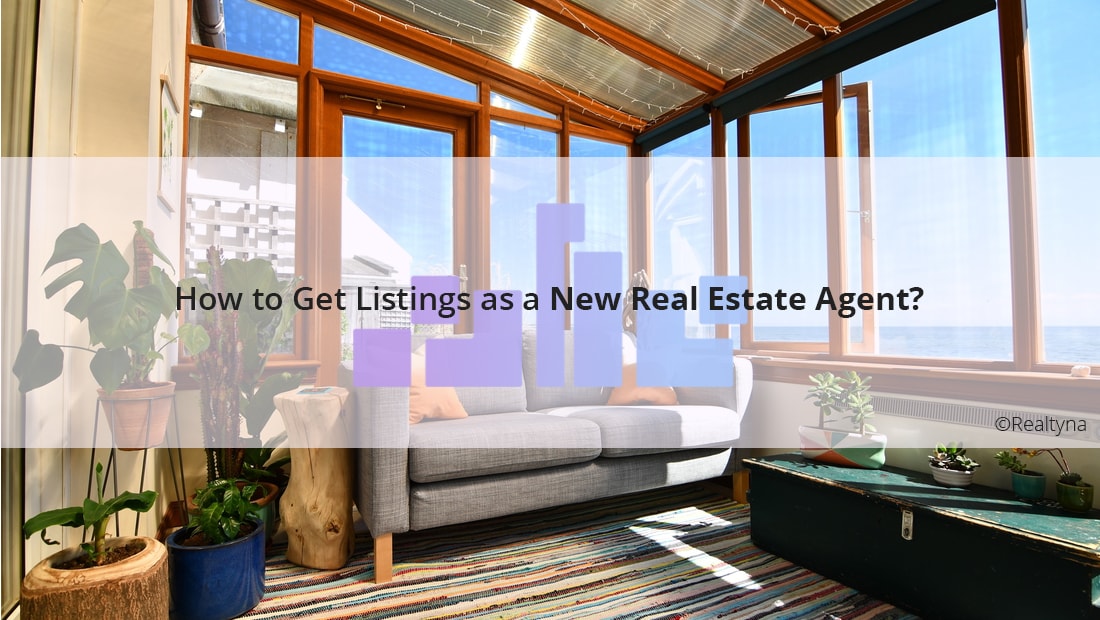 How to Get Listings as a New Real Estate Agent?

Posted at 10:45h
0 Comments
Your first few months as a real estate agent are perilous. You expend great money and effort to establish yourself with few guarantees of income. Traversing this period requires strategy, persistence, and a bit of luck.
To get listings as fast as possible, follow the tips below.
10 tips to get listings as a new real estate agent:
Seek referrals from lawyers, lenders, financial planners, construction contractors, and tax service providers.

Wear a nametag to announce yourself to your community.

Call all of your family, friends, colleagues past and present, and church members.

Post on social media.

Contact expired listings, FSBOs, and those overdue on taxes.

Host open houses for other agents.

Go to social and networking events

Work from a public place.

Swap referrals with niche or commercial real estate agents.

Be honest with those you are asking for help.
Seek Referrals
One of the best ways to get listings as a new agent is to have someone refer you. To improve your odds in this you should spend some time building a network with some key individuals in your community.
Think of some local businesses that interact with people selling a home. Some good ones are divorce lawyers, lenders, financial planners, home construction contractors, and tax service providers. Then go through a local business directory, and find every name in your community that falls under these categories. Be comprehensive.
Contact three people per day by phone. Explain who you are and what you do and ask them for coffee. Do this until you have exhausted your list.
LUKE'S TIP:
Wear a Nametag
It may not be the most conventional way to get listings, but wearing a nametag takes little to no effort and it may just be enough to get people to remember you.
You should be able to get a nametag at a local office supply store or online. Keep the actual text simple: Your Name, REALTOR. Put it on the morning and leave it on as you go about the day, even if you stop for coffee or go grocery shopping on your way home.
The best-case scenario is someone stops you in person and you are able to exchange contact information. But some people may glance at your name and look it up online later. This is not bad either. Just make sure your name is searchable and linked to a professional website.
Call Everyone You Know
Early in your real estate career, you are going to need some help. So it's important to turn to those who are most likely to help you: your family, friends, colleagues, and people you know from church.
Make a list of everyone who falls into these categories. Then call them—a few per day. Ask them how they are and how their family is doing. Eventually they will ask you the same thing, and you can explain how you are striking out in real estate. Then, make your ask:
"Listen, I'm going to need help getting listings until I get my feet under me. If you come upon anyone looking to sell a home would you keep me in mind and consider putting them in touch with me?
Post On Social Media
While it's not as personal as a face-to-face meeting or phone call, social media is another good place to announce your new career and seek listings. To start, you can create one long post about why you decided to get into real estate and why you think you are a good fit.
Then once a day or so, you should post about a bit of real estate news, or something you have learned. This will demonstrate your growing expertise and remind people of the effort you are making to succeed in a very competitive industry.
Contact expired listings, FSBOs, and those overdue on taxes
To this point, we've discussed how to contact peers who can provide client referrals. But you also should contact potential clients themselves. Some good candidates are sellers with expired listings, FSBOs, and those with overdue taxes.
You can find information on these people from the MLS, other home sale websites, and public tax records. If you are comfortable cold calling people, go for it. If not, you can contact them with mailings, but this is going to be slower and more expensive.
Host Open Houses for Other Agents
Agents are incredibly busy and one of the things that risks taking up a lot of their time is an open house. This is a place a new agent can be very helpful. By running an open house for a more experienced agent, you free up her time and get exposure to new people in your community.
You may even find new clients directly. Remember, it's not just buyers that attend open houses, it's neighbors, investors, and others who want to know what the house is selling for before they sell their own
Go to Social and Networking Events
One of the keys to success as a new agent is meeting as many people as possible. The sooner you can exhaust new people to meet in your community, the better.
One of the most effective ways to meet a lot of people in a short amount of time is attend social and networking events. Maybe there is a first Friday event at the local museum, or maybe there is a young-professional's group. These are good opportunities to practice some small talk and expand your network.
Work from a Public Place
Working from a local coffee shop can be useful in that there is a lot of foot traffic. Eventually, someone will come through that door that needs help with a real estate transaction. If you put yourself in the right place on a consistent basis, you could be the first person to approach him about it.
Obviously you won't have hours to kill doing nothing at Starbucks, so bring your laptop and do some work. But try to keep track of some keywords in conversations around you. If it's clear someone is ready to sell a home, walk over and introduce yourself. Explain that you couldn't help but over hear their conversation and you think you might be able to help.
Swap referrals with niche or commercial real estate agents.
You may be able to come up with some sort of "I'll scratch your back if you scratch mine" agreement with other agents if they work in another segment of the real estate sector.
Reach out to some agents in commercial real estate or luxury homes. They sometimes come across leads they can't or don't want to pursue. If you build a rapport with them, you may be able to convince them to refer you these leads if you do the same for any leads that fall in their categories.
Be honest
There's no point sugar coating it. The first few months are a grind for most agents. If you make it, it will be due to perseverance and the kindness of others. It's important to be honest about this when you engage with new potential leads. If you come off too arrogant, you are likely to lose the client. Being too honest, on the other hand has very few consequences.
For more, check out 13 Steps to Build an IDX Real Estate Website with WordPress.